---
Electronics Spending Sends US Retail Sales Soaring
Analysts' expectations were for a notable slowdown in the rebound in retail sales in July and BofA's credit card spending data suggested things could be even worse, and it was at the headline level.
After a 7.5% MoM surge in June (which came after the 18.2% spike from the depths in May, July headline retail sales rose only 1.2% MoM (notably below the +2.1% expectation), which leaves US retail spending up 2.7% YoY...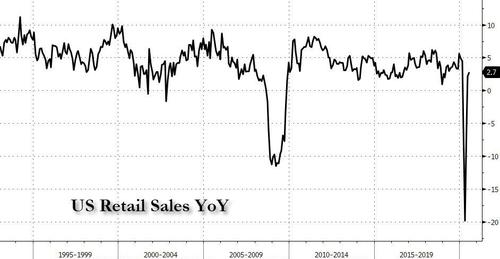 Source: Bloomberg
However, the Retail Sales Control Group - used for GDP calculation purposes - was better than expected with a 1.4% rise (almost double the 0.8% rise expected) and up a shocking 8.0% YoY - the most since 1999...
Source: Bloomberg
Under the hood, Electronics (remote learning and home office) and clothing led the charge...
So nobody is paying rent but everyone has a fast laptop and big LCD TV...
Source: Bloomberg
Interestingly, Electronics spending is still down 2.8% YoY...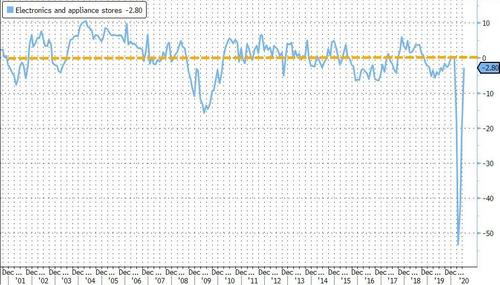 Source: Bloomberg
What happens in August, now that the $600 handouts have stopped?