---
As Elon Dumped Billions, Tesla Stock Soared?
Update: One of the most interesting things about the price action in Tesla shares this week is that when the massive sales from Elon Musk occurred (Monday and Wednesday), TSLA shares miraculously surged as the wave of Musk selling hit. And yet collapsed on Tuesday - which as far as the filings are concerned saw no Musk sales... 
SpotGamma explains below, that once again, it was the manipulation of the options market that enabled $5 billion of TSLA stock to be dumped into a 'rising' market...
The News
After registering to sell shares, over the weekend, Tesla (TSLA) Inc CEO Elon Musk polled Twitter on whether to follow through. His followers voted "Yes" to him selling 10% of its stake.
The Sale Process
While we are not provided the timestamps linked to the execution, you can extrapolate the timing by reviewing the execution prices filings.  The sale execution started on Monday, November 8th and we will provide analysis of the trading activity yesterday, on November 10th. 
The Price Action
The resulting movement of the stock, alongside the $5 billion in total stock sales, is quite interesting. The stock rallied on each of the big Musk selling waves... while it plunged on Tuesday when there were no reported sales.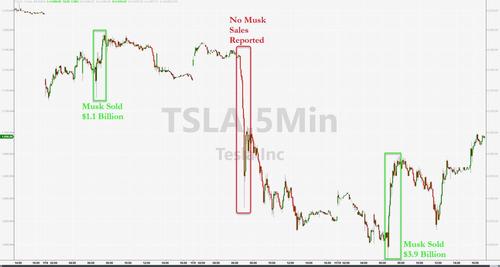 The Options Impact
One might imagine that while the CEO is selling a large block of stock, the price would continue declining.  However, this was not the case yesterday, and it would be incredibly helpful to have a system that helps analyze the movements and identify the real driver.
During these times, HIRO – SpotGamma's proprietary indicator that analyzes the options market, is a gamechanger.  HIRO analyzes all options trades and applies SpotGamma's proprietary algorithms to assess direction and magnitude, and tells us if options drove the stock.  Here, we feel confident that options drove the stock price despite Elon selling stock.
To illustrate this fact, here are three points during the day and how options pushed the stock:
Period one: In the morning, you can see large call buying and/or put selling took place based on HIRO, and the stock subsequently moved 8pct higher.  As per ZeroHedge (above), this is when Elon sold the bulk of his shares, while the stock rose.

Period two: In the mid-afternoon, you can see large put buying and/or call selling took place based on HIRO, and the stock subsequently moved 6pct lower.

Period three: In the late-afternoon, you can see large call buying and/or put selling took place based on HIRO, and the stock subsequently moved 6pct higher.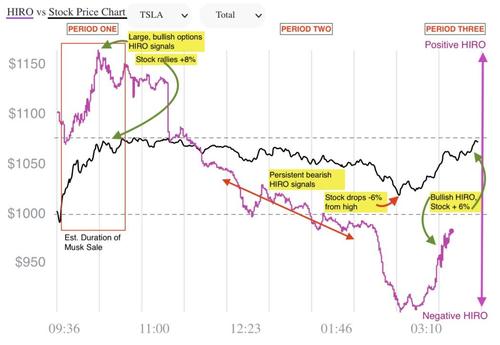 Looking Forward
Based on the volumes promised to his Twitter followers, Elon is not yet done selling stock, and we believe the options market will remain a critical factor in determining the near term stock price.
*  *  *
HIRO is currently available through our partner Bookmap, and we will be launching HIRO directly through SpotGamma.com in the coming weeks.  We will be offering limited access at first, so if you're interested in joining our waitlist, please fill out the form below and be one of the first people to know when access to HIRO opens up.
Update (2200ET): Just hours after the world's richest person filed to show a 934,000 ($1.1 billion) share sale (on Monday) to cover tax liabilities on the exercise of over 2 million options, a second set of filings (here, here, and here) showed an ever more massive sale of another 3.6 million shares for an average price of about $1,070 in the following two days (or around $3.9 billion).
Combined, the transactions this week represent about $5 billion, or 3%, of Musk's overall stake. 
Elon still owns roughly 167 million Tesla shares.
This is only the third time Musk has sold Tesla stock since the company went public on the Nasdaq exchange in 2010—and it's easily his biggest transaction. In July 2010, Musk sold slightly more than 1.4 million shares for $24 million, and in 2016, he sold another 2.7 million shares for about $593 million.
Elon's huge sales of TSLA shares this week follow his brother Kimbal Musk - a Tesla board member - sold 15% of his stake on November 5th. That sale of 88,500 shares totalled $109 million.
This sale came days before Elon's now infamous tweet about whether he should sell 10% of his own stake.
*  *  *
As we detailed earlier, having somewhat hinted at his actions over the weekend - given the tweet poll's comments:
"much is made lately of unrealized gains being a means of tax avoidance, so I propose selling 10% of my Tesla stock."
And almost 58% of the 3.5 million votes were cast in favor of a sale.
It is now clear that Elon Musk was indeed selling (though not 10% of his holdings) and was thus responsible for Tesla's big tumble early this week after exercising his options and dumping some of the shares to cover his tax liability.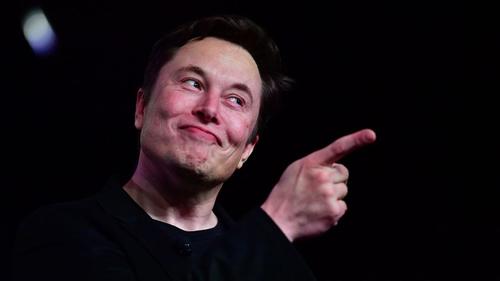 In fact, on Monday, Musk exercised his options which were struck at the extraordinarily low price of $6.24, receiving 2,154,572 shares...

The last time TSLA traded at $6.24 was Nov 2012...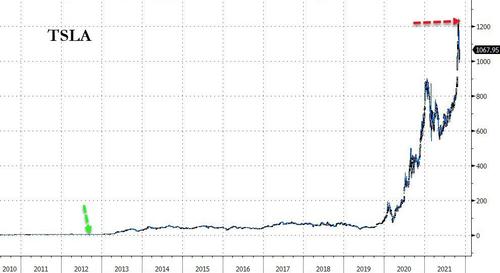 He then sold a large number of them to cover his tax liability.
"The shares of common stock were sold solely to satisfy the reporting person's tax withholding obligations related to the exercise of stock options to purchase 2,154,572 shares"
And as the following table shows, Musk was left with 1,220,481 shares from that options exercise.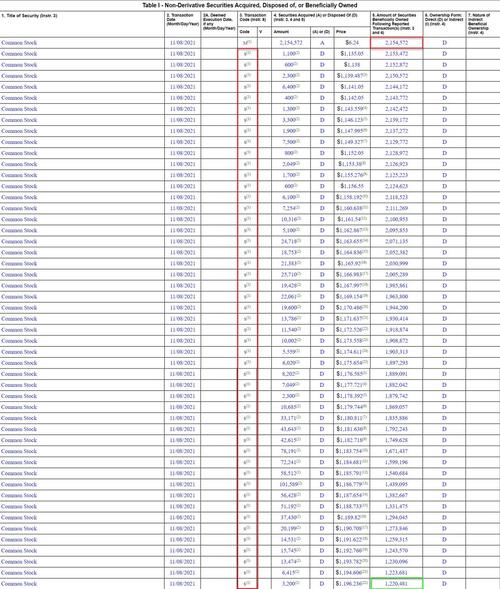 Therefore he sold 934,081 shares (or 43.4% of the exercised options) - or around $1.1 billion.
Given the price levels from Form 4, the following chart shows when the sells were made. Thanks perhaps to the magic of 'gamma' manipulation, TSLA shares exploded higher during the first hour of trading as Musk's 934k shares were dumped on 'diamond hands'...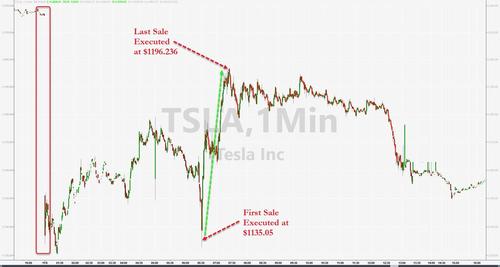 ...and in the end, the selling pressure took TSLA stock down 16% in two days (one has to wonder just who or what was holding the stock up all day on Monday, only to let it all come crashing down on Tuesday after the sale was complete)...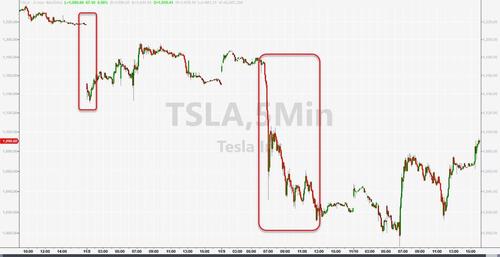 It's the billionaire's first sale since 2016, when he last exercised stock options and liquidated some of his newly acquired shares to cover about $590 million of income taxes.
However, there is one awkward thing. It appears the whole premise of the poll was a lie since Musk has pre-arranged this sale on September 14th:
"AUTOMATICALLY EFFECTED PURSUANT TO A RULE 10B5-1 TRADING PLAN PREVIOUSLY ADOPTED ON SEPTEMBER 14, 2021"

The problem that TSLA shareholders have is two-fold - if a 934k lot sparks such a significant drop in the stock... and Musk has 170 million shares left...

What happens every year when Elizabeth Warren's wealth tax comes due?