---
Elon Musk's China Ass-Kissing Tour Continues
We don't know what's more relevant: the fact that Elon Musk is literally kissing the ass of the Chinese government, or the fact that U.S. media seems to be digesting this as a meaningful story. Regardless it has been tough to not notice that Elon Musk has been "cozying up" to China, as the New York Post so eloquently put it this week. 
The Tesla CEO apparently "sang Beijing's praises in a recent interview with state-run China Central Television," the report notes, while trying to deflect concerns about his vehicles. 
The interview was released Tuesday, and Musk said that China would eventually become Tesla's largest market - both in number of customers and vehicles produced. Musk also praised Beijing for aiming to slash carbon emissions. He said China's goal of peaking carbon emissions by 2030 and achieving carbon neutrality by 2060 is a "great one", according to China Daily. 
"China is headed toward the biggest economy in the world, and a lot of prosperity in the future," Musk said during the interview.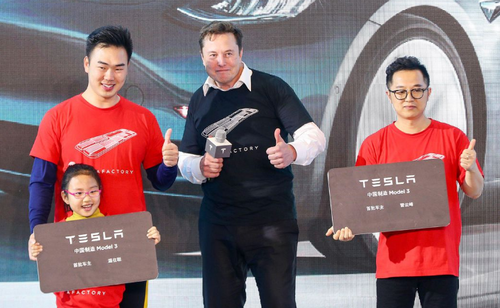 The interview came just days after we wrote that Tesla cars were being banned from Chinese military bases due to "concerns about sensitive data being collected by cameras built into the vehicles". 
The order was issued by the Chinese military and directs Tesla owners to park their vehicles outside of military property. China had concerns that Tesla is "collecting sensitive data via the cars' in-built cameras in a way the Chinese government can't see or control". Images of a purported notice of the ban were circulating on Chinese social media, with the notice proclaiming that cameras and ultrasonic sensors in Tesla cars may "expose locations" last week.
Recall we've covered the China risk to Tesla's business in our piece suggesting that Elon Musk's Chinese fairy tale could eventually come to an end. We also noted that, to date, Musk has been able to sidestep some ugly press in China, including out of control Tesla vehicles, forced recalls, constant price cuts and disgruntled customers.
The good news isn't just that China is likely tightening the reins on Musk, but also that the U.S. media appears to be on the cusp of understanding that the country could have enormous leverage over Musk. And while, for now, Musk continues to deftly evade CCP criticism, we can't help but think that - at some point - his era of favor in China will have run its course.