---
Lira Resumes Freefalling After Central Bank Has "No Comment" On Today's Historic Crash
Update (10:20am ET): All hope abandeon, anyone who though that the central bank would do something after today's near-20% drop.
Commenting moments after the meeting between Erdogan and his CBRT puppet, Kavcioglu, the Turkish central bank said that it implements a floating exchange rate regime and has "no commitment" to any exchange rate level, central bank says in statement.  
Doing its best Forex traning manual impression, the central bank said that exchange rates are determined by supply and demand conditions "according to free market dynamics" which unfortunately means that Turkey is proper f**ked.
Adding insult to injury, the central bank also said that "under certain conditions, the central bank may only intervene in excessive volatility without aiming any permanent direction", implying that today's 20% move is not excessive enough to merit intervention.
That said, the CBRT did admit that in FX markets, "unhealthy price formations are being observed that are unrealistic and completely detached from economic fundamentals." Of course, here one could counter that the "price formations" are precisely what they should be as the market finally realizes that Turkey under Erdogan is heading for hyperinflation.
In one final desperate jawbone, the central bank deemed it necessary to warn companies and citizens against possible losses by trading at values completely detached from economic fundamentals under extremely volatile market conditions.
Not surprisingly, having rebounded from all time lows on expectations of some sort of intervention, the lira has resumed its collapse and was just shy of breaching 13 vs the USD again, well on its way to 15, 20, 100 and so on...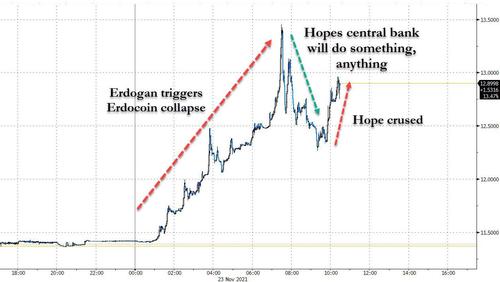 * * *
Turkish lira shorts - such as this website - knew that making money by betting on the implosion of Erdogan's authoritarian caliphate was just a matter of time. They just didn't know the implosion would take place this quick, because after tumbling for 10 straight day, the currency's 11-day losing streak - which is the longest in 20 years - saw Erdocoin (f/k/a lira) collapse almost 20% IN ONE DAY - crashing all the way to 13.4539 after opening at 11.3853...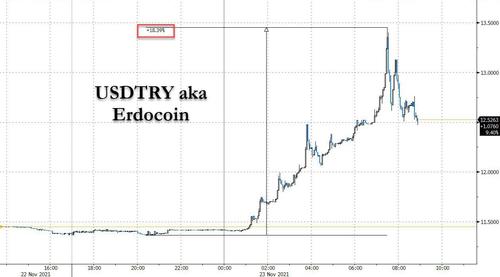 ... hitting a fresh all-time low and bringing the currency's YTD losses to over 40%, blowing out the Argentine peso in the process.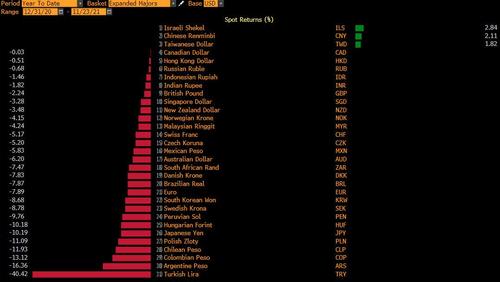 The collapse, which has been going on for the past 4 years really, accelerated yesterday after Erdogan used a televised speech late Monday to defend his support for lower interest rates to boost economic growth and job creation (see "Erdogan Tells Lira To Drop Dead As Currency Collapse Threatens Financial System, Bank Runs, Hyperinflation").
The selloff then really kicked into high gear when Erdogan's government ally and MHP leader Devlet Bahceli spoke at party's parliamentary group meeting in Ankara, said that Central bank independence should be debated and "independent institutions cannot be above the will of the nation" hinting that the Turkish Central Bank is likely about to be nationalized formally as opposed to just informally.
Bahceli said that he supports the government's policy on the economy, saying "Turkey should be free of interest rate burden" adding - to the horror of any remaining lira longs - that "tight monetary policy would hurt economy" more than the impact of lower rates and lira weakness. Meanwhile, the Turkish central bank - anything but "independent" - has been egged on by Erdogan to make combined cuts of 4 percentage points to the one-week repo rate since September, even as inflation soared to almost 20% last month.
Which brings us to the latest development in this soap opera, when Bloomberg reported that Erdogan met his own central bank Governor puppet Sahap Kavcioglu in Ankara, amid the historic collapse in the lira. 
It wasn't immediately clear what was discussed as the central bank and presidency declined to comment when asked if a meeting took place, although we doubt that Erdogan will backtrack so fast on his vows to keep pressing rates lower, and the most likely topic of conversation was how to crush evil lira shorts, while continuing to cut rates. Good luck with that.