---
"This Is Distorting Our Markets": EU Opening Investigation Into Chinese EV Subsidies
Apparently, things are going a little too well for the EV market in China, prompting the EU to launch an investigation into Chinese subsidies for electric vehicles, according to Bloomberg. 
Because, you know, why let consumers benefit from competition when you can stoke the flames of a trade war that'll probably backfire on European automakers? The news saw shares of European automakers rally first, before paring gains on the eventual thought of potential backlash. 
Before paring gains, shares of Volvo Car were up 4.9%, followed by Renault at 4.7%, Forvia at 3.7%, Dowlais at 3.4%, and other notable names like VW, Valeo, and BMW following suit, Bloomberg reported. Shares of Chinese automakers slipped at first, with Li Auto down 0.5%, BYD declining by 2.8%, and XPeng down 3%.
At a time when tensions between China and the EU have been simmering for months, European Commission President Ursula von der Leyen is taking exception with the fact that "the global market is flooded with cheap Chinese cars", according to Bloomberg. 
Speaking to parliament, von der Leyen said: "Their price is kept artificially low by huge state subsidies. This is distorting our market. And as we do not accept this distortion from the inside in our market, we do not accept this from the outside."
Sigrid de Vries, director general of the European Automobile Manufacturers' Association, commented to Bloomberg: "Von der Leyen's announcement is a positive signal that the European Commission is recognizing the increasingly asymmetric situation our industry is faced with."
The results of the investigation could wind up furthering the divide between China and the EU. Recall, the EU also complained when President Joe Biden's administration passed the Inflation Reduction Act, claiming it "violated free trade rules". 
Von der Leyen has been working to "de-risk" the EU's relationship with China without "decoupling" it, the report says.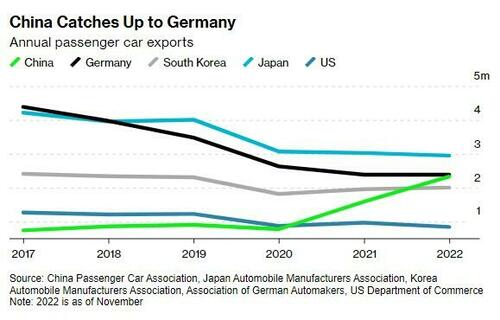 As we noted back in July, Chinese domestic automakers have started to officially dethrone Western competition after the West's decades of dominance. 
Local auto brands produced in China made up 54% of the wholesale car market for the first half of 2023, The Wall Street Journal reported earlier this year. This is up from 48% a year prior and marks the second 6 month period wherein local brands have surpassed foreign ones in a row. 
It's no secret that NEVs are leading the charge for China's home grown vehicles. We noted back in July that NEV sales in China were up 25.2% YOY, totaling 665,000 units. Passenger vehicle output fell 0.5% YOY but was up 10.3% sequentially, coming in at 2.2 million units. 
9 of China's 10 best selling electric vehicles makers were local companies, led by BYD, the Journal reported. Tesla was the only foreign automaker on the EV Top 10. The country's focus on EVs since 2009 has turned it from a global "follower" to a global "leader" in the industry. 
Stephen Dyer, a Shanghai-based auto consultant at AlixPartners, told WSJ other other automakers would have to learn from China's developing trend if they want to find success in the market.
It appears the EU is looking to "learn" in another way...by launching frivolous investigations.
Loading...