---
Euro Area Inflation Cooler Than Expected, Lagarde Shrugss Off Dovishness
Following yesterday's German CPI slump, the flash inflation release for May shows Euro area core HICP inflation fell 26bps to 5.34% YoY, below consensus expectations of 5.5%.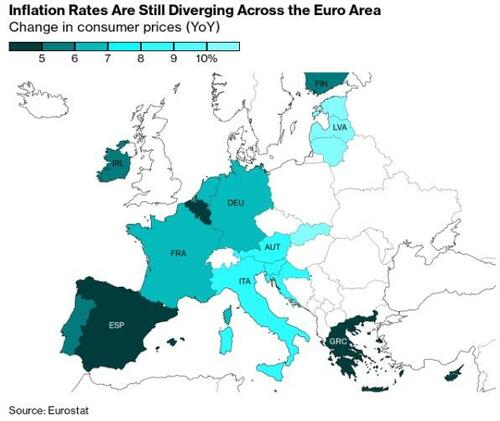 The headline gauge moderated more markedly, easing to 6.1% - its lowest level in more than a year - driven primarily by lower energy costs.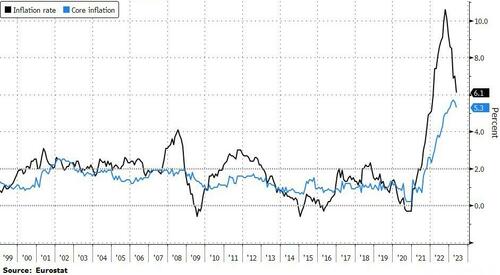 While seemingly positive at first glance for policymakers and politicians, the core measure's 'stickiness' means ECB officials plan to extend their unprecedented tightening campaign in two weeks' time - despite Germany recently slipping into a recession and financial dangers still swirling.
"There is no clear evidence that underlying inflation has peaked," Lagarde said in a speech in Hanover, Germany.

"We have made clear that we still have ground to cover to bring interest rates to sufficiently restrictive levels."
The market did not flinch with regard to ECB rate-hike expectations with a 25bps hike fully priced for June and a 40% chance of another 25bps hike in July.
"Yes, headline inflation is coming down as we start to see the food and energy shocks dissipate," Laura Cooper, Blackrock senior macro strategist for ishares EMEA, told Bloomberg Television earlier this week.

"But clearly the services inflation, the core gauges, continue to show price persistence and that does suggest that the ECB will have to keep rates in restrictive territory for quite some time," she said.
The euro rallied, erasing the Germany CPI drop...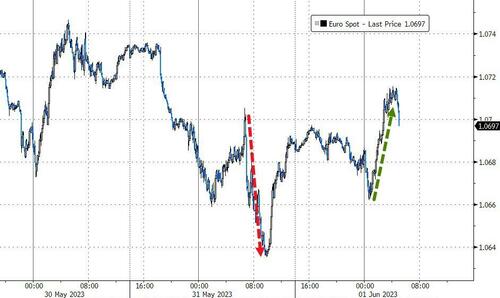 Source: Bloomberg
While the internal details will be released on June 16, Goldman estimates that within core inflation, seasonally adjusted sequential core goods inflation rose slightly in April, but sequential services inflation declined sharply in May, likely due to the introduction of Germany's EUR49 public transport ticket. 
The ECB, meanwhile, warned this week that tighter policy leaves financial markets at risk of negative shocks and are testing the resilience of households, companies, governments and the real-estate sector.
Loading...