---
Europe Hopes To Cut Dependence On Russian Gas Almost 80% This Year
In a move that many critics will say is too little, too late, Bloomberg reports that the European Union's executive arm "is mapping out a path to end the bloc's reliance on Russian gas which could see import needs cut by almost 80% this year."
The European Commission is revising its energy strategy in an effort to reduce the Kremlin's leverage after Russia's invasion of Ukraine. The plan, expected to be presented Tuesday, will propose steps such as tapping new gas supplies and increasing energy efficiency already this year, one of the officials said, and aims to deliver independence from the region's biggest supplier of the fossil fuel well before 2030 - sooner than previous projections.
There is a problem: as the following JPMorgan chart shows, European oil and gas production has been steadily declining in recent years as a result of the continent's infatuation with ESG, even as imports from Russia have been steadily growing.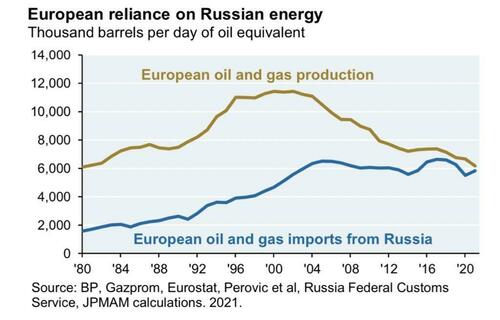 So for Europe's plan to have a chance of succeeding, it needs action not only from member states, many of whom were already uncomfortable with the investment required for the commission's energy-transition plans and are now struggling to contain the political impact of spiking energy costs, but also from the rest of the world.
Even before the war, a gas supply crunch sent energy costs to record levels, pushing the issue to the top of the EU agenda. European governments have already spent tens of billions of euros to protect consumers and industries from the impact of the crisis and prices surged again on Monday.
While the commission considers that the EU already has sufficient gas to get through the rest of this winter even in the event of an abrupt disruption of Russian supplies, energy inventories are running low and today Shell announced it was limiting some heating oil sales in Germany as shortages developed. The bloc's executive arm will recommend that member states start work now on filling up storage tanks so they're prepared for next winter.
Falling back to empty rhetoric, the commission will also say that accelerating the Green Deal, the bloc's sweeping strategy aimed at reaching climate neutrality by 2050 which will cost tens of trillions in dollars (or euros), will reduce greenhouse gas emissions, cut reliance on imported fossil fuels and shield the economy from price hikes.
Considering just how catastrophic global green strategy has been - see our post from June 2021 "Will ESG Trigger Energy Hyperinflation" - we somehow doubt that even more Green is what Europe needs.
Meanwhile, the near-term solution is anything but green: according to Bloomberg, Tuesday's plans will add on higher LNG imports and pipeline supplies from outside Russia, more renewable gases, energy savings and a shift to electrification. Together, that will give the EU the potential to effectively replace the 155 billion cubic meters of gas it currently imports from Russia, with 112 bcm this year.
As much as 50 bcm a year will come from new sources of LNG, 10 bcm will come through pipelines from other suppliers and 20 bcm will come from new wind energy capacity which will reduce the demand for gas-fired power stations.
Loading...