---
European Bank Bulls Are Resisting Capitulation
By Michael Msika and Julien Ponthus, Bloomberg Markets Live reporters and strategists
Some investors are tiptoeing back into European banking shares, greeting the swift takeover and central bank action that finally removed the yearslong Credit Suisse overhang. Yet, with confidence still fragile, buying banks remains a trade for the brave.
Dip buyers stepped in after early-Monday stock market declines that were sparked by concerns over parts of the emergency Sunday-night deal between Credit Suisse and UBS. A lot of bad news is already priced in, many reckon.
"We take the view that in 6 to 12 months, European banks will be higher than what they are now," says Alexandre Hezez, chief investment officer at at Group Richelieu, a Paris-based asset manager. "One can't say that the sector is overvalued. Results this year are expected to be good, we don't see that changing significantly."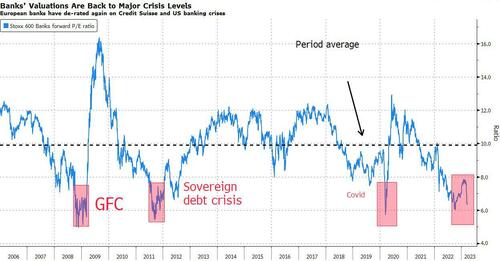 Several strategists applauded the UBS-Credit Suisse tie-up, with HSBC's Max Kettner describing himself as "much more confident." Kettner notes that Europe's bank share prices already incorporate an awful lot of bad news, with their index down about 16% in March. "Sentiment has gone and de-rated sufficiently to bearish levels that I'd be very-very careful to throw in the towel on constructive views now," he adds.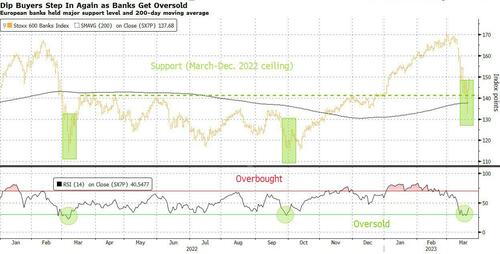 The selloff slammed European bank valuations hard, taking them back to where they were in October. Average price-to-earnings ratios are now around 6.5 times forward earnings, not far off the levels seen during past crises, including ones in 2008 or 2011. The sector also offers the highest forward dividend yield in Europe, at about 7.6%.
"I think that European banks are solid and resilient," says Simon Outin, global head of financials credit research at Allianz Global Investors.  "For me, the sector is solid, in terms of solvency, in terms of liquidity. We are not in 2008, really not."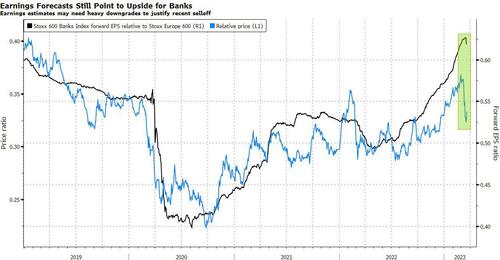 Concerns are by no means over. US authorities are fighting to head off potential deposit runs at regional banks. Rising interest rates and tightening financial conditions likely portend recession. A rise in default insurance costs at Deutsche Bank shows contagion fears still linger. So whether bulls do ultimately end up on top hinges now on a few things.
First, how well central banks navigate the next phase of their inflation battle, and how severe the anticipated recession could be. Banks typically perform well as interest rates and bond yields rise, though not during economic downturns. Analysts reckon that current yield levels on euro-zone bonds still imply some upside for bank shares, given they did not fully capture last year's surge in borrowing costs.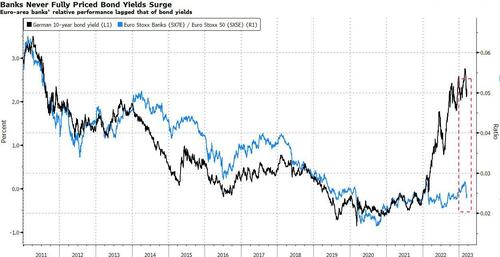 Investors are also watching to see how policymakers calm the uproar around Credit Suisse's Additional Tier 1 bonds — the riskiest bond category whose holders were wiped out in the merger. A rout in AT1 debt of other European lenders is raising fears of a seize-up in the market, which has been a key funding source for banks since the 2008 crisis.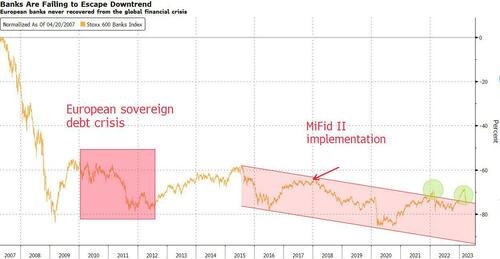 "The risk is that all AT1 bonds collapse - so beyond Credit Suisse. This will put major pressure on banks' financial ratios," says Charles-Henry Monchau, chief investment officer at Banque SYZ.
Loading...