---
European Nat Gas Prices Tumble After Chevron Australia LNG Workers Delay Strike
A Bloomberg report that workers on Chevron's Gorgon and Wheatstone LNG projects have delayed strike action until Friday is being viewed as a sign talks are going well, as strikes were meant to begin Thursday. The positive conclusion to last week's talks between Woodside and unions is another indication the worst-case scenario is unlikely.
The new deadline for industrial action at the Gorgon and Wheatstone plants is 6 a.m. local time Friday, a Chevron Australia spokesperson told Bloomberg. The unions previously threatened to start partial strikes on Sept. 7 and then escalate to full stoppages that would begin Sept. 14 and last two weeks.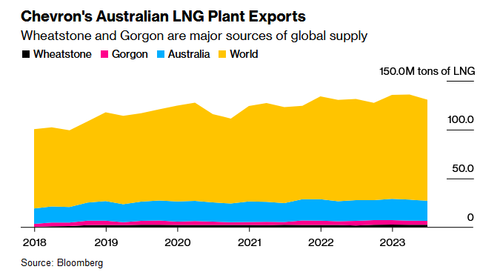 "We will continue to work through the bargaining process as we seek outcomes that are in the interests of both employees and the company," the company said in the statement. "We will also continue to take steps to maintain safe and reliable operations in the event of disruption at our facilities."
"It really is essential to explore all avenues to avoid industrial action," said Richard Pratt, a consultant for Precision LNG. "Once strikes start, the parties are driven further apart so this is a welcome development."
The two Australian LNG plants operated by Chevron made up about 7% of global LNG supply last year (see "Q&A On Australia's LNG Strike Risks"). The extension of talks follows a compromise that another Australian exporter, Woodside Energy Group Ltd., reached with workers last month to prevent industrial action at its own plant.
Meanwhile, Bloomberg notes that the impact of any industrial action may be limited at first because demand is muted in Europe and Asia, but a prolonged disruption may have sparked a bidding war between the two regions for alternative cargoes in peak winter season.
The threat of strikes had roiled global gas markets since early August, when unions first voted for potential labor actions at the three plants. The European gas benchmark surged 40% at one point, highlighting the continent's heavy dependence on LNG after the curtailment of Russian pipeline gas flows. Imports of LNG in Europe are recovering after a recent dip, helping offset reduced pipeline-gas flows from Norway amid maintenance there. Still, traders remain on high alert for any prolonged blips in supplies.
In immediate response, Dutch front-month futures, Europe's gas benchmark, traded 10% lower at €30.90 a megawatt-hour...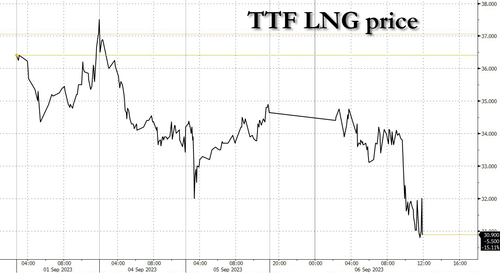 ... and with EU natural gas storage now above 93%, could fall further in the near-term unless the situation in Australia deteriorates.
Loading...