---
Ex-Barclays Chief Jes Staley Reportedly Begged JP Morgan To Keep Epstein As Client
JP Morgan was implicated but never prosecuted in Bernie Madoff's Ponzi scheme after authorities determined that employees at the bank likely knew something was off inside Madoff's shop - but there was simply nothing to be gained by blowing the whistle. Still, its association with Madoff became a major embarrassment for the bank, and afterward management pledged to be more judicious and discerning.
But that didn't stop the bank from continuing to service unrepentant pedophile Jeffrey Epstein for years after his 2008 conviction of soliciting sex from a minor (a charge that was eventually exposed as woefully inadequate considering the scope of Epstein's child sex-trafficking operation). But even then, those who knew Epstein must have had at least some nagging doubts, even if they had completely rationalized Epstein's penchant for traveling with a harem of underage women.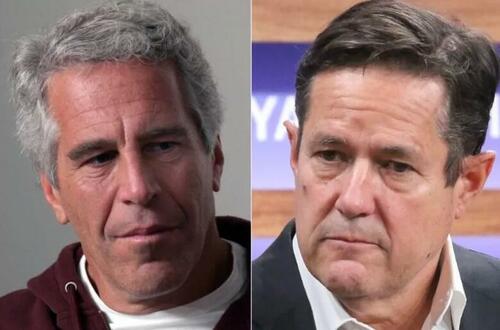 Former Barclays CEO Jes Staley is among the Wall Street titans who were dislodged from their perch in the aftermath of Epstein's subsequent arrest and suicide. It was his relationship with Epstein, which investigators hired by Barclays had determined stretched beyond the bounds of "professional", that led to his ouster from Barclays.
But as the FT and other media reports had previously exposed, Staley's relationship with Epstein stretched back years, all the way to the turn of the millennium, when he was still overseeing JPMorgan's private bank, before moving on to lead the bank's entire wealth management business. But never before has the pulic learned about the lengths to which Staley went while still at JP Morgan to convince his employer not to drop Epstein, which it eventually did in 2013.
Staley appears to have delayed the bank's decision to sever its relationship with Epstein by as long as a year while he argued that the billionaire had served his time and paid his debt to society.
Here's more from FT:
Jes Staley pressed JPMorgan Chase to keep Jeffrey Epstein as a client - despite the fact that the disgraced financier had been convicted of prostitution offences - before the bank cut him off as a customer in 2013, according to two people involved in the discussions.

Staley made the argument to other senior officials of the bank as JPMorgan examined whether Epstein's conviction in 2008 of soliciting sex from a minor, which resulted in a 13-month prison sentence, was grounds to remove him as a client of its private bank, the people said.

Staley, then head of JPMorgan's investment bank, argued during the year before the bank dropped Epstein as a client that he had served his sentence and paid his debt to society, one of the people said.

JPMorgan declined to comment. A spokesperson for Staley declined to comment.
An earlier FT report disclosed new details about the Barclays investigation into the relationship between Staley and Epstein. It found that while Staley was at JPM, he and Epstein exchanged more than 1,200 emails, some of them containing unexplained terms like "snow white".
Of course, Staley's influence eventually wasn't enough to stop JPM from showing Epstein the door.
But what happened after that? Was Epstein, a billionaire, simply forced to stash his galleons in a giant grain silo like Scrooge McDuck? Of course not.
He simply became a client of Deutsche Bank.