---
Exxon Explodes Higher On Massive Gamma Squeeze
Earlier this week, we showed why the energy sector in general, and the largest energy company in particular - Exxon - were set for a major melt up: simply said, the gamma melt up that dominated the tech space had shifted to energy stocks.
For those who don't, on Tuesday we asked readers if they recalled the "gamma squeeze" in various tech names amid the unprecedented Robinhood/SoftBank call buying frenzy from the summer/late 2020? Well, while SoftBank's market manipulation unit may have been "incapacitated" for the time being after suffering major losses, the record call buying has continued into 2021 as retail daytraders have put their $600 (and soon $2000) "stimmy" checks to "good" use. In fact, just last week we saw that 4th and 5th highest call volume days in history!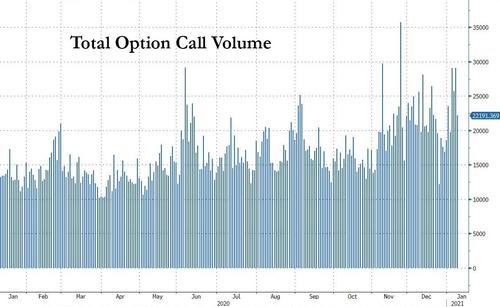 Only this time there is a twist: unlike the FAAMG/tech euphoria that marked much of mid/late 2020, this time the rabid levered daytraders had turned their attention elsewhere. And, somewhat surprisingly, we noted that it was to the one sector so many had left for dead in 2020 - energy.
As Susquehanna's Chris Murphy pointed out, "option investors have never been so bullish on energy stocks." And indeed, as shown in the chart below, open interest in call options for the most popular energy ETF, the XLE (or Energy Select Sector SPDR Fund) exploded in just the last few days sending its ratio relative to puts to a record.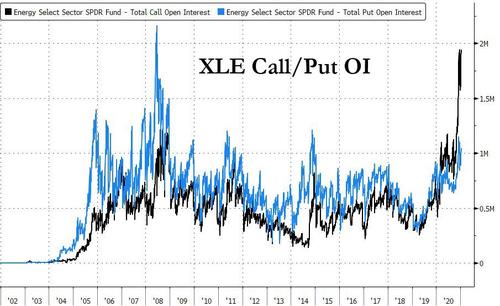 And since this call buying frenzy in the past few weeks appeared to be relegated largely to energy - as other ETFs in cyclical sectors such as banks and small caps, haven't seen a similar phenomenon in option activity - we concludes that "this record energy call buying may explain why there has been a sharp spike higher in such energy names as Exxon in recent weeks; it's also why the surge across energy names may be just starting."
Fast forward to today, when not only has the XLE continued its torrid surge higher...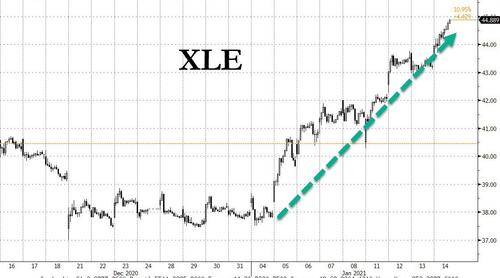 ... but so has Exxon, which just surpassed $51/share, surging 5% in one day, a move which until recently was exclusively reserved for tech names (which in recent weeks have been left in the dust amid fears the reflation wave will cripple the FAAMGs, which is also why the Nasdaq is flat YTD).
In fact, one argue that nowhere is the gamma squeeze greater than in Exxon, as one can see by simply comparing the record Call vs Put open interest in the stock. As a reminder a "gamma squeeze" is simply massive call buying leading to higher stock prices, which leads to more call buying, a higher stock price and so on, rinse repeat (a more nuanced explainer can be found here).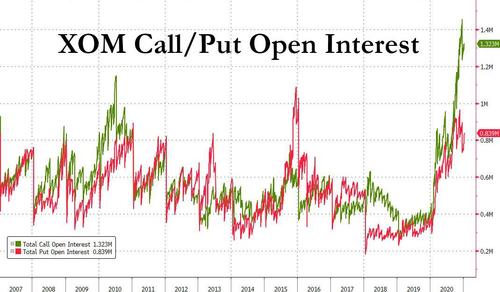 And since banks - which until recently were roundly bearish on Exxon - have found themselves scrambling to explain the surge in the energy giant (which until 2013 was the world's largest company) which we predicted would happen both here and in our private twitter feed, there has been a flood of upgrades in recent days, and as a result Exxon got its ninth Buy rating in recent days, with Barclays joining the "value" bandwagon, and upgrading the stock to overweight from equalweight.
"It's a perfect storm of a more constructive macro outlook and structural repositioning of capex/costs," analyst Jeanine Wai wrote in a note, alas forgetting that to mention the real reason for the melt up even as all the other factors mentioned in the report were well-known to the market for weeks if not months.
Barclays' upgrade followed a similar upgrade from JPM yesterday in which the bank concluded that the energy giant's attractive dividend (Div yield of around 7%) is now, once again, safe.
In summary: Exxon now has 9 buy ratings, up from just 4 a mere month ago, on Dec. 14, the typical Wall Street chase to "justify" the move as XOM shares have surged for a 9th straight session, and are now up about 21% this year!
And if the (tech) past is any indication of what may yet come, and the gamma squeeze continues apace, the energy/Exxon melt-up could soon rival that seen across the tech sector for much of 2020 when precisely the same dynamic sent tech names to record highs.