---
Exxon Smashes Expectations, Reports Strongest Ever Q1 Results
And the hits for the company that makes "more money than god" just keep on coming, while the White House looks on with impotent fury.
Exxon Mobil, our favorite stock since 2020 when it briefly traded below $40, posted its strongest-ever first quarter as oil production soared from new wells in the US and off the coast of South America.
Net income more than doubled from a year earlier to $11.4 billion ($11.6bn ex items), the highest Q1 profit in the oil giant's 140-year history, which is remarkable since oil prices tumbled during Q1. Adjusted EPS of $2.83 a share blew away the consensus estimate of $2.63; this even as total revenue of $86.56 billion (which beat expectations of $84.55 billion), dropped -4.3% from a year ago.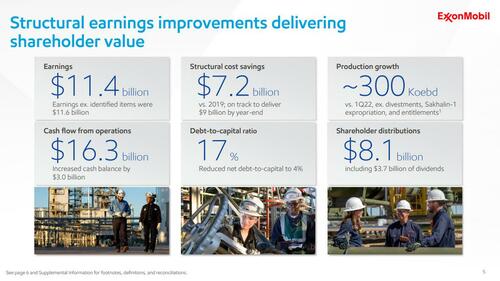 Exxon's quarterly profit has exceeded $10 billion for four consecutive quarters, a streak not seen since the era of $145-a-barrel crude in 2008.
Some other details from the first quarter:
Upstream adjusted net income $6.62 billion, estimate $6.51 billion
Energy products adjusted net income $4.21 billion, estimate $3.89 billion
Chemical products adjusted net income $371 million, estimate $398.3 million
Specialty products adjusted net income $774 million, estimate $522.5 million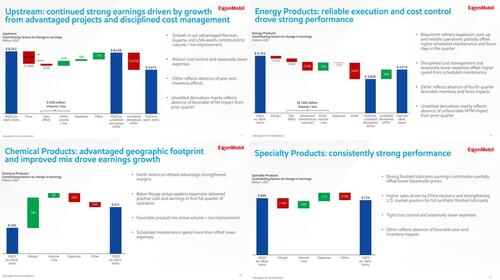 Chemical prime product sales 4,649 kt, estimate 5,643
Downstream petroleum product sales 5,277 kbd
Production 3,831 KOEBD, +4.2% y/y, estimate 3,788
Crude oil, NGL, bitumen and synthetic oil production 2,495 KBD, +10% y/y, estimate 2,418
Refinery throughput 3,998 KBD, +0.4% y/y, estimate 3,970
Exxon said its net debt-to-capital ratio shrank to just 4% at the end of the period, thanks in large part to a cash pile of almost $33 billion.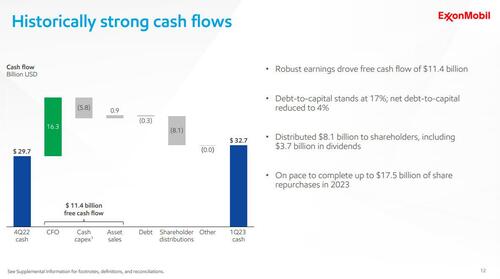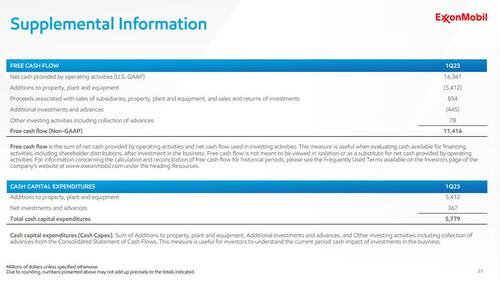 As shown in the next chart, the company is comfortably generating billions in Free Cash Flow after dividends and buybacks, which amounted to $3BN in Q1.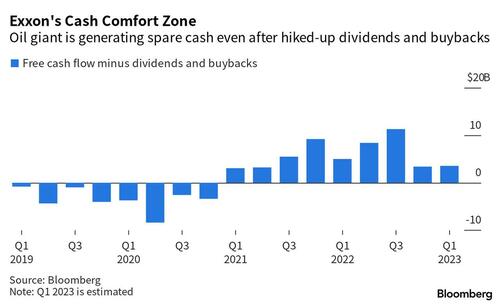 The company has enriched its faithful investors via billions in dividends and share buybacks, while infuriating the senile occupant of the White House basement; it's why Exxon is the best-performing energy stock in the S&P 500 Index this year, after being the best performing stock in all of 2022.
The unexpectedly strong results were "really all about us increasing our production volumes significantly," CFO Kathy Mikells said during an interview. Output off the coast of Guyana and in the US Permian Basin rose 40% on a combined basis from a year earlier, she noted.
As Bloomberg notes, production growth in those two regions was so strong that it more than offset the negative impacts of asset sales and Russia's expropriation of the landmark Sakhalin-1 development. Net output increased by the equivalent of 160,000 barrels of a day compared with a year earlier, Mikells said.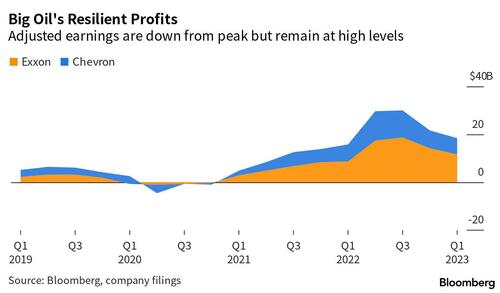 And so, flush with cash and with its trading near a record high, speculation is rife that Exxon may be gearing up for a big acquisition. The Wall Street Journal reported that Exxon held early-stage talks with Pioneer Natural Resources earlier this month. While both companies declined to comment on the rumors, analysts pointed out that the deal makes strategic sense and would make Exxon far and away the largest producer in the US Permian Basin, one of management's highest-priority targets globally. 
Chief Executive Officer Darren Woods signaled his interest in making shale as well as so-called low-carbon acquisitions earlier this year, but cautioned that it's "difficult to go in and buy at the top of a commodity cycle."
During a conference call scheduled to begin at 8:30 a.m. New York time, analysts are expected to ask about the company's appetite for dealmaking, and how it will deploy cash. Even with oil prices down about 25% in the past year, Exxon is generating considerably more cash than it's spending on capital projects, buybacks and dividends.
After reporting earnings, XOM's stock price traded up to $118.1, just shy of its all time high. It will likely hit a fresh record either today or in the coming days.
Finally, here are several sellside reactions to the blowout earnings:
Piper Sandler (overweight):
"The beat was broad-based, with every segment exceeding PSC/Street expectations, but particular strength in international E&P," analyst Ryan Todd writes
"Despite growing economic fears," Todd expects Exxon's "diversified and increasingly resilient portfolio" to sustain performance
Citi (neutral):
Exxon Mobil is about 10% cheaper than competitor Chevron on trailing 12-month cash multiples
"That value gap remains hard to understand in the context of two companies that have similar returns, balance sheets, portfolios and, arguable, well-earned management premiums," analyst Alastair Syme writes
Exxon's balance sheet gives it "a lot of options around consolidation"
JPMorgan (overweight):
Earnings per share and cash flows beat consensus expectations
Upstream business experienced a $2 billion "headwind from unsettled derivatives," analyst John Royall writes
Cowen (market perform):
"We expect investors to focus on M&A commentary on the call as well as the downstream outlook given declining refining margins and potential benefits from a new trading division," analyst Jason Gabelman writes
Exxon's full Q1 slidedeck is below (pdf link)
Loading...