---
FBI Official Involved In Trump-Russia Hoax To Plead Guilty To -- Conspiring With Russia
An ex-FBI agent who led the agency's New York counterintelligence division and played a key role in the Trump-Russia collusion probe - will plead guilty to charges of colluding with Russia himself, a federal judge suggested in a Monday order reported by the Washington Times.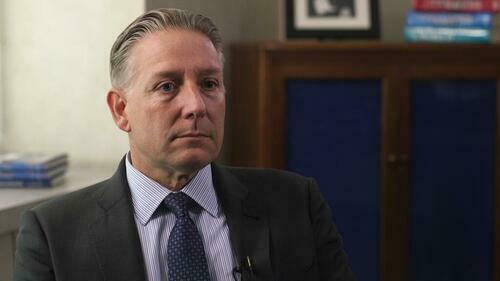 Charles McGonigal was arrested in January and charged with violating US sanctions on Russia by taking secret payments from a Russian oligarch, Oleg V. Deripaska, to investigate a rival oligarch.
"The court has been informed that defendant Charles McGonigal may wish to enter a change of plea," wrote Judge Jennifer Reardon in a brief order in which she also scheduled a hearing for Aug. 15.
McGonigal initially pleaded not guilty on four corruption charges - including conspiring to evade U.S. sanctions, money laundering, conspiring to commit money laundering and conspiring to violate federal law against doing business with sanctioned individuals. Each count carries a maximum sentence of 20 years in prison.
McGonigal was the FBI's recipient of the fake tip from Alexander Downer that supposedly started the Trump/Russia investigation.

He was also involved in the fake Carter Page ("Crossfire Dragon") investigation. https://t.co/MDwosXQaqP pic.twitter.com/tGjDL5zFq6

— Hans Mahncke (@HansMahncke) January 23, 2023
During his days in counterintelligence, McGonigal was responsible for supervising and participating in investigations of Russian oligarchs, including Deripaska.
The indictment unsealed in Federal District Court in Manhattan on Monday charges the former F.B.I. official, Mr. McGonigal, with one count of violating U.S. sanctions, one count of money laundering and two conspiracy counts. -NY Times
Federal prosecutors have filed two separate indictments against McGonigal - one in New York and one in Washington - over the bribes.
There is no indication that he will change his plea in Washington, per the report.
Mr. McGonigal made at least $25,000 as an investigator for the law firm before directly working for Mr. Deripaska. He received an initial payment of $51,000 and then payments of $41,790 each month for three months from August 2021 to November 2021, the indictment said.

Prosecutors said Mr. McGonigal concealed his ties to the Russian oligarch by telling friends he was working for a "rich Russian guy" and stressed that his work was legal. In conversations about Mr. Deripaska, he would try to keep his employer's identity a secret by referring to him as "the big guy" and "you know whom." -Washington Times
I'm just going to repeat this for the people in back

An FBI official who investigated Trump for illegal ties to Russia but found none has just been arrested for his own illegal ties to Russia

Internalize this

— Jack Poso 🇺🇸 (@JackPosobiec) January 23, 2023
Loading...