---
FDIC Unexpectedly Delays Bid Deadline For Silicon Valley Private Bank
Over the past weekend, it was determined that the Federal Deposit Insurance Corporation (FDIC) would break up Silicon Valley Bank into two separate auctions. But now, the auction for SVB's wealth-management unit has been delayed. 
FDIC was set to receive bids for Silicon Valley Private Bank, successor to Boston Private, which SVB acquired in 2021 at 2000 ET Wednesday. However, without any reasoning, government regulators shifted the auction until Friday, according to Bloomberg, citing people familiar with the matter.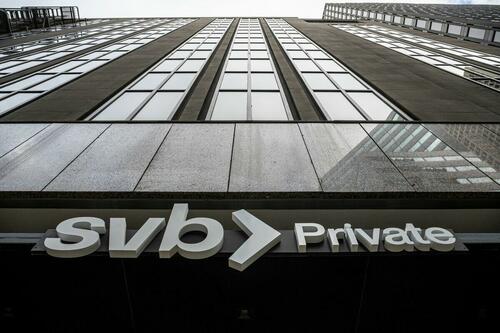 Additionally, on Friday, the deadline for submitting bids for the so-called "bridge bank" that the FDIC set up earlier this month to take receivership of SVB's assets and liabilities.
Last weekend, FDIC decided to break up the sale of SVB into two auctions after failing to find a buyer. We noted First Citizens BancShares Inc participated in the first round of auctions but had its bid rejected. 
It's worth noting there were eager buyers for SVB days after the collapse, but the FDIC prevented the sale.
Kevin Hassett reveals "there were buyers who were willing to step in & buy [SVB, but] the radicals at the @FDICgov basically weren't going to allow that to happen ... the Biden Admin had a whitelist of companies that were allowed to buy the failed bank & companies that weren't." pic.twitter.com/Tsp2zPK70t

— Tom Elliott (@tomselliott) March 13, 2023
FDIC also tapped advisors from the investment bank Piper Sandler Companies to assist in the upcoming auctions.
It might be as late as Friday night or Saturday before potential new buyers for SVB's wealth management and bridge bank emerge. 
Loading...