---
Fed Leading Indicator Shows Unemployment Rate Is Poised To Pick Up
Authored by Ye Xie, Bloomberg Editorial,
While the unemployment rate ticked down again, a leading indicator suggests it is set to increase in coming months. If so, that will put pressure on the equity market.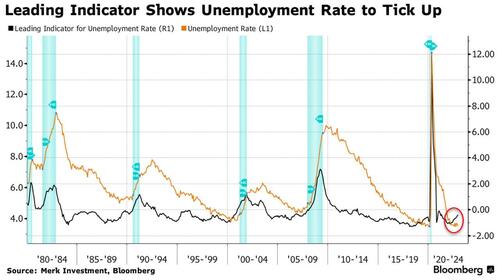 The index, created by Merk Investments's Nick Reece, tracks the z-scores of six indicators (identified in a 2013 San Francisco Fed paper) that tend to predict trends in the unemployment rate. Those indicators are payroll growth, initial and continuous jobless claims, capacity utilization and ISM manufacturing and the job components in the consumer confidence survey.
The index bottomed earlier last year and has been rising ever since, driven by slower payroll growth and declines in ISM manufacturing.
To be sure, there were false alarms in the past, such as in 2018-2019. Still, the Fed's intention is to slow wage growth to curb inflation.
If the labor market doesn't cool, the Fed will have to tighten more. Until the Fed succeeds, the equity market is likely to stay under pressure.
Loading...