---
Fed Postpones Today's Purchase Of Treasuries and MBS Due To "Technical Difficulties"
While it's not the first time that the NY Fed has experienced a major "technical glitch" preventing it from executing its daily open market purchase of Treasuries and MBS securities, the Fed sure could have picked a better day for a printer jam.
Moments ago, the NY Fed announced that "due to technical difficulties, today's Treasury outright purchase operation - scheduled for 10:10 AM - will be rescheduled. It is now scheduled to take place Friday, February 25, 2022 at 10:10 AM. Additionally, today's MBS outright purchase operations – scheduled for 10:00 AM and 11:30 AM - will also be rescheduled to Friday, February 25th, 2022 and Monday, February 28th, 2022 respectively. Information on Treasury securities operations and MBS purchase operations can be found on the New York Fed's webpage. This does not impact any other operations scheduled for today."

This is not the first time the Fed has had "technical issues", and the last time a POMO was postponed in mid-January, yields spiked higher, just as they have done today.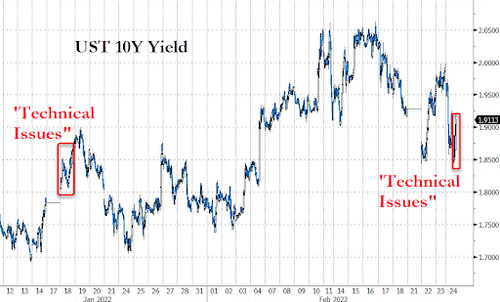 Some context: today the Fed was scheduled to purchase $6.225 billion in TSYs, which was the largest one-day purchase of the final month of QE. Almost as if the Fed is doing all it can to further destabilize the already shaky market mood. Maybe they read the latest Zoltan Pozsar note according to which the Fed should crash the market to contain inflation...
Loading...