---
Fed Publishes Final POMO Schedule, Killing Expectations For An Intermeeting Rate Hike
Earlier today we observed that amid speculation of an intermeeting, or emergency rate hike, all eyes were on today's final POMO schedule release from the Fed due at 3PM to see whether there would be any notable changes to the Fed's QE plans, or whether the Fed would even end QE prematurely today.
Well, a few minutes after 3PM ET, the Fed effectively killed any speculation for an early rate hike when it published what will be its final (for now) POMO schedule, which sees $20 billion in Treasury bonds purchased across 8 operations over the next month, with the final purchase of $4 billion taking place on March 9, in line with expectations, and one week before the March 16 FOMC meeting when the Fed will hike 50bps... and just one day before the February CPI print is released and the ECB's next decision.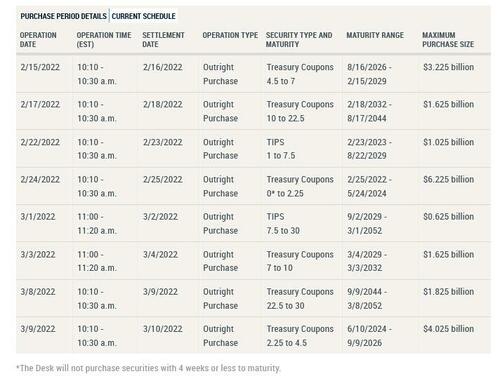 And while Feb Fed Funds yields hit session lows after the POMO publication as odds of an emergency rate hike imploded...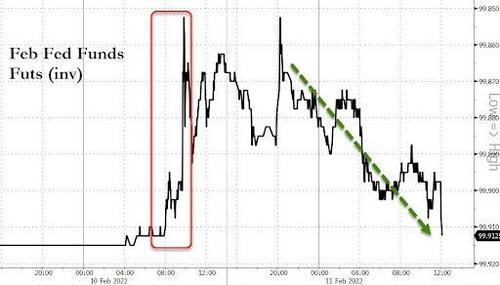 ... what is notable is that March rate hikes odds are also sliding fast, perhaps in light of the latest geopolitical panic where according to the deep state, Putin is set to invade in just a few days.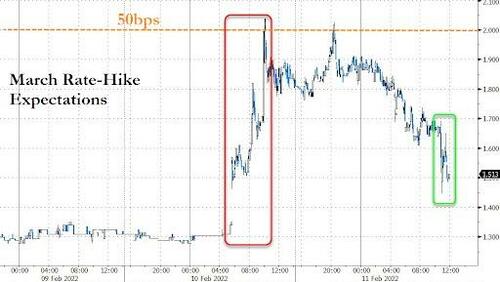 Bottom line: no emergency rate hike, 4 more weeks of QE and then we get what is almost certainly a 50bps rate hike... unless of course the Deep State has false flagged itself into a new world war.