---
Fed Triggers Huge Buy Program With News It's Easing "Main Street Lending" Terms
Moments before 11am, with stocks tumbling and at session lows, we had just one question: where was Jerome Powell, the man who according to NY Mag's very own Fed apologist and sycophant, Josh Barro, is now the people's Hero 2.0 (not to be confused with Hero 1.0 as defined by another socialist rag)?
Where hero? pic.twitter.com/XCcuu1TFgc

— zerohedge (@zerohedge) October 30, 2020
Well, we literally got the answer just milliseconds later when Bloomberg headlines hit that the Fed would further ease terms on its Main Street Lending Program targeting smaller businesses:
*FED LOWERS MINIMUM LOAN IN MAIN ST PROGRAM TO $100K FROM $250K
*FED: PPP LOANS OF UP TO $2M CAN BE EXCLUDED FROM BORROWER DEBT
*FED: MAIN ST. TO DATE HAS MADE ALMOST 400 LOANS TOTALING $3.7B
Clearly the Fed felt that it needed a flashing red Bloomberg headline to stop and reverse the rout, and as such it huddled early on Friday, when it decided to adjust "the terms of the Main Street Lending Program in two important ways to better target support to smaller businesses that employ millions of workers and are facing continued revenue shortfalls due to the pandemic." This is what the Fed announced:
the minimum loan size for three Main Street facilities available to for-profit and non-profit borrowers has been reduced from $250,000 to $100,000 and the fees have been adjusted to encourage the provision of these smaller loans.
The Board and Department of the Treasury also issued a new frequently asked question clarifying that Paycheck Protection Program loans of up to $2 million may be excluded for purposes of determining the maximum loan size under the Main Street Lending Program, if certain requirements are met, which should also help smaller businesses access Main Street loans.
The Fed also revealed that so far, the Main Street program has made "almost 400 loans" - which is a laughably small number totaling $3.7 billion.
Of course, none of that mattered. What did matter is that the moment algos saw a flashing red headline with the word Bloomberg in it, they unleashed a buying frenzy and as shown in the TICK chart below, nanoseconds after the news hit, we saw the highest TICK print of the day...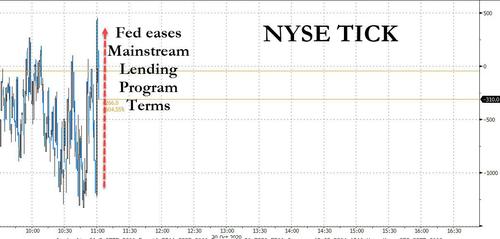 ... which came just as stocks were about to drop below a critical support level, and reversed the day's rout, if only for the time being.