---
Fed's Bullard Says 75% Vaccination Rate Would "Allow Taper Debate"... Which Could Happen In Just Two Months
And just like that the Fed's open-ended tapering discussion became event-based.
Speaking on Bloomberg TV, St. Louis President James Bullard said that getting three-quarters of Americans vaccinated would be a signal that the Covid-19 crisis was ending, a necessary condition for the central bank to consider tapering its bond-buying program.
When pressed on when will it be time to start thinking about thinking about tapering, Bullard said that "it's too early to talk about changing monetary policy," adding that "we want to stay with our very easy monetary policy while we are still in the pandemic tunnel. If we get to the end of the tunnel, it will be time to start assessing where we want to go next."
As for quantifying the end of the tunnel, Bullard said that "when you start to get to 75% vaccinated, 80% vaccinated and CDC starts to give more hopeful messages that we are bringing this under better control and starts relaxing some of their guidelines, then I think the whole economy will gain confidence from that."
"Cases are up right now, that is a little bit concerning," he added, even though the vaccine strategy appears to be working.
It certainly is: while the Bloomberg Vaccine Tracker notes that about 36% of Americans had been given a first vaccine dose and 22% were fully vaccinated, a similar tracker by Bank of America reveals that the US administered 26 million vaccine doses over the past week, increasing the total to 187 million, or well over half of the total population. Only the UK has administered more vaccinations as a percentage of the population, while Europe and especially Japan, continue to lag badly.
If one simply extrapolate current trends, all else being equal (which of course it won't be as much of the population that is left to be vaccinated is likely the group that will actively refuse jabs), we could see the Fed's 75% bogey be hit in just two short months, some time in June.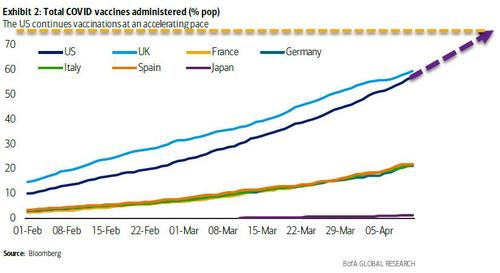 Separately, Bullard also said that the U.S. was in an economic boom that would lift inflation over the near term, though measures over the next few months will be distorted and not prove a good signal for underlying price measures. He said the central bank would be "less preemptive" than in the past and let higher inflation flow through to some rise in inflation expectations.
"I think there will be more inflation in 2021 than what we've seen in recent years, and I'd like some of that to flow through to inflation expectations," he said.
Bullard's comments echoed those of Fed Chair Powell, who on 60 Minutes said the U.S. economy is at an "inflection point" with stronger growth and hiring ahead thanks to rising vaccinations and powerful policy support, though Covid-19 remains a threat.
However, one thing Powell did not want to do is give any calendar estimation as to when the Fed could start "thinking about thinking" about tapering. Well, thanks to Bullard, it may have no choice but to do so as soon as the summer. And what's worse, now that the market is aware of the Fed's "viral reaction function", any sharp jump in the vaccination rate will provoke risk off moves as traders start pricing in the inevitable tapering of QE which they now know will be catalyzed by a "normalization" in the pandemic.
And sure enough, Bullard's comments appeared to top-tick today's move, and as soon as his interview ended just before 1pmET, stocks reversed as they digested the realization that higher vaccines are now bad for stocks.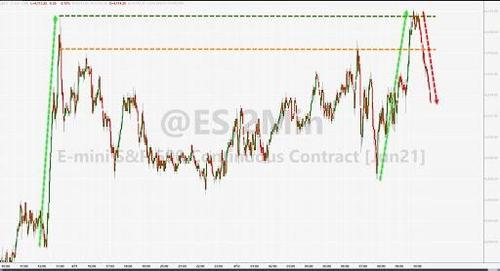 Watch Bullard's interview below: