---
Fed's "Favorite" Inflation Indicator Highest In 38 Years, Personal Spending Drops Most Since Feb
Analysts expected a mixed picture from income and spending data in December (with spending expected to drop and incomes rise - an odd pairing during the Christmas month) and they were right with incomes rising 0.3% MoM (slightly less than expected) but spending tumbling 0.6% MoM (meeting expectations). That is the first drop in spending since Feb 2021...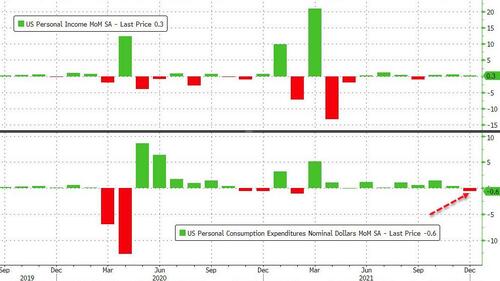 Source: Bloomberg
On the income side, private workers wage growth continues to slow...
Wages of private workers up 10.0% Y/Y, down from 10.2% in Nov and the lowest since  March 2021

Wages of public workers up 4.4% Y/Y, up from 4.2% in Nov (which was lowest since march 2021)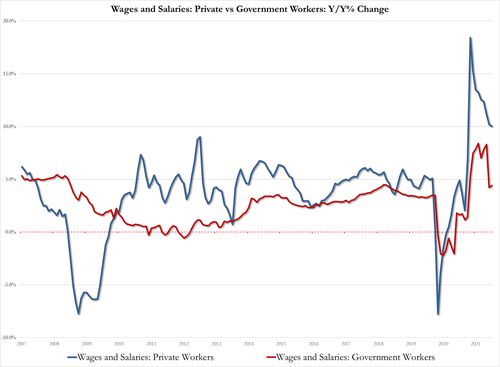 Of course, adjusted for inflation, real personal spending was down 1.0% MoM (after being down 0.2% MoM in November). Real Personal Spending is still up 7.1% YoY however...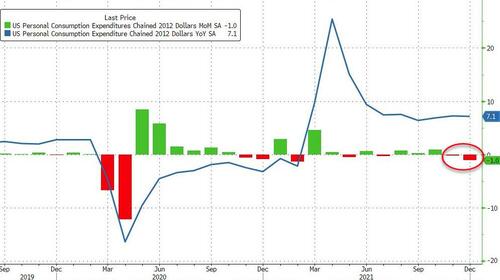 Source: Bloomberg
Which - in a fiscally responsible way - is a positive for Americans' pocketbooks as the savings rate picked up...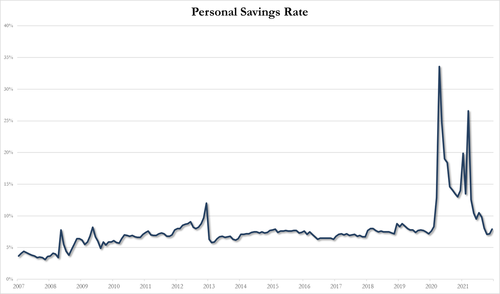 With all eyes on The Fed's next steps, today's Q4 Employment Cost Index (wages and benefits measures) data are of particular interest which saw ECI QoQ slow modestly from +1.3% to +1.0% (still the second highest since 2006). On a YoY basis, employment costs rose 4.0% - the highest since 2001...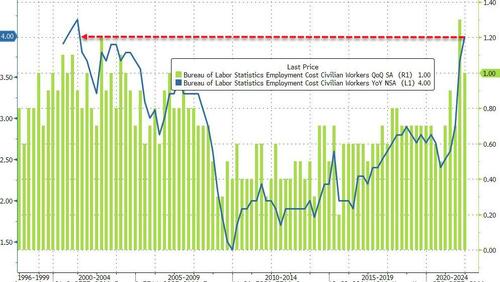 Source: Bloomberg
While the base case forecast from Powell is for inflation to recede in the second half of the year as more supply chain pressures ease, the Fed chair was cognizant of the more structural upside risks to inflation that would stem from persistent wage growth. So, today's ECI will be critical for assessing whether the more aggressive policy tightening is warranted.
SGH Macro's Tim Duy recently noted that "it will be challenging to manage wage inflation greater than 5% with 2% inflation (unless there has been a big boost in trend productivity growth), and there will be pressure this year from labor looking to be compensated for high inflation."

Duy warns, "My central concern is that the Fed expects wage growth to slow largely endogenously whereas historically it hasn't outside of a recession."
Today's modest slowdown in the pace of ECi is a positive (at the margin).
Finally, and perhaps most importantly, The Fed's favorite inflation indicator - Core PCE Deflator - surged more than expected to +4.9% YoY, its highest since April 1983...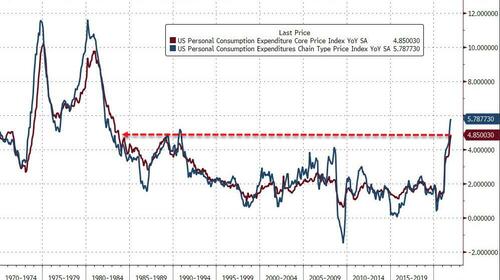 Source: Bloomberg
Not much here for the doves to cling to... which probably explains why the markt is now pricing in 5 full rate-hikes by year-end...