---
Fed's Harker Says QE Tapering May Begin In Late 2021... But Goldman Says Not So Fast
In a world where the only thing that matters anymore is how many billions in liquidity central banks inject at any given time, and as a reminder, the last time we made this calculation the answer was $1.3 billion per hour...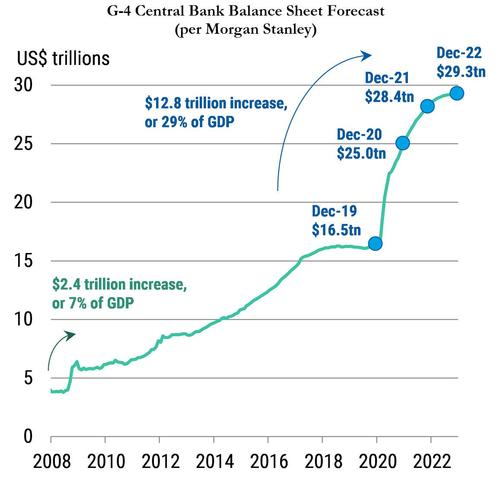 ... it is understandable that the biggest wildcard for capital markets and millions of traders is when will the Fed "taper" its $120 billion in monthly asset purchases, which amounts to the equivalent of 0.6% of US GDP monetized every month until said purchases are tapered.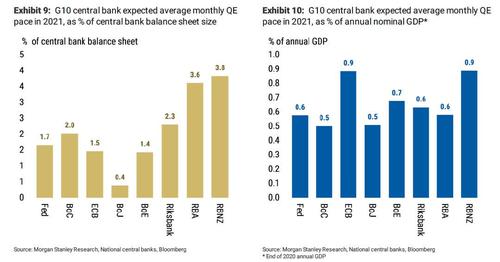 But it's no longer just fringe blogs that observe that it is only the Fed's constant "flow" that is propping up markets: none other than Philadelphia Fed President Patrick Harker said today that tapering "could cause disruption in the markets if we try to do it too soon," adding that as a result "I have many degrees of caution on this, to just be steady as she goes until we start to really see the economy healing."
He is, of course, referring to the infamous taper tantrum in 2013 when Bernanke announced the end of QE3, which resulted in a dramatic pullback in 10Y yields over the next few months.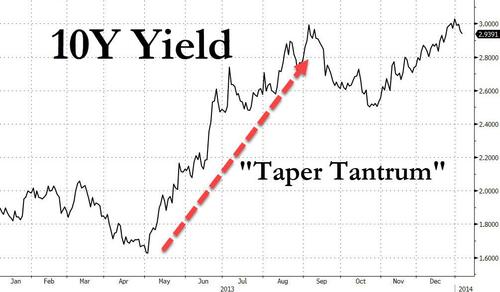 So when does Harker see the Fed starting to taper? "I could see, potentially, that occurring at the very end of 2021 or early 2022. But it is all going to depend on the course of the economy, which will depend on the course of the virus," Harker said Thursday while answering questions after a speech at a virtual event titled "The Outlook for 2021 Nationally and Locally".
"I'm expecting the fourth quarter of last year to show modest growth, before a significant slowing in the first quarter of this year -- possibly even negative growth," he said Thursday. "Growth should be strong in the second half of the year, and through 2022, before a light tapering in 2023."
This timeframe, while still broad, was certainly more useful than the one provided by Fed Chair Jerome Powell and the FOMC, which in December said they would continue the purchases at least at the current pace until the economic recovery had made "substantial further progress toward the Committee's maximum employment and price stability goals."
Well, as we noted earlier, according to Goldman said "substantial progress" will come in far sooner, because after taking into account the bank's latest expectation of $750BN in new stimulus passed as soon next month, Goldman now expects GDP growth of a blistering +6.4% for 2021 (vs. +3.9%consensus), and then another +4% in 2022.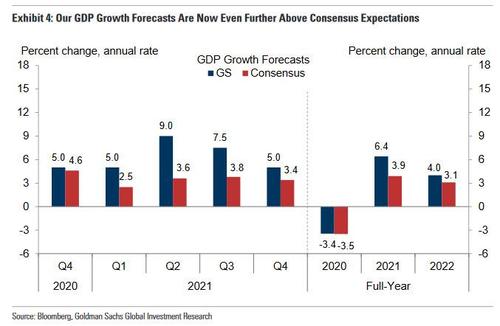 What is surprising is that despite now predicting even stronger growth in 2021, Goldman is less optimistic than Harker on the timing of tapering, and as Jan Hatzius said overnight, his best guess is that Goldman's year end-2021 unemployment forecast of 4.8% would meet the "substantial further progress" bar, but its 2021 year-end inflation forecast - just 1.8% - would fall a hair short. In other words, even as most household frogs are boiling in surging prices, the Fed will once again decide that - with the help of various hedonic adjustments - inflation is nowhere to be found, and will instead keep reflating a massive asset bubble!
As a result, Goldman expects tapering to begin some time in 2022... by which point the S&P should be well north of 5,000 and bitcoin will be at or above 100,000.