---
Feds Warn Parents To "Stop" Using Peloton Treadmill After Child's Death, Release Horrifying Video 
Sales of the Peloton Bike and Peloton Tread (treadmill) erupted during the virus pandemic as people worked out at home. As soon as the lockdowns took effect in March 2020, the home-fitness business took off. But there appears to be a problem with one of Peloton's products. The U.S. Consumer Product Safety Commission (CPSC) warned over the weekend that consumers should stop using Tread if there are young children or pets at home.
CPSC's advisory was published on Saturday and warns: 
"The U.S. Consumer Product Safety Commission (CPSC) is warning consumers about the danger of popular Peloton Tread+ exercise machine after multiple incidents of small children and a pet being injured beneath the machines. The Commission has found that the public health and safety requires this notice to warn the public quickly of the hazard."

"To date, CPSC is aware of 39 incidents including one death. CPSC staff believes the Peloton Tread+ poses serious risks to children for abrasions, fractures, and death." 

"In light of multiple reports of children becoming entrapped, pinned, and pulled under the rear roller of the product, CPSC urges consumers with children at home to stop using the product immediately." 
The advisory comes as regulators continue to investigate a child's death by a Tread. 
PELOTON EXTENDS DROP ON REPORT OF CHILD DEATH

— zerohedge (@zerohedge) March 18, 2021
Shares of Pelotons slumped more than 5% premarket Monday on the news.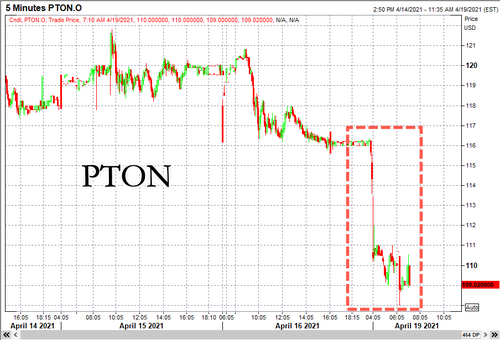 JPMorgan Chase & Co. analyst Doug Anmuth recommended clients buy the dip related to the CPSC's warning.
"Peloton emphasizes that the Tread+ is safe when its warnings and safety instructions are followed, and the company will neither stop selling nor recall the Tread+," Anmuth told clients in a research note. He added that CPSC's advisory on Tread won't delay the company's launch of a lower-priced Tread. 
CPSC also released a disturbing video of the Tread safety incident. 
Peloton released a statement countering CPSC's advisory and called it "misleading and inaccurate."