---
Fiat Cuts 1,500 Jobs At Canada Minivan Plant
If the consumer has gone cold or just silly millennials not forming families because of their limited financial mobility due to insurmountable debts, minivan demand in North America is plunging, resulting in planned production cuts and job losses at one Fiat Chrysler Automobiles plant in Canada. 
Bloomberg reports Fiat will cut production output at its minivan plant in Windsor, Ontario, beginning June 29. The wind-down of the factory will result in the loss of 1,500 jobs. The Italian-American automaker is phasing out the Dodge Grand Caravan by May. The plant will continue to build Chrysler Pacifica and Voyager minivans but at lower volumes.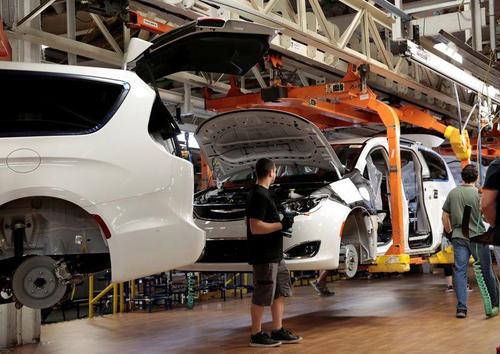 "This decision comes as the company works to align volumes with demand," Fiat Chrysler spokeswoman Jodi Tinson said in an emailed statement, adding that the company "will make every effort to place indefinitely laid-off hourly employees in open full-time positions as they become available based on seniority."
Since 1983, the company produced 12 million minivans, turning out about a half-million per year since the early 1990s. Rising demand for minivans coincided with baby boomer family formations of the 1980/90s, and their great wealth creation from soaring home and stock prices allowed for large families and McMansions. However, everything changed when millennials started dominating the workforce in the last five years. Millennials are broke, plagued with insurmountable debts, delaying family formation and homebuying – so the need for a minivan to haul a family around has become obsolete.  
Fiat slashed a production shift last September, and the latest comments from local union chief Dave Cassidy is that "We will not stop. We are going to do every damn thing we can to get everyone back to work!"
"We will Not stop
We are going to do every Damn thing we can to get everyone back to work!"

Dave pic.twitter.com/6ZG6NJbUwU

— Local 444 Unifor (@LOCAL444UNIFOR) February 27, 2020
Fiat has idled several North American plants on and off in the last several years, including the Windsor plant and a Jeep Cherokee plant in Belvidere, Illinois.
On top of waning consumer demand and shifts in tastes, the auto market worldwide has been diving into recession. We have covered, at length, the collapse of auto sales not only in the U.S. but in leading global markets like China and Europe for the last 20 months.