---
Final Q2 GDP Revision Shows US Economy Shrank -31.4%
In its third estimate of Q2 GDP, the BEA reported moments ago that the largest US economic contraction in history was revised slightly higher, from -31.7% to -31.4%. This in turn was also an improvement from the first estimate of -32.91% which nonetheless is still pretty bad considering nearly a third of the US economy was effectively shut down on an annualized basis.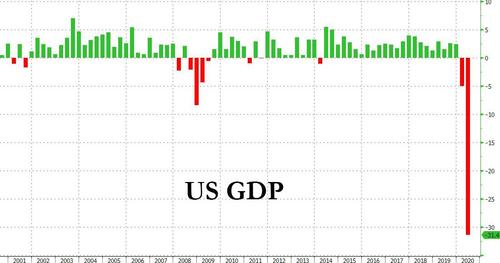 The revision to GDP reflected an upward revision to consumer spending on services that was partly offset by downward revisions to exports and to business investment in intellectual property products. Specific changes were as follows:
Personal Consumption: from -24.76% to -24.01%
Fixed Investment: from -5.20% to -5.27%
Private Inventories: from -3.46% to -3.50%
Net Exports: from 0.90% to 0.62%
Government consumption: from 0.82% to 0.77%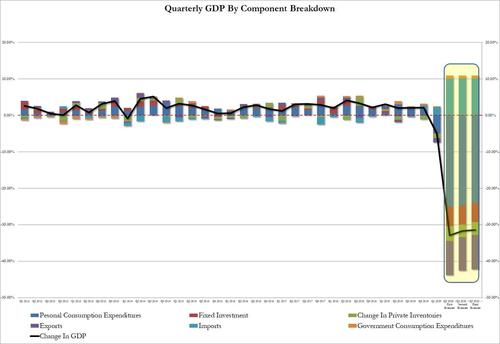 The BEA also announced that profits decreased 10.3% Q/Q after plunging 12.0% in the first quarter. Corporate profits decreased 19.3% in the second quarter from one year ago. Some more details:
Profits of domestic non-financial corporations decreased 12.9 percent after decreasing 14.4 percent.
Profits of domestic financial corporations increased 6.1 percent after decreasing 8.9 percent.
Profits from the rest of the world decreased 18.9 percent after decreasing 8.4 percent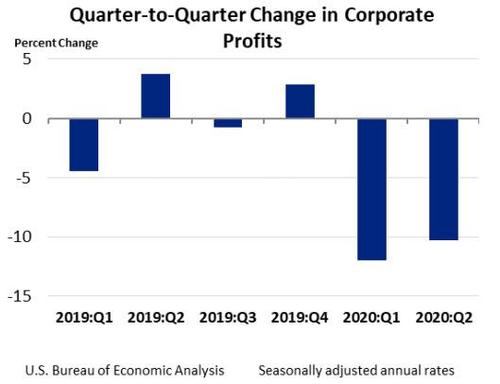 Of course, none of the data above matters as it is 3 months stale now. The real question is what will be announced on Oct 29, when the first estimate of Q3 GDP is released and which is expected to be in the 30%+ ballpark, which will make it the strongest annualized GDP growth in US history. The fact that it will come just days before the election will be surely used by Trump.
Personal consumption fell 33.2% in 2Q after falling 6.9% prior quarter
GDP price index fell 1.8% in 2Q after rising 1.4% prior quarter
Core PCE q/q fell 0.8% in 2Q after rising 1.6% prior quarter