---
FINRA Fines Robinhood For Allowing Brokers Frontrun Its Orderflow
Today in "how the zero commission sausage is made" news...
FINRA has fined the egregiously misnamed Robinhood Financial $1.25 million for "best execution violations" involving allowing four broker dealers for "failing to ensure that its customers received best prices for securities orders" which is another way of saying allowing major brokers to frontrun its orderflow. The incidents took place between October 2016 and November 2017, according to FAIQ.
Robinhood started a trend in the brokerage world by pitching no commissions, i.e., "free trades" to its customers. That has since become the industry standard, with names like Schwab, eTrade and Ameritrade all following suit. 
There is just one problem: there is no such thing as a free lunch... or free trade.
Jessica Hopper, FINRA's acting head of its Department of Enforcement said: "Best execution of customer orders is a key investor protection requirement. Finra member-firms must exercise reasonable diligence in performing regular and rigorous reviews to achieve best execution for their customers."
FINRA says that Robinhood neither admitted nor denied the charges as part of its settlement. Robinhood is, however, required to "retain an independent consultant to conduct a comprehensive review of the firm's systems and procedures related to best execution" as part of the settlement.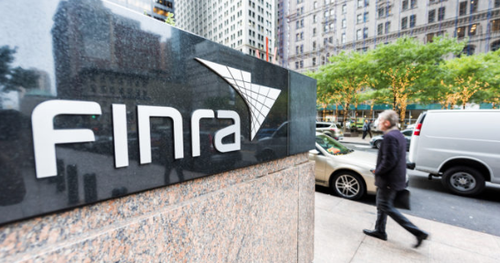 According to FINRA, Robinhood routed its customers' non-directed equity orders through four brokers, all of which paid Robinhood for the orderflow, something they wouldn't do if they didn't extract critical information from said orderflow. Which they did, hence frontrunning. While FINRA did not identify the four broker dealers, earlier this year it was reported that orderflow revenue at Robinhood spiked 227% in 2018.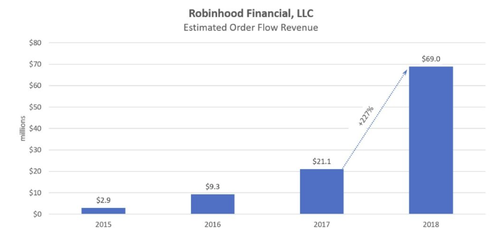 Meanwhile, it is easy to track down who the potential brokers were. As a reminder, all brokerage firms that sell order flow are required by the SEC to disclose who they sell order flow to and how much they pay. Furthermore, as Seeking Alpha noted some time ago, "the people Robinhood sells your orders to are certainly not saints. Citadel was fined 22 million dollars by the SEC for violations of securities laws in 2017. Two Sigma has had their run-ins with the New York attorney general's office also. Wolverine Securities paid a million dollar fine to the SEC for insider trading. It's easy to miss, but there is a material difference in the disclosures between what Robinhood and other discount brokers are showing that suggests that something is going on behind the scenes that we don't understand at Robinhood."
From Robinhood's Q2 SEC rule 206 disclosure: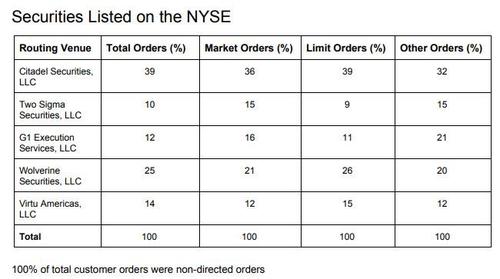 A Robinhood spokesperson said: 
"The facts on which the settlement is based do not reflect our practices or procedures today. The agreement relates to a historic issue during the 2016-2017 timeframe involving consideration of alternative markets for order routing, internal written procedures, and the need for additional review of certain order types."
"Over the last two years, we have significantly improved our execution monitoring tools and processes relating to best execution, and we have established relationships with additional market makers," the spokesperson continued.
FINRA's Best Execution Rule 5310 requires that firms use "reasonable diligence" to ascertain the best market for the subject security and buy or sell in order to get the most favorable price for the customer. FINRA firms are expected to conduct an order-by-order review of execution quality or a "regular and rigorous review."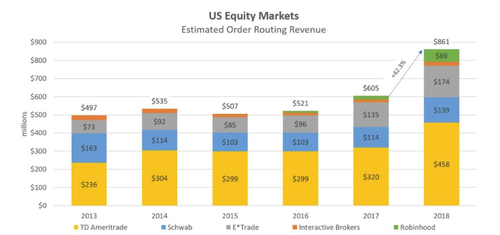 FINRA says Robinhood did not reasonably consider this rule, but rather focused only on the execution quality of its pre-existing routing destinations, all of which paid Robinhood for the orderflow. In other words, instead of doing the most important thing a brokerage is supposed to do, namely provide a best execution for its clients, RobinHood was more focused on preserving its relationships with a handful of frontrunning - and generously paying - HFT clients.
FINRA claims that Robinhood didn't perform systematic execution reviews of several types, like nonmarketable limit orders, stop orders and orders received outside of regular trading hours. FINRA said "hundreds of thousands of orders" fell outside the firm's regular and rigorous review process. 
The regulator also said: "Robinhood's supervisory system was not reasonably designed to achieve compliance with its best execution obligations. The firm's supervisory system disregarded several order types and factors to be considered in conducting its best execution reviews."
The fine adds to a growing discussion of worries focused around zero commission trading. Consumer advocates (and those who understand how Wall Street actually works) have expressed worries that the commission free trading could actually be working against customers. They also question whether or not regulators have enough oversight and muscle to curb bad actors. 
That said, FINRA certainly isn't making much of a statement with a $1.25 million fine for a multi-billion corporation, one which gets multiples more in revenue from its HFT clients.
Micah Hauptman, financial services counsel for the Consumer Federation of America said: "I'm concerned retail brokers may replace the direct and transparent approach of charging commissions with indirect and opaque charging. That could result in investors still having to pay these or other costs in ways that aren't readily apparent or subject to market forces." 
For those naive enough to believe they can still get something for free - especially on Wall Street - what this means is that your "free" trades simply allow high frequency firms to front-run your orders. 
Meanwhile, we now have another non-GAAP concept to add to the neverending list of "NOT XXX" stuff: non-GAAP Robin Hood, the one who takes from the poor to give to the filthy rich.