---
Firefighters Battle Three-Alarm Fire On Top Of Manhattan Building 
A 3 alarm fire has been reported on the top floor of a 6-story building in Manhattan on Tuesday afternoon, according to the New York City Fire Department (FDNY). 
"FDNY members are operating on scene of a 3-alarm fire at 303 East 37th Street in Manhattan," tweeted FDNY. 
FDNY members continue to operate on scene of a 3-alarm fire at 303 East 37th Street in Manhattan. There are currently no injuries reported. pic.twitter.com/lAIC1ZSCFU

— FDNY (@FDNY) March 23, 2021
The fire was first reported in the late afternoon of a six-floor building at 393 E. 37th St. in Tudor City.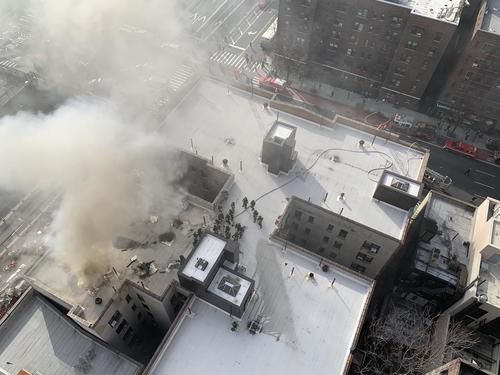 Multiple hook-and-ladder fire trucks have been dispatched to the incident area as the heavy smoke rises from the building.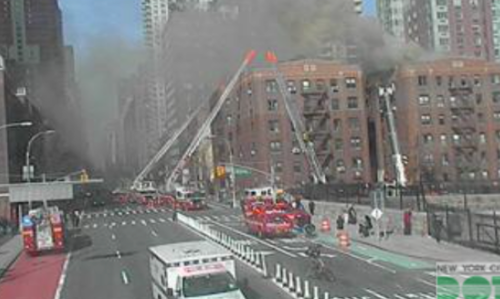 Streets around the building have been closed off as more than 100 firefighters attempt to extinguish the blaze. 
Courtesy @ScottMillermlb and Erica on the @1010WINS Tip Line, we see how BAD traffic is in #MurrayHill because of this building fire in #Manhattan. 2nd Ave is closed from the 40s to the #QueensMidtownTunnel, and multiple cross streets are blocked.@WINSTRAFFICNYC pic.twitter.com/m2MtcwcQGY

— Greg Rice (@GregRice1010) March 23, 2021
Here's another view of the dense brown smoke rising from the top floor of the building. 
Murray Hill Fire at Second and 37th #fdny #Manhattan #nyc #fire #Manhattan pic.twitter.com/F9yG9xa6XI

— Kurt Alert (@KurtC) March 23, 2021
Twitter users report a massive presence of first responders. 
*This story is developing...