---
Boston Tightens COVID Restrictions As US Deaths Top 300K, First Health-Care Workers Vaccinated: Live Updates
Summary:
Boston tightens COVID restrictions
COVID vax success "promising" to help us fight off other disease
US tops 300K COVID deaths
Italy mulls holiday lockdown
NJ sees surge in patients on ventilators; state sees most new cases since May
Netherlands PM says lockdown will last at least 5 weeks
Rate of patients on ventilators spikes in NJ
First US patients vaccinated
London enters tier 3 restrictions
Netherlands follows Germany into hard lockdown
US average deaths near 2.5K/day
Italian government warns of new restrictions to come
NJ cases top 400K
Singapore approves Pfizer vaccine
Netanyahu enters quarantine after COVID exposure
* * *
Update (1350ET): Boston, one of America's oldest cities (and, according to some, most racist) cities, has just announced that it will tighten COVID-19 restrictions ahead of the Christmas holiday, banning most gatherings as it becomes the latest city to move to tighten restrictions more quickly than the surrounding state, something progressively run cities like NYC, LA & SF have tended to do, with NYC Mayor de Blasio declaring earlier today that NYC might soon be back in lockdown.
Boston is moving back into Tier 2, which means gyms and salons will once again be closed, while restaurants can still do indoor seating, but nobody can sit at the bar and parties have 90 minutes max in the restaurant.
ALERT!! #Boston is moving back to #Phase2Step2 starting 12/16 for at least 3 weeks.
Mayor @marty_walsh says place that'll have to close include: gyms (except 1-1 personal training), movie theaters, museums, bowling alleys, sightseeing tours, and arcades. #COVID19

— Susan Tran (@susantran) December 14, 2020
#Phase2Step2 in #Boston, @marty_walsh says, also means no bar seating at restaurants unless approved by licensing board, 90 minute max at a table, and no pool tables, darts or trivia games allowed.
Also starts 12/16 for at least 3 weeks. #COVID19

— Susan Tran (@susantran) December 14, 2020
Meanwhile, Dr. Fauci, in his latest in a seemingly neverending stream of comments about the COVID-19 vaccine, said earlier that the sheer speed with which we developed a COVID-19 vaccine could help humanity fight off future diseases.
* * *
Update (1345ET): The US has hit another major COVID-19 milestone, surpassing 300K COVID-19 deaths, just as the first health-care workers are being vaccinated in New York, California and elsewhere.
In the Great State of California, LA County just reported record hospitalization numbers despite a punishing lockdown that began a week ago. San Francisco also reported its highest number of daily cases since the outbreak began.
Finally, as night arrives in Europe, Italy is reportedly mulling more restrictive anti-coronavirus for the holidays as numbers mount.
* * *
Update (1240ET): As the first health-care workers are vaccinated across the Hudson, New Jersey is seeing a disturbing surge in patients on ventilators. The number increased by 26% during the week ended Dec. 13, according to state health data. Some 10% more people were breathing with the machines' assistance, for a total of 491 patients. In all, NJ had 3.64K hospital patients, a 9% increase in the span of a week.
The state's first vaccinations, starting with 76K Pfizer doses destined for 38K people, will begin on Tuesday morning in Newark with health-care workers at University Hospital.
"This is really good news but I think the next six, eight weeks are going to be really tough in New Jersey and in our country...There's a lot of fatigue, a lot of private spread, a lot of holidays, cold weather -- all of that's conspiring."
Garden State Gov Phil Murphy reported that the state saw the most new cases since May over the last 24 hours.
NEW: We're reporting 4,805 new positive #COVID19 cases, meaning that a total of 405,448 New Jerseyans have tested positive for coronavirus since March 4th. pic.twitter.com/Kj3AcGdslB

— Governor Phil Murphy (@GovMurphy) December 14, 2020
Dutch PM Mark Rutte said during his evening address on Monday that the new lockdown measures reported earlier will last for at least five weeks, as the country struggles to suppress its out-of-control rates of cases and hospitalizations. He also advised those who could to work from home.
The UK also reported another 16K+ new cases, fewer than the 18K+ reported yesterday.
Italy also saw a drop day over day, with 12K new cases on Monday, compared with 17.94K new cases on Sunday. That, however, comes
* * *
Update (0945ET): It's official: Just as Mayor Sadiq Khan warned, London's COVID alert level has been raised to a "Tier 3", the highest of the system of tiers and restrictions established by Boris Johnson. Or at least that's what Health Secretary Matt Hancock has just told Parliament.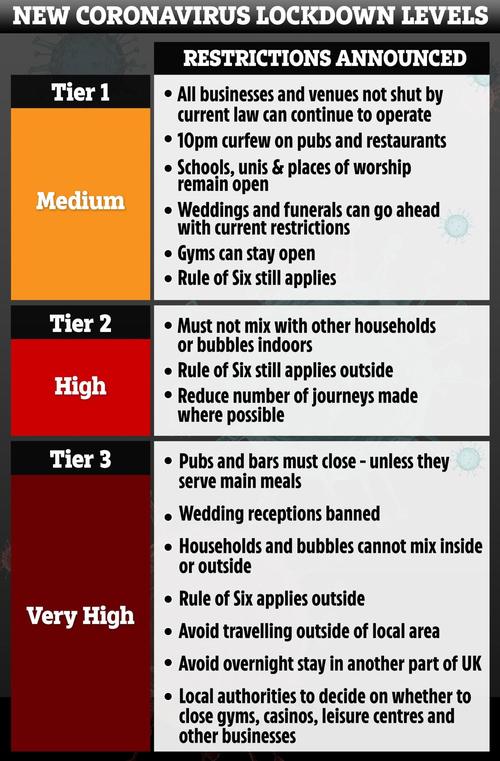 The new restrictions take effect on Wednesday.
We're sensing the issue of who will follow Germany into lockdown will be the big theme of the day.
* * *
The big news out of Europe Monday morning is that the Netherlands is following Germany into a "hard" holiday lockdown that will start this week and last at least until mid-January. Across the country, schools, non-essential shops and museums will all be closed from midnight on Tuesday, according to the local press.
Students in elementary and middle school will be required to switch to distance learning, and people will be urged to remain indoors as much as possible. The lockdown was reportedly introduced so swiftly, and without much warning, to avoid panic buying in the country's shops and markets. The Netherlands lockdown will be in place until Jan. 19, longer than the German lockdown announced yesterday.
PM Mark Rutte is expected to make a statement about the lockdown tonight, at around 1900CET, which is in about 3.5 hours.
Circling back to the US, the number of new daily cases dropped below 200K on Sunday, while President Trump celebrated in a tweet minutes ago on Monday morning that the first non-trial patient had finally been vaccinated in the US. Dr. Yves Duroseau, chair of emergency medicine at Lenox Hill Hospital, and RN Sandra Lindsay, critical care nurse at Long Island Jewish Medical Center, volunteered to be the first New Yorkers to take the COVID-19 vaccine, and film of the vaccination was distributed to US cable news channels.
First Vaccine Administered. Congratulations USA! Congratulations WORLD!

— Donald J. Trump (@realDonaldTrump) December 14, 2020
Watch footage below:
Breaking: A critical care nurse in Queens, Sandra Lindsay, is the first New Yorker to be vaccinated in a non-trial capacity after the first doses of Pfizer's vial arrived at Northwell Health this morning. "It didn't feel any different from taking any other vaccine," Lindsay said. pic.twitter.com/KSaYEQUTHE

— Spectrum News NY1 (@NY1) December 14, 2020
While OWS head Moncef Slaoui said over the weekend that 8 in ten Americans could be vaccinated by June...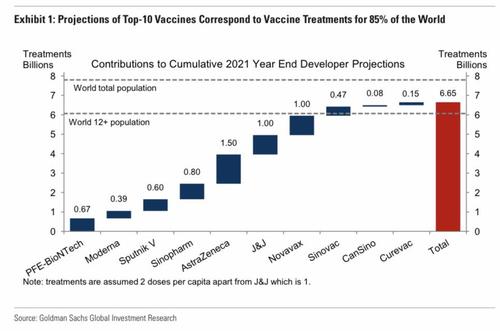 ...a team of analysts at Goldman has come up with projections showing a surfeit of global vaccine supplies will allow the US to hit 50% vaccination rate by April.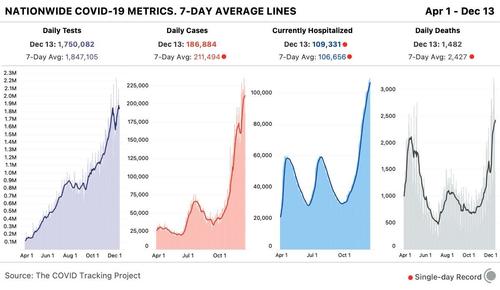 Although the US 7-day average for deaths has reached 2.4K, that's 300 deaths more per day on average over the past week than during the peak from the spring wave. However, in the 24 hours to Sunday, the rate of reported deaths slowed slightly.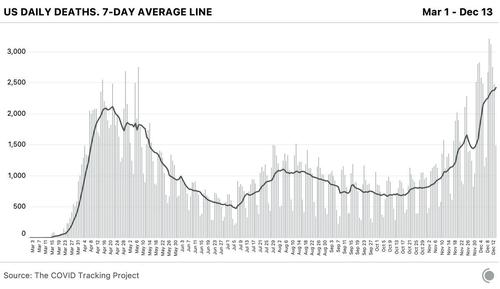 The coronavirus vaccine has landed in California. Los Angeles International Airport officials tweeted out pictures Monday morning of the FedEx plane carrying the vaccine to prove it. The airport called it a major milestone "for science, our country and our community."
The states reporting the most deaths are PA, CA, NY, TX, IL.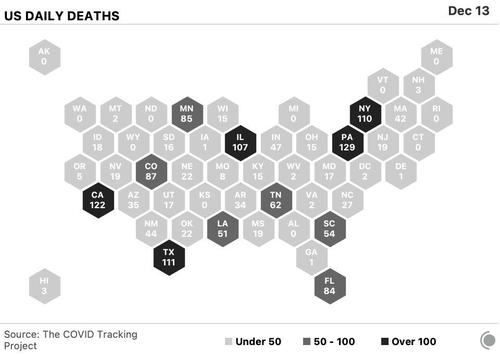 In NJ, the coronavirus cases passed 400K on Sunday after reporting another 4.2K positive tests. An additional 24 people in the state died from COVID in the 24 hours through Sunday, bringing the tally to 15.9K, the fifth-highest death toll in the country.
Here's some more news from overnight and Monday morning:
Japanese Prime Minister Yoshihide Suga said the government will suspend its "Go To" domestic travel incentive campaign from Dec. 28 to Jan. 11, according to remarks carried by public broadcaster NHK. The government had been under pressure to halt the campaign after coronavirus cases surged last week (Source: Bloomberg).
Singapore has approved the use of Pfizer Inc. and BioNTech SE's coronavirus vaccine and expects the first shipments by the end of the month, by which time it also plans to move into the final phase of its virus curbs (Source: Bloomberg).
Ireland may "very well" face new restrictions in January in the wake of Christmas celebrations, Prime Minister Micheal Martin said on Monday (Source: Bloomberg).
The Italian government is considering new measures to tighten Covid-19 restrictions over the holidays, effectively walking back some recent moves to allow more movement and business openings during the period, Corriere della Sera reported (Source: Bloomberg).
More bad news out of Sweden. As hospitals across the country are wracked by severe staff shortages, prompting a growing number of health-care workers to quit, an ICU unit in Sweden's third biggest city has been gripped by an outbreak of Covid-19 that has already infected more than 40% of the staff (Source: Dagens Nyheter).
* * *
Our last note of the day comes courtesy of Israel, where Prime Minister Benjamin Netanyahu has become the latest world leader to enter quarantine, where he will reportedly remain until Friday after meeting with someone who tested positive.