---
Flashing Red Alert: Near Record Surge In Credit Card Debt Just As Rates Hit All Time High
Another month, another glaring reminder that most US consumer spending is funded by credit cards.
The latest consumer credit report was published by the Fed today at 3pm and it showed that in November, total credit increased by $27.962BN to $4.757 trillion, above the $25BN consensus estimate, and a number which would have been bigger than last month's pre-revision increase of $27.1BN, had it not been revised modestly higher to $29.12BN.
While the number was big, it wasn't nearly as big as some recent monthly increases, and that had to do with the composition: starting with non-revolving credit, or student and auto loans, the November increase was a relatively modest $11.5BN, the lowest since August, and below the LTM average of $16.7BN.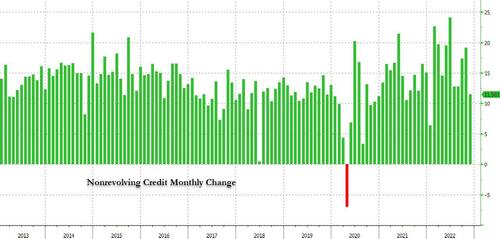 Then again, with $3.57 trillion in non-revolving debt already, a modestly slowdown is certainly welcome even if next month we are confident we will see a more than compensative surge in auto and student loans.
The more notable change in consumer credit in November, or the month when holiday spending really kicks in, was in revolving credit, i.e., credit card debt. And it is here that the US consumer again showed what happens when there are no stimmies to fund America's favorite pastime, shopping.
According to the Fed, the November increase in credit card debt was a whopping $16.5 billion, more than 60% higher than October's $10 billion, and also the 4th highest monthly print this century, with just March 22, April 22, and August 22 modestly higher.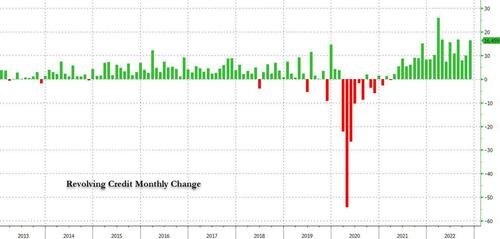 But while we have previously discussed the danger of soaring credit card debt, the far more scarier component in today's consumer credit report is the disclosure on average credit card interest rates: the data series, a relatively new addition to the Fed's G.19 statement, showed that in Q4 2022, the avg rate on all credit cards soared to 19.07% (and while the actual rate on credit card accounts assessed interest was even higher at 20.40%, we picked the former to be conservative), the highest since records exist in 1995.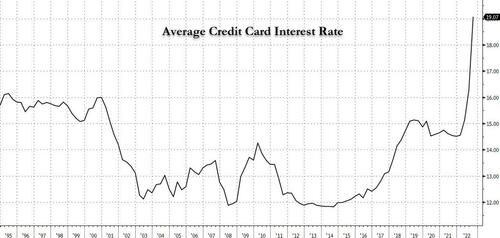 The combination of record high credit card debt and record high credit card interest is nothing short of catastrophic for both the US economy, and the strapped consumer who has no choice but to keep buying on credit while hoping next month's bill will somehow not come. Unfortunately, it will and at some point in the very near future, this will also translate into massive loan losses for US consumer banks; that's when Powell will finally panic.
Loading...