---
While the release of Minutes for the September FOMC meeting at 2pm today will likely reinforce the recent run of Fed commentary (more fiscal stimulus needed, uncertainties ahead, rates not going anywhere any time soon, etc) the market will be paying particular attention to any remarks on the Fed's QE purchases, with some expecting the Fed will eventually extend the maturity profile according to NewsSquawk. Furthermore, the minutes are not likely to capture the themes seen in the last week or so (on elections, curve steepening, etc), although any commentary on controlling yields will be taken in the context of the recent yield backup.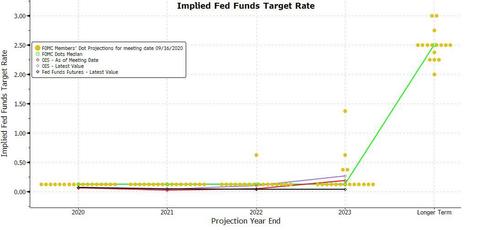 Courtesy of NewsSquawk, here is a summary of what to look forward to in today's Minutes:
Average Inflation Targeting: The September FOMC saw the official adoption of the new flexible Average Inflation Target, where  the Fed affirmed that it was willing to let inflation overshoot its 2% target to reach its full employment mandate; there were no

changes to its asset purchase remit of USD 120bln across Treasuries, TIPS and MBS, balanced across the term structure.

Projections: The economic projections showed that policymakers, in general, do not see PCE inflation reaching 2% until 2023, indicative of a Fed on hold at the lower bound (FFR at 0.00-0.25%) well past the forecast horizon. The minutes could give further insight on the manner in which policy makers are comfortable to let inflation overshoot, i.e. the velocity in which it moves above the 2% target and the ceiling at which it starts becoming a concern if above.

Recent Commentary: Fed commentary in recent weeks has been mixed in regard of clarity around what it considers the upper-limit for inflation, where analysts/participants are generally honing in on between 2.25-2.5%. Evans and Barkin said they would be in favor of up to 2.5%; however, Evans said he was in a "distinct minority" in that view. It is most likely that the minutes will showcase the flexibility of the new inflation-targeting framework, looking to avoid asserting steadfast inflation ceilings and instead showing a preference to view the framework as a dynamic process in which the velocity of inflation pressures are also taken into account.

QE Maturities: Meanwhile, prior to the meeting, there had been some expectations for either the announcement of a more long-end-focused/formal QE transition, from the current "smooth market functioning" form, or some indication that this was being considered. This did not come to fruition, with Powell not indicating any such consideration in the presser/Q&A either. Therefore, it will be interesting to see if there was any focus on such a transition, and if so, what is keeping the Fed from taking such measures. This week, Fed's Mester has suggested that the Fed should have the scope to lengthen QE maturities, while other analysts have previously argued that this may help the Fed to achieve more 'bang for its buck' with regards to purchases.
Before expectations of another round of fiscal stimulus were reduced, analysts had been highlighting the imbalance of an increasing Treasury supply slate, in addition to more stimulus-induced bill issuance, potentially causing a supply glut in the Treasury market, to which it was considered the Fed would have to step-up further to provide support, particularly at the long-end in wake of record coupon auction sizes. However, with chances of new stimulus before the election now all but gone, and with it the respective ramp-up in Treasury debt issuance, this has reduced/delayed those supply pressures, hence giving the Fed some time to hold off on more asset purchases.
With that said, markets have been pricing an increased probability of a Biden Presidency and Democrat 'clean sweep' of Congress; many analysts expect the Treasury will need to boost issuance even further, given Biden's spending pledges, and that issuance will likely then need to be mopped up by the Fed.