---
'Uber-Dovish' FOMC Statement Confirms Nothing Will Change On Rates, Policy Through 2023
Neil Dutta at Renaissance Macro sums up today's nothingburger from The Fed:
"Passive easing continues. GDP has been revised up. Inflation has been revised up. Unemployment revised down. Despite all this, the median dot still at zero through 2023 though a few more see a hike. Chair Powell probably has time to help these folks understand the new policy framework."
*  *  *
Today's market chaos is brought to you by the word "SLR" and the number "2023" - whether The Fed will mention its thoughts on the now-politicized Supplemental Liquidty Ratio exemption decision (which will spark turbulence in bank stocks and Treasuries); and whether the Fed's forward-looking dot-plot of rate expectations is adjusted hawkishly for 2023 (if no adjustment, stonks will soar).
Going into the event, there was no fear.
Since the last FOMC Statement, Jan 27th, Bitcoin has doubled, stocks have soared, along with bond yields (prices plunged) and as the dollar gained, gold tumbled...
Source: Bloomberg
Inflation expectations have exploded...
Source: Bloomberg
Overall, Financial Conditions have been volatile but are easier now than at the last FOMC meeting...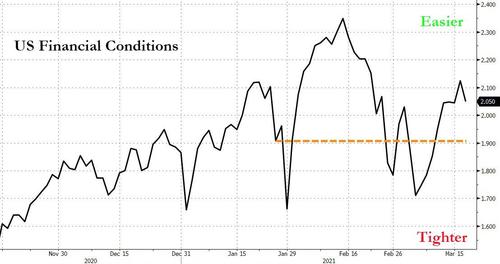 Source: Bloomberg
But the short-end of the yield curve has seen a dramatic hawkish shift in the Fed rate-hike trajectory (the expectation has soared 65bps since the last Fed meeting)...
Source: Bloomberg
And the first rate-hike is getting closer...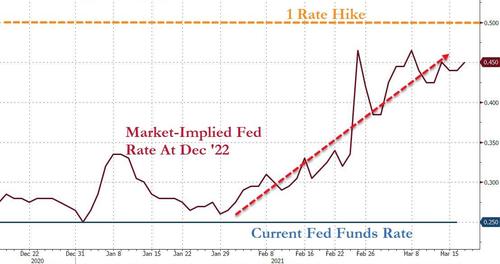 Source: Bloomberg
*  *  *
So what will The Fed do?
Either tell the market it's wrong and send stocks soaring while losing even more credibility; or...
Raise the 2023 median 'dot' to 1 hike and spark a "repricing in rates" as JPMorgan warned.
So what happened?
Well, as expected, the Fed picked the less painful option, unleashing a massive buying spree while accepting that at some point in the next 6-12 months it will be forced to catch up with runaway rate hike reality and burst the bubble.
According to the just released statement, the Fed is keeping rates and policy actions unchanged and while it adjusted its dot-plots, the median level of rates (zero) was unchanged.
To wit, while four Fed members now see at least one rate hike in 2022, up from 1 in Dec 2020, the majority see no rate hike in 2023! In December, five of the then-17 members saw a rate hike in 2023. The committee now has 18 members and 7 of them now see at least one rate hike by 2023 (two see as much as 4 rate hikes, three see 3 hikes, 1 sees 2 hikes, 1 sees 1 hike)...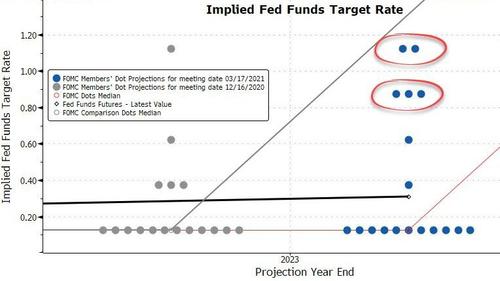 And while FOMC GDP/unemployment projections go suborbital...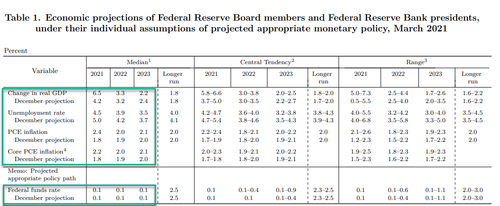 ... with the Fed's GDP forecast revision for this year much larger than expected - the Fed now sees growth at 6.5% this year, compared with 4.2% in December and the 5.8% revision expected by economists.
And yet, not a mouse is stirring in rates because core CPI barely budged:
2020: 1.8% to 2.2%
2021: 1.9% to 2.0%
2022: 2.0% to 2.1%
Oh, and curiously, there was no mention of SLR at all, but considered the flood of dovishness in the Fed's statement, we can only assume that the Fed will promptly kick the can on that particular issue as well.
As Bloomberg correctly notes, "reading the policy statement, you would never know the Congress just passed an historically large fiscal stimulus package and the Treasury has now sent out $242 billion in stimulus checks to Americans just in the last five days!"
As a reminder, here's what Powell said in his early March comments:
"I would be concerned by disorderly conditions in markets or a persistent tightening in financial conditions that threatens the achievement of our goals."
Let's see if he can tame the vol during the press conference.
*  *  *
Full Redline below, showing barely any changes from January: