---
Ford Bucks Dow Sell-Off After Morgan Stanley Raises To 'Overweight' With $14 Price Target
Following Ford's 7% pop yesterday, Morgan Stanley was out this morning sharing its sentiment on why the legacy automaker was a better name to own than General Motors.
The note provided a boost to Ford shares in the pre-market session on Wednesday - they are up 1.5%, bucking the trend of the Dow, which is down about 1% heading into the cash open. Shares were up as much as 3% while GM shares slumped more than 1%.
The investment bank is betting on Ford's ability to come out of the ICE to EV shift efficiently. Morgan Stanley called Ford "is a call on CEO Jim Farley's ability to reposition the Ford portfolio and align the cultures and capital needs of the EV and ICE sides of the house."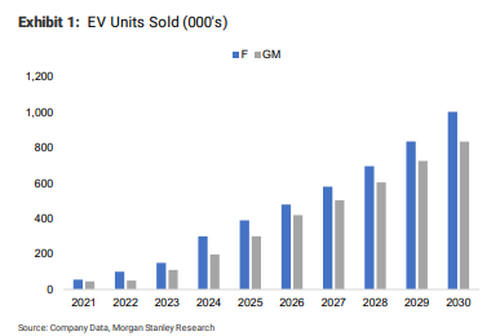 Morgan Stanley analyst and professional Tesla sycophant Adam Jonas raised his recommendation on Ford to overweight from equal-weight, maintaining his $14 price target on the name.
Ford's $14 price target is based on 9.2x normalized EPS of $1.50. Stock currently trades on ~3.0x FY23 EBITDA and ~9.2x PE on our 'US recession' forecasts which are 33% below sell-side consensus. At our $14 target, Ford shares trade at a 10.5% FCF yield (FY23).
The Ford upgrade was "based on valuation and [Jonas'] preference for Ford over equal-weight-rated General Motors", Bloomberg added Wednesday morning. Jonas turned the topic to the inevitable phase out of ICE in the auto industry in his analysis:
"We think it's time for investors to accept that, while there may be some degree of optionality to the EV market, the direction of forecasts for GM and Ford is very much tied to what remains of the useful life of the ICE product range."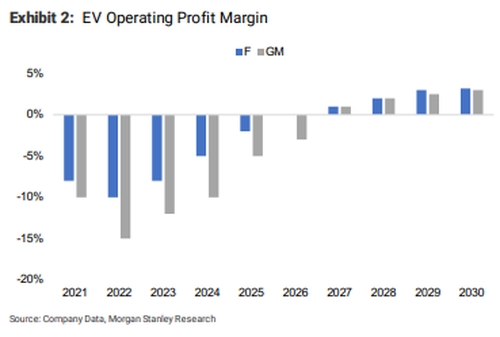 "While autos are no 'safe haven' during economic slowdowns, an idiosyncratic combination of factors (already depressed SAAR, drained inventory, high capex starting point) may mean portions of the industry (OEMs, select suppliers) may prove more resilient than they have historically," Jonas wrote. 
Jonas commented that the company's restructuring could "better align the growth and capex needs of the EV business with a more favorable cost of capital". He called it "far more significant than a mere accounting exercise."
The note continues:
"At current share prices, we not only believe the EV 'option' value has been appropriately compressed to near zero NPV (as it should be), but the market may also be undervaluing the run-off cash flows of the ICE portfolio which is going too far, in our view. ICE will decline, but the decline will go far beyond end of decade and we believe can produce substantial cash flows in the process .For example, we estimate Ford cash flows through FY30 may far exceed 100% of the company's current enterprise value. Our preference for Ford is very much tied to our confidence in management's strategy to re-architect the business portfolio following its sweeping re-organization. We have relatively less confidence that GM will execute a similar strategy along the same time-line."
Jonas also pointed out that the Inflation Reduction Act could positively impact the company's bottom line and suggests that Ford's Q3 profit warning will likely soon be echoed by GM. 
Loading...