---
Ford Shares Fall 6%, Analysts Mixed After Earnings Miss
Shares of Ford are lower by about 6% in the pre-market session this morning after the company reported fourth quarter earnings that missed estimates on Thursday and failed to garner the praise of sell side analysts. 
The company reported 2022 earnings of $10.4 billion after guiding to $11.5 billion to $12.5 billion. "Poor execution" and "higher costs" were to blame for the drastic miss, which had been reaffirmed just weeks prior to the Q4 report coming out. 
The company reported Q4 EPS of $0.51 adjusted versus estimates of $0.62 adjusted. On revenue, 4th quarter beat expectations coming in at $41.8 billion versus $40.37 billion estimated. EBITDA adjusted margins were 9.7%, under Wall Street's best case expectations of around 10%. 
CEO Jim Farley said in the company's press release: "I'm excited about 2023, which is pivotal for us. We've got clarity and ambition with the Ford+ plan, a strong team carrying it out, and a lineup of great products and customer experiences that's getting even better.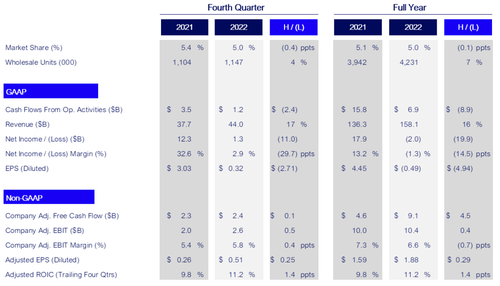 "We should have done much better last year. We left about $2 billion in profits on the table that were within our control, and we're going to correct that with improved execution and performance," he continued. 
Despite the miss, the company heralded some of its achievements for the year as well:
More than 650,000 F-Series trucks shipped during the year, making it America's best-selling truck for 46 straight years – and top vehicle of any type for 41 years
The electric F-150 Lightning recently honored as both the North American Truck of the Year – marking the third straight year Ford vehicles have earned that award – and the 2023 MotorTrend Truck of the Year.
Recognition of the 2023 Ford Bronco and 2023 Ford Maverick "10 Best Trucks and SUVs" by Car and Driver, the second consecutive year for Bronco
In November, producing the 150,000th Mustang Mach-E in less than two years, a milestone to scaling Ford's global EV production to a run rate of 600,000 annually by the end of 2023 and more than 2 million by the end of 2026, and
Consumer Reports last week named Ford BlueCruise advanced driver-assistance system the best among 12 such systems that it tested; at the end of 2022, customers had traveled more than 42 million hands-free miles with BlueCruise, four times more than just six months earlier.
CEO Jim Farley told CNBC on Thursday: "We have to change our cost profile. We know what we have to go after. I'd love to give you all the metrics and all the specific gaps we see. But you know, whether it's absenteeism, the number of sequencing centers, the number of wiring harnesses we have, we know what it is." 
He continued; "We have a lot of complexity relative to the customer and also inside our company. And we can cut the customer-facing complexity like we have, but it takes time to work that down to parts on the line, to the manufacturing line. It just takes time to work through that and that's what we'll do."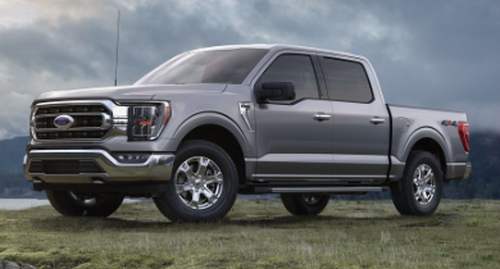 "I can't wait to show you and the whole world this next cycle of products. Many of our competitors are just coming out with their first cycle and we can see their batteries are too big. Their distribution costs are too expensive. They're spending too much money on advertising. You know, we can't do that. We don't plan on doing that."
Other analysts also weighed in with their take on Friday morning, from Bloomberg:
Deutsche Bank, Emannuel Rosner (downgrades to sell)
The large miss in 4Q and "aggressive" guidance for 2023 displays "considerable operational shortfalls," and also implies meaningful downside to Ford's earnings trajectory
Notes management citing supply chain conditions for the miss, but Rosner also highlights that they had recognized the company's "suboptimal material economics and poor operational execution"
Rosner worries about the limited visibility into Ford's supply base
Citi, Itay Michaeli (neutral)
Print was "significantly below" previous guidance due to a number of company-specific factors, including lower volume and higher costs
Guidance is likely to be overshadowed by the "surprise" miss, with the near-term story now focused on proving execution
North America was only slightly below Citi's own estimate; most of miss came from Europe and China, which reported losses
Jefferies, Philippe Houchois (hold)
While Ford missed expectations across divisions, the free cash flow "held up in quantity and quality"
Notes management is "clearly frustrated by slow pace of progress"
Loading...