---
Ford Shares Pop On Raised Guidance, But Company Warns Chip Shortage May Not End Until 2023
Shares of Ford are up 8% in the pre-market session after the company reported mixed results on Wednesday, but raised its full year guidance.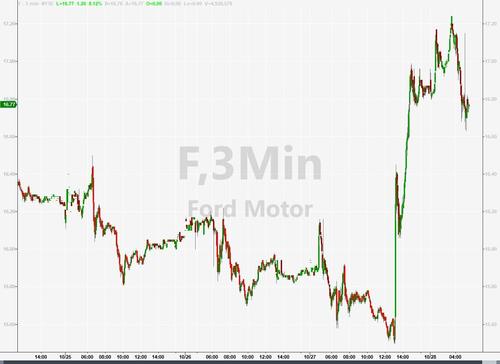 The company earned $0.45 per share versus $0.60 per share last year and revenue was down to $35.7 billion from $37.5 billion, according to MarketWatch. Despite the 23% fall in net income, Ford was able to dull some of the blow of lower sales with higher selling prices. 
Analysts had expected $0.27 per share in EPS on $38.2 billion in revenue. Still, it was the company's guidance that drove the stock. The company increased its guide for full year 2021 adjusted EBIT to between $10.5 billion and $11.5 billion. 
The company also said it was going to resume its dividend of $0.10 per share in Q4 of this year. 
Ford lost 2.4 percentage points of U.S. market share, which it blamed on not being able to produce enough vehicles to meet demand. Earlier in the week, General Motors noted it was suffering from the same lack-of-production issues. Both automakers see these problems lightening up heading into 2022. 
Chief Executive Jim Farley said: "We are creating a spring-loaded future as we emerge from the chip shortages and COVID constraints. We're creating iconic and distinctive products that only Ford can do."
Ford chief financial officer John Lawler told investors the company had plenty of cash to do its business with: "We are not capital constrained. What it reflects is the strength of our business . . . We can fund all of our growth initiatives."
He continued, talking about EVs benefit to the financial side of the business: "That's providing us the financial flexibility to fully fund our plan and all of our other capital needs. We also are focused on total shareholder returns, not only appreciating stock price but also the dividends."
Despite the chip shortage, the company plans on launching its F-150 Lightning, the all-electric version of Ford's F-150 pickup truck, in coming months. Executives said the company was in "final preparations" for the launch. 
"Semiconductor availability remains a challenge, but markedly improved from the second quarter," the company said in a release. 
Farley commented that the company's challenge is "to brave production constraints and increase availability to meet this incredible demand, both in North America and in Europe and also in China."
Lawler said of the semi shortage that "the constraints on the chips will remain fluid through 2022, and they could extend into 2023".
GM CEO Mary Barra had echoed these sentiments earlier in the week during GM's earnings call, stating: "We think [the shortage] will get better toward the end of the year, but I have to tell you, it still continues to be somewhat volatile."