---
Ford Sinks After Halting Production, Shipments Of Electric F-150 On 'Battery Issues'
With Tesla stock soaring (and price cuts already hurting competitors' margins), Ford shares are sliding after the carmaker announced that it has paused production and shipments of its electric F-150 Lightning pickup due to a potential battery issue.
As CNBC reports, the EV truck is being closely watched by investors, as it's the first mainstream electric pickup on the market and a major launch for Ford.
The production halt adds to ongoing "execution issues" detailed to investors earlier this month by Ford CEO Jim Farley.
Ford stock price is fading on the headline...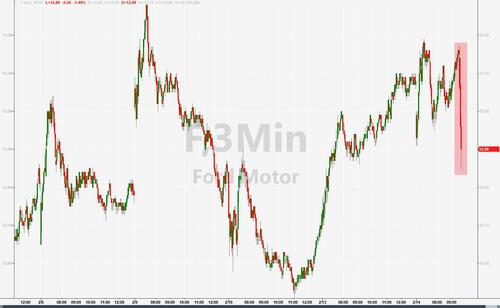 Ford has not established a timeline for when production and the shipments will resume, Ford spokesperson Emma Bergg said.
"The team is diligently working on the root cause analysis," Bergg said, adding the company is "doing the right thing by our customers" to resolve any potential issues before resuming production and shipments.
Bergg said the company is unaware of any incidents or issues associated with the potential battery issue. There is no stop-sale for vehicles already on dealer lots, meaning dealers can continue to sell vehicles they already have on hand.
The halt in production and shipments was first reported Tuesday by Motor Authority.
Loading...