---
French Strikes Halt Fuel Shipments From Refineries And A Fuel Depot
The French nationwide strike over proposed pension reform (Macron is seeking to raise the retirement age from 62 to, gasp, 64; the French say "non") which we profiled last week, interrupted on Tuesday the shipment of fuels from refineries and a fuel depot of TotalEnergies, the French supermajor told Reuters.
Workers and employees in various sectors, including the energy sector, civil servants, and teachers, have been staging strikes for weeks to protest against President Emmanuel Macron's plan to raise the retirement age.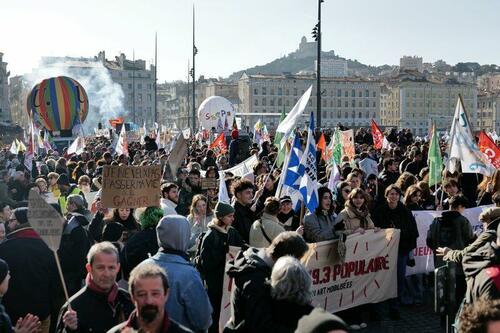 Workers at the oil refineries at Donges and Feyzin, operated by TotalEnergies, are on strike today, a representative of the Force Ouvriere trade union told Reuters. Workers at the fuel depot Flandres have also joined the massive industrial action in France, the official added.  
As Oilprice notes, this is not the first time that fuel deliveries have been disrupted by strikes this year. 
Two weeks ago, the strike in France halted wholesale fuel deliveries from three refineries operated by TotalEnergies on the first day of a series of planned nationwide strikes in many sectors. The Donges, Normandy, and Feyzin refineries of TotalEnergies stopped the wholesale supply of gasoline and diesel, while the refinery at Feyzin had to reduce processing rates to a minimum on January 19.
TotalEnergies and the French unit of ExxonMobil hold most of the refining capacity in France. The strikes against Macron's unpopular pension reform are expected to continue.
The most recent wave of strikes comes three months after refinery workers went on strike for weeks in September and October amid a pay row. Strikes at refineries in France in the autumn of 2022 left more than 60% of the country's refining capacity offline while gas stations in and around Paris and in the northern part of the country began to run out of fuel.
The strikes against the planned pension reform also come just as the EU banned imports of petroleum products from Russia as of February 5.
Loading...