---
"Fuel To Melt Up" - Levels To Watch Ahead Of CPI
Ahead of the closely-watched CPI print, Nomura's Charlie McElligott notes that, from an options dealer positioning perspective, the S&P looks "insulated and stable" with 'long gamma, zero delta', but Nasdaq and Small Caps are both 'long gamma, short delta' meaning there is potential "fuel to melt-up" from covering delta.
SPX Neutral Gamma "flip" @ 4496, Neutral Delta @ 4577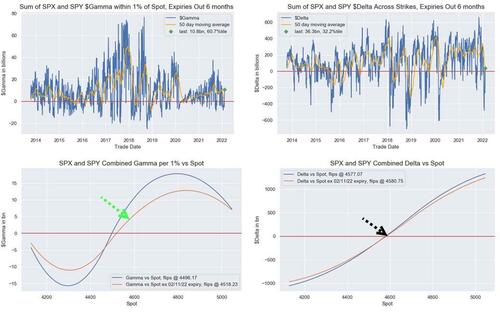 QQQ Neutral Gamma @ $361.66, Neutral Delta @ $371.95
IWM Neutral Gamma @ $203.26, Neutral Delta @ $211.54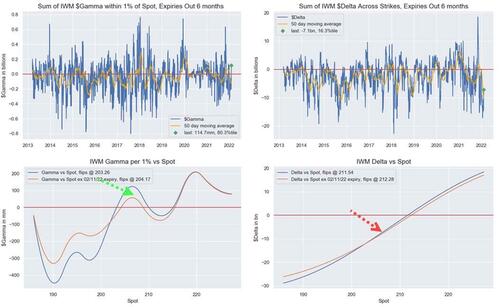 McElligott warns that the greatest risk to consensus positioning & thus, performance is to a CPI disappointment (meaning: surprise LOWER in today's number) for obviously crowded "hawkish" Bond shorts and underpositioned Equities investors, both susceptible to a large "squeeze" higher on a "dovish" market response.
That means watching CTA positioning is also critical as the "Short Bonds and MM Rates" remains fully-loaded (and generally far from "covers" because it is so deeply in-trend) alongside "Long Commods," vs a much more nuanced Stocks story, which is a "Net Short Global Equities - but proximate to 'buy to cover' triggers" dynamic.
Here are the levels...
In a longer term (i.e. multi day) context, SpotGamma notes that as long as the S&P holds our Vol Trigger level (4520), we give edge to markets pushing higher.
Our base assumption for today is that the "event volatility" around the CPI number burns off, which kicks in positive vanna flows and gamma hedging into the 4600 area. This would signal a continued rotation in options positions to higher strikes which drags markets up.
For the downside, based on today's volatility estimate it would likely take multiple sessions to initiate a major selloff from here – we'd first have to stage today down near the 4500 line (~1% lower) which would position the market for a more significant decline tomorrow. In other words: due to the gamma position we see less downside tail risk for today.