---
Furious China Moves To Counter "Turmoil In Financial Markets" Caused By "Massive" Biden Stimulus
For all of the past decade, it was the US that was fiscally constrained and China had to serve as the world's debt-fueled growth dynamo (it's also why we said that China's credit impulse had a far greater impact on the global economy and assets prices than even the Fed's QE whose size and scope is tiny in comparison to the trillions in new loans created by China every year). Well, welcome to upside down 2021 when the script has been flipped, and with China jawboning its desire to slowdown its massive credit injection machine (and even, gasp, deleverage from its nosebleed debt levels, a consequence of its post-Covid response) it is now the US - and Biden's gargantuan fiscal stimulus - that Beijing is freaking out about (as we noted recently in "Up Until Now It's Been All China: Now It's Going To Be All The US")
As the SCMP reports, "China's central bank is stepping up liquidity support for domestic businesses and increasing its monitoring of cross-border capital flows as concerns persist over the side effects of Washington's massive new fiscal stimulus plan."
Translation: there is too much hot money that is rushing into China, and the last thing Beijing - traditionally an exporters of its own deflation - wants, is to import US deflation courtesy of a one-way dollar flood, sparking runaway inflation on the mainland.
The moves by the People's Bank of China come amid a growing divergence in the recent economic policy responses by the United States and China, with Washington boosting stimulus significantly while Beijing starts to taper off its economic-support policies enacted last year in response to the coronavirus pandemic. As the reports goes on to note, "Beijing officials and policy advisers have been highly critical of US President Joe Biden's newly signed US$1.9 trillion American Rescue Plan, warning that it could cause massive capital flows and imported inflation that could exacerbate domestic financial risks from already high debt levels."
"The [US Treasury bond] yield hike driven by inflation expectations will lead to a revaluation of asset prices, or even turmoil in financial markets. Domestic markets are unlikely to remain unresponsive," Zhang Xiaohui, former assistant governor of the central bank, said on Thursday. What he actually said is that Chinese domestic markets will respond to rising rates, and should rates spike even more, Chinese assets face a world of pain.
For proof look no further than China's A-share stock market, which is undergoing a correction after 10-year US Treasury notes spiked last week to a 13-month high of more than 1.6 per cent.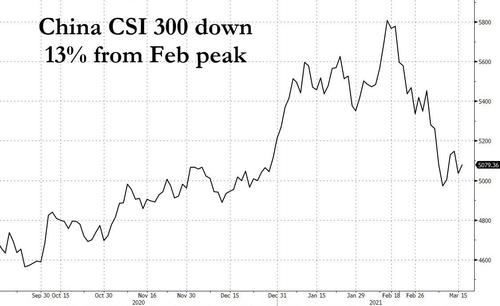 And it's only going to get worse as instead of exporting deflation, China imports more of it (i.e., resulting in inflation): "Although [China's] consumer inflation is relatively controllable, we see an obvious rise in [domestic] asset prices," Zhang said during a lecture hosted by the Shanghai Pushan Foundation.
Liquidity management is believed to be the first priority, given the prospect of rising market volatility. "The market is very concerned about a turning point in liquidity, as the whole world has entered uncharted monetary and financial territory after the pandemic," Zhang said.
The sharp rise in US Treasury bond yields in the past month has been largely due to market concerns that rising inflation will prompt the Fed to raise interest rates sooner than the end-of-2023 time frame that policymakers projected in December. The US central bank meets today and tomorrow, and market players will be watching closely for any clues about policymakers' expectations for interest rates. For now, the Fed is keeping rates near zero while continuing to buy at least $1200 billion per month in US Treasury and MBS securities to pump liquidity into the market.
While China did not engage in strict quantitative easing during the coronavirus crisis, it did pump 9 trillion yuan (US$1.38 trillion) worth of liquidity into the interbank market last year to help the coronavirus-hit economy. The reason for China's temporary intervention is that China's economy was already woefully overlevered entering into 2020 before the covid crisis hit. Since then, China's debt has exploded even more, rising to 335% of GDP in late 2020.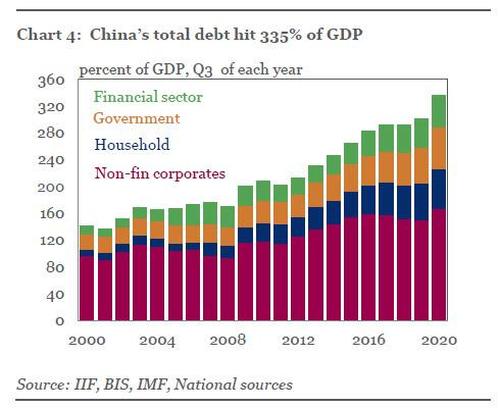 Beijing is proceeding cautiously, seeking to reassure the public that leaders will continue to support the economy while trimming stimulus and refocusing on controlling financial risks. Amid this policy tension, the People's Bank of China (PBOC) on Monday rolled over 100 billion yuan (US$15.36 billion) worth of its one-year, medium-term lending facility loans and sold a further 10 billion yuan worth of seven-day reverse purchase agreements to "ensure reasonably ample interbank liquidity".
While China's economy is already widely anticipated to grow rapidly this year, with GDP expected to print around 8% in 2021, the withdrawal of monetary stimulus is always a painful process, as shown by the spike in interbank interest rates ahead of the Lunar New Year period in early February after the PBOC drained more liquidity than expected from the market ahead of strong demand for money during the holiday. The PBOC later added additional liquidity to soothe the market's frayed nerves.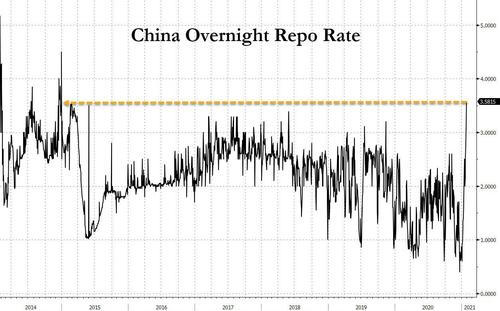 "Considering the overall domestic and overseas financial situation, there's no reason [for China] to tighten its monetary policy in the short term," Song Songcheng, former head of the PBOC's statistics department, said at a recent meeting of the China Wealth Management 50 Forum. "It does no good to economic stabilization and risk prevention."
Then again, if the Fed continues to inject $120BN in liquidity every month, with that money rushing to enter China, Beijing will have no choice but to tighten as a result of soaring prices.
To offset massive capital inflows into domestic financial markets hunting for higher returns, the government is considering allowing Chinese citizens to invest overseas, including by allowing mainland investors to buy Hong Kong-listed bonds through a new "southbound" mainland-Hong Kong Bond Connect channel that would mirror the current northbound route that allows foreigners to invest in Chinese bonds. On Friday, the State Administration of Foreign Exchange (SAFE) also began a pilot program that allows multinational companies in Shenzhen and Beijing to make easier cross-border fund transfers. It would be ironic - if not surprising - if the Biden stimulus, meant to restore equality between US citizens, unleashes a new wave of Chinese buying of US real estate, making US housing once again extremely unaffordable to Americans.
In any case, SAFE officials continued to stress the need to conduct risk evaluations and inspections to "effectively prevent the risk of cross-border capital flows". Calls for a continuation of supportive monetary policy grew louder during the meetings of the National People's Congress that concluded last week, especially after the Ministry of Finance – which cut taxes by 2.3 trillion yuan in 2019 and another 2.6 trillion yuan last year to support the economy – was ordered to cut its budget support to reduce "fiscal risks".
The top legislature lowered the fiscal deficit ratio to 3.2% from last year's 3.6% and reduced the limit for local government special-purpose bond issuance by 100 billion yuan from last year.
"As seen from price and labour market indicators, we are still some distance from [economic] normalisation. We worry that policy adjustments are coming too early," Zhang Bin, deputy director of the Institute of World Economics and Politics under the Chinese Academy of Social Sciences, said at the Pushan lecture. "We should set aside room in monetary policy to let the private sector play a bigger role in boosting the economy. There's no need to normalize it so early."
As for China's anger with Biden's "hot" fiscal and monetary policies, it better get used to them because they will be here for a long, long time. And once they are put on hold and the US economy - now entirely reliant on government transfer payments - craters, the US will only double down sparking a historic inflationary inferno in China.