---
Futures Gain On China Tech Optimism, Easing Bank Fears; Nasdaq On Pace For Best Quarter In 3 Years
US futures extended gains for a second day on Wednesday as banking sector fears continued to ease, while Nasdaq futs got a boost from a rally in Asian tech stocks following the announced split of Chinese internet giant Alibaba which sent the Hang Seng up 2.1% and HSTECH +2.5%. 
S&P 500 and Nasdaq 100 futures contracts were up 0.8% as of 7:30 a.m. in New York, trading at 4,034 and 12832 respectively.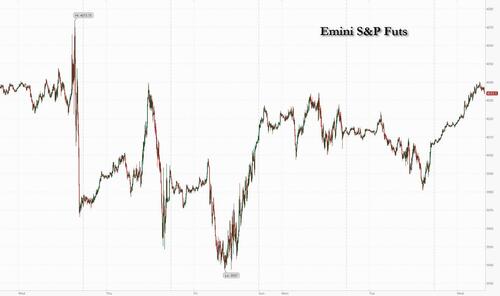 The S&P 500 is set for a flat month, while the Nasdaq 100 has surged nearly 5% in March and more than 15% in Q1 - its best quarter in nearly three years and its first rise in 5 quarters - as tech stocks, especially megacaps, found renewed favor with investors.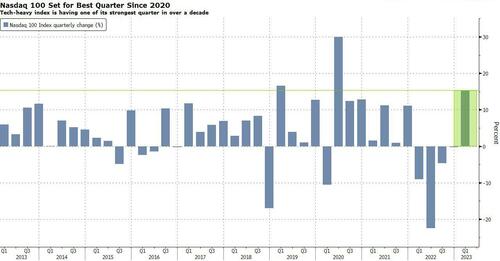 Bond yields are lower following dovish comments by ECB's Philip Lane on inflation which supported bunds over London session, and helping drive declines for front-end Treasury yields. The USD stronger, and commodities are flattish. WTI is up small, approaching the bottom-end of the recent $75 - $80 YTD range. Overnight, the WaPo reported that the government may move to strengthen capital/liquidity requirements for banks with assets larger than $100bn. Fed's Bullard said that banking crisis can be contained with policy rather than by moves in interest rates; will the bond market remove any rate cut expectations? Doubtful.
In premarket trading, Alibaba Group ADRs fell in US premarket trading after surging Tuesday on plans to split. Its Hong Kong-listed shares were 12% higher, tracking overnight gains on Wall Street. That sparked a rally in Chinese tech shares as investors piled into the companies that were stung by a crackdown from Beijing over the past two years. UBS shares climbed as much as 3% after the Swiss lender said veteran UBS CEO Sergio Ermotti will return and replace Ralph Hamers as chief executive officer; Jefferies shares were little changed after the financial services firm's profit plunged in its fiscal first quarter, as a bump in equities and fixed income trading failed to offset a slump in investment banking. Here are some other notable premarket movers:
Lululemon shares leap 15% in premarket trading after the athletic-apparel brand reported fourth-quarter adjusted earnings per share that beat analyst estimates and issued guidance that topped expectations. Analysts found the results to be strong overall, with most expecting the negative sentiment around the stock to be alleviated with the performance.
Micron rises 2.7% after the largest US maker of memory chips issued a forecast of adjusted revenue for the third quarter that was better than some had feared. Analysts were still cautious about the tough environment facing chipmakers, but see signs that the worst of the downturn may be behind the industry.
Shares of semiconductor companies are rising following Micron's forecast and after Infineon raised its revenue outlook. Qualcomm gains 1%, Advanced Micro Devices (AMD US) +0.9%, Nvidia +0.8% and Intel +0.8%.
Alibaba and other US-listed Chinese internet stocks are poised for a pullback, after their shares surged on Tuesday following Alibaba's plan to split into six units and seek separate listings. Alibaba slides 1.4% in premarket trading, Baidu -0.8%, JD.com -1.5%.
Cryptocurrency- related stocks rally as Bitcoin extends gains into a second day to breach the $28,000 level. Cipher Mining rises 15%, Riot Platforms +7.4%, Marathon Digital +6.3%, Coinbase +4%, MicroStrategy +3.9%.
Arcturus Therapeutics shares jump 25% after the biotech beat analysts' earnings estimates for the fourth quarter and repaid debts that allow its "cash runway" to extend to 2026. Analysts were especially positive on the company's update regarding its pipeline and its potential.
Lucid rose 1.9% after the electric vehicle-maker said it would cut 18% of its workforce, including employees and contractors. Morgan Stanley notes that fellow EV startups may need to consider similar cost cutting measures given increased competition and a challenging capital-raising environment.
US equities have traded in a narrow range over the past week, as investors digested the banking sector crisis, with contagion fears easing, while the Fed hinted that the rate-hiking cycle was near the end, but not ready for a pivot yet as inflation was still too high. Swaps traders currently price in more than a 50% probability the Fed will raise rates by a quarter point at its next meeting, with plans to ease thereafter, something with which several strategists, including those at BlackRock, disagree.
The bad news for markets "is that the Fed is very unlikely to cut rates until Q2 2024, unless US growth slows more markedly than we anticipate, leaving us with a 'higher for longer' scenario," Willem Sels, global chief investment officer at HSBC Private Banking and Wealth, wrote in a note on the outlook for the next quarter. "Another key consideration for investors should be China's reopening and the bounce in consumer activity, which markets are still completely underestimating," he added, saying China's renewed focus on growth will help reduce the risk of a recession in the rest of the world.
"We associate the current market pricing in terms of rate cuts not to be appropriate, we are not expecting any rate cuts in 2023 across different economies, especially in the US," Giulio Renzi Ricci, investment strategist at Vanguard Asset Services, said on Bloomberg Television. "For that reason we don't expect growth stocks, and tech in particular, still will need to be discounted back" once the market realizes a pause in rate cuts isn't really happening.
At the same time, investors argue that the odds of a recession have risen after banking turmoil earlier this month sparked fears of wider contagion, and will lead to sharply tighter lending conditions. An index of dollar strength was steady after ending Tuesday near the lowest level in eight weeks. "The banking crisis and the new tighter standards for banks is equivalent to one to two rate hikes," said Eva Ados, chief investment strategist for ERShares, in an interview with Bloomberg Television. "There is a big possibility here of a pricing mistake. We are pricing in the rate drop rather than the reason why rates are dropping, which is the banking crisis."
Meanwhile, top US financial officials on Tuesday outlined what's likely to be the biggest regulatory overhaul of the banking sector in years, addressing underlying issues that contributed to the collapse of Silicon Valley Bank and other US regional lenders.
There is a sea of green across the equity space with European stocks following their Asian counterparts higher and futures pointing to a positive open on Wall Street. Alibaba led the rally in Hong Kong after announcing plans to split into six business units, while tech stocks are also outperforming in Europe after upbeat forecasts from Micron and Infineon. here are the biggest European movers:
UBS shares climb as much as 3% after the Swiss lender said Sergio Ermotti will replace Ralph Hamers as chief executive officer
Coloplast rises as much as 2.6% after being upgraded to equal-weight at Barclays with the broker saying the ostomy products maker's estimates now look more achievable
Infineon jumps as much as 7.9%, the biggest intraday advance since Feb. 2, after the chipmaker lifted revenue and margin estimates for the second quarter
Strix rises as much as 9.8%, the most in more than two months, after the kettle safety-control producer said in its full-year earnings report there are "green shoots" appearing
OCI gains as much as 13%, the most intraday since April 2020, after activist investor Jeff Ubben's Inclusive Capital Partners urged the fertilizer maker to explore strategic options
WPP advances as much as 2.6% after Exane BNP upgraded to outperform from neutral, turning more positive on the ad agency sector
Next shares fall as much as 9.1%, with analysts viewing the clothing retailer's maintained sales and profit guidance for 2024 as disappointing
Mercedes-Benz Group drops as much as 2.8% after Kuwait Investment Authority placed 20 million shares at a ~3.6% discount to the last close
Aroundtown falls as much as 12%, hitting another record low after Tuesday's 10% drop, as in-line results and a dividend suspension did little to reassure traders
Atos drops as much as 11% after a report from BFM said Airbus wanted to renegotiate the price of Evidian, a unit of the embattled French digital services firm
Encavis sinks as much as 12%, the most intraday since January, as Jefferies notes the decision to waive its dividend to fund future growth marks a turning point
Asian stocks advanced as Chinese tech shares rallied on optimism Alibaba's overhaul will pave the way for other tech giants to potentially unlock billions of dollars in shareholder value. The MSCI Asia Pacific Index rose as much as 0.8%, led by Hong Kong. Chinese technology stocks climbed 2.5% to a five-week high. Alibaba jumped 12%, while its biggest shareholder Softbank Group gained more than 6%. Alibaba surprised markets after the internet behemoth announced plans to split its $220 billion empire into six units that will individually raise funds and explore initial public offerings. The plan is positive for the sector and could signal further easing of regulatory constraints, according to analysts.
"The government needs to boost the economy this year, and the big tech platforms, which have been under pressure over the last couple of years and shedding staff, are key to help the government boost employment," Vey-Sern Ling, managing director at Union Bancaire Privee, told Bloomberg TV.  Elsewhere, Japanese stocks gained as easing concerns over the banking sector revived risk appetite following weeks of volatility. Shares in mainland China and South Korea eked out small gains as investors braced for a slew of data on the US economy this week
Japanese stocks rose as a revamp plan at Alibaba boosted SoftBank. Gains accelerated in the afternoon ahead of Thursday's ex-dividend date for some 1,500 stocks. The Topix rose 1.5% to close at 1,995.48, while the Nikkei advanced 1.3% to 27,883.78.  SoftBank Group surged 6.2%, the biggest boost to the Nikkei 225, after China's Alibaba Group announced a six-way split of its businesses. The news fueled optimism for a recovery at one of the Japanese company's most important holdings. Toyota contributed the most to the Topix gain, increasing 2.6%. Out of 2,159 stocks in the index, 2,013 rose and 101 fell, while 45 were unchanged. "Globally excessive concerns about the financial system have receded, and there is no new additional bad news," said Shogo Maekawa, global market strategist at JPMorgan Asset Management Japan. "Domestically, the market was supported by buying for year-end dividends and dividend reinvestment.
Australian stocks also rose: the S&P/ASX 200 index gained 0.2% to close at 7,050.30, after Australian inflation decelerated more than expected in February, bolstering the case for the Reserve Bank to stand pat at next week's policy meeting. Materials and energy stocks were the biggest gainers on the benchmark.  Read: Australian Inflation Eases, Bolstering Case for Rate Pause "Markets were already quite convinced with the story of an April pause, given what's happening globally. But this just adds to the story," said Jessica Ren, a strategist at Westpac Banking Corp. in Sydney. Recent comments from RBA policymakers had been implying "get ready for a pause." In New Zealand, the S&P/NZX 50 index fell 0.3% to 11,736.75
Finally, Indian stocks also ended higher on Wednesday with small-cap stocks registering their best performance in two months. Adani group stocks rebounded from the steep losses seen on Tuesday as company officials rebutted media reports that raised concerns about the group's ability to repay debt. Flagship Adani Enterprises rallied 8.7%, while Adani Ports rose 7.3%. A late spurt in buying led by traders covering short positions ahead of monthly derivatives expiry saw India outperform most equity gauges in Asia. The S&P BSE Sensex rose 0.6% to 57,960.09 in Mumbai, while the NSE Nifty 50 Index advanced 0.8% to 17,080.70. The latter saw its best one-day gain since March 3. A gauge of small-cap stocks climbed 1.7% to mark its best day since January 31. "There was some short covering in the market toward the end of the session but it was not a sharp move," Gaurav Bissa, vice president at InCred Capital. "That said, we are recommending clients to turn bullish on the Nifty as we see a bounceback in the near-term."  Hindustan Unilever contributed the most to the Sensex's gains, increasing 1.9%. Out of 30 shares in the Sensex index, 26 rose while 4 stocks fell.
In FX, the dollar rose nearly 1% versus the yen to 132.09, its highest since March 22; the Bloomberg Dollar Spot Index edged up 0.1%. The US currency also benefited from Japanese financial year-end flows, which weighed on the yen in Asian trade. The Australian and New Zealand dollars struggled, while the euro and the pound were little changed against the US currency.
In rates, treasuries rose after a two-day selloff and erased a portion of the curve-flattening selloff of past two days as investors awaited remarks from Federal Reserve officials and economic releases this week for clues on monetary policy. In particular focus will be data on the central bank's preferred inflation measure - the core PCE deflator - which is likely to factor into the Fed's next policy decision. Dovish comments by ECB's Philip Lane on inflation supported bunds over London session, helping drive declines for front-end Treasury yields. US yields, off session lows, remain richer by ~4bp on the day across front-end of the curve with inverted 2s10s spread steeper by ~2bp; 10-year around 3.55% is richer by ~2bp on the day with bunds lagging by 2.5bp in the sector. The US auction cycle concludes with $35BN 7-year note sale at 1pm, follows Tuesday's decent 5-year note sale which stopped 1bp through the WI; WI 7-year yield around 3.590% is ~47bp richer than February's result.
In commodities, crude futures advance with WTI rising 0.7% to trade near $73.70. Spot gold falls 0.4% to around $1,966. Bitcoin gains 4.1%.
Now to the day ahead. In terms of data releases, we have the US February pending home sales, in the UK February net consumer credit, mortgage approvals and M4, in Germany the April GfK consumer confidence and lastly in France March consumer confidence data. Finally, we will hear from ECB's Kazimir as well the BoE's Mann.
Market Snapshot
S&P 500 futures up 0.9% to 4,036.50
STOXX Europe 600 up 0.8% to 448.02
MXAP up 0.6% to 160.78
MXAPJ up 0.7% to 517.13
Nikkei up 1.3% to 27,883.78
Topix up 1.5% to 1,995.48
Hang Seng Index up 2.1% to 20,192.40
Shanghai Composite down 0.2% to 3,240.06
Sensex up 0.4% to 57,866.24
Australia S&P/ASX 200 up 0.2% to 7,050.33
Kospi up 0.4% to 2,443.92
German 10Y yield little changed at 2.32%
Euro down 0.1% to $1.0832
Brent Futures up 0.3% to $78.87/bbl
Gold spot down 0.6% to $1,962.15
U.S. Dollar Index up 0.24% to 102.68
Top Overnight News from Bloomberg
China warned the US and Taiwan President Tsai Ing-wen that any meeting with House Speaker Kevin McCarthy would be a serious provocation, raising the stakes for her trip to the US. Tsai left Taipei on Wednesday bound for New York on a plane that was guarded by F-16 fighters as it headed over the Pacific. She'll later visit two Central American allies, and on the way home she's planning to stop in Los Angeles, where she's expected to meet with McCarthy. BBG
The BOJ's Shinichi Uchida indicated that any yield curve control adjustment wouldn't be communicated ahead of time. That'll keep the market on its toes, with some concluding it's the only way to avoid a bond selloff in advance. It comes as bets on policy normalization help the yen make a comeback as a haven. BBG
UBS said Sergio Ermotti will return as chief executive, as the Swiss giant moves into a new era with its takeover of Credit Suisse. Mr. Ermotti has been credited with repositioning the bank and focusing it on less risky businesses after UBS suffered big losses during the financial crisis. WSJ
UK mortgage approvals edged up in February but remained more than a third below their levels from a year ago as high borrowing costs squeezed household spending, the BOE has said. Lenders last month approved a total of 43,500 mortgages for house purchases, from 39,600 in January, the BoE said on Wednesday. Approvals in February 2022 came to 69,131. The figure was above analysts' forecast of 42,000, and marked the first monthly increase since August 2022. FT
The UK competition regulator has launched an in-depth probe into US chipmaker Broadcom's $69bn takeover of cloud software company VMware, after warning it could make computer servers more expensive. FT
More bullish oil momentum. US crude stockpiles slumped by 6.1 million barrels last week, API data is said to have shown, in what would be the biggest drop this year if confirmed by the EIA. Gasoline supplies also sank. In the Middle East, one of the top producers in Iraq's Kurdistan region started cutting production as a spat that has halted 400,000 barrels a day of exports drags on. BBG
Jamie Dimon will be questioned in a civil lawsuit over JPMorgan Chase's relationship with Jeffrey Epstein, people familiar with the matter said. The U.S. Virgin Islands sued JPMorgan last year, saying the bank facilitated Epstein's alleged sex trafficking and abuse. WSJ
Top officials from the Federal Reserve and Federal Deposit Insurance Corporation will testify to the House Financial Services Committee on the collapse of Silicon Valley Bank and Signature Bank, a day after Tim Scott, a Republican senator, accused SVB of being "rife with mismanagement". FT
Tesla's move to slash prices in China has backfired as Elon Musk's company loses market share to Warren Buffett-backed BYD, putting Chinese carmakers on track to sell more passenger vehicles than their foreign rivals for the first time in 2023. FT
The European Central Bank will need to increase interest rates further if recent stress in the financial system stays contained, Chief Economist Philip Lane told Zeit in an interview: BBG
The yen is making a comeback as a preferred foreign- exchange haven, after banking crises in the US and Switzerland hurt the dollar and franc's standing as go-to assets for turbulent times: BBG
Traders are leaning toward further gains in the world's biggest bond market, after a rally that got a major boost from short-covering by hedge funds this month: BBG
President Joe Biden responded to House Speaker Kevin McCarthy's demands that he begin negotiations over the debt ceiling by challenging Republicans to produce a public budget plan before departing Thursday for a two-week Easter recess" BBG
A more detailed look at global markets courtesy of Newsquawk
APAC stocks were mostly positive albeit with most major indices rangebound amid a lack of fresh macro drivers and heading into quarter-end, while Hong Kong markets outperformed as tech stocks surged on Alibaba's plan for a six-way split. ASX 200 was kept afloat by strength in the commodity-related sectors and after softer-than-expected CPI data supported the case for the RBA to pause at next week's meeting, although gains were limited by weakness in the top-weighted financial industry. Nikkei 225 traded higher after Japan's parliament passed a record JPY 114tln budget for FY23 and with policymakers said to consider lowering mortgage rates for families with children, while BoJ officials also stuck to the dovish script. Hang Seng and Shanghai Comp. were varied with Alibaba front-running the advances in Hong Kong as its plan for a split is seen to unlock value for shareholders and has spurred some speculation that its large tech peers could follow suit, while the mainland lagged despite the PBoC's liquidity injection as frictions lingered regarding Taiwan President Tsai's planned transit through the US and after the Biden administration added five Chinese companies to the entity list for allegedly aiding China's repression of Uyghurs.
Top Asian News
China NDRC Deputy Director General said China's potential growth rate is the potential growth rate of the whole world and said they are optimistic for the growth situation for this year, according to Reuters.
US President Biden's administration added five Chinese Co.s to the entity list for allegedly aiding China's repression of Uyghurs.
Taiwan's President Tsai comments before boarding a flight to New York in which she noted Democratic Taiwan defends democratic values and external pressure does not affect their determination to go out into the world, according to Reuters.
China's Taiwan Affairs Office urged the US not to arrange a transit of Taiwan's leader through the US and said any meeting between Taiwan President Tsai and US House Speaker McCarthy would be a severe provocation, while it added that China firmly opposes this and will definitely take measures to fight back, according to Reuters.
US senior administration official said Taiwan President Tsai's planned transit is consistent with a long-standing US practice and the US sees no reason for Beijing to overreact to the transit which is consistent with the unofficial relationship and the One-China policy. The official added that every Taiwan president has transited through the US and President Tsai has met with members of Congress in all her previous six transits, as well as stated that China's attempts to alter Taiwan's status quo will not pressure the US to alter its practice of facilitating transits by Taiwan's presidents, according to Reuters.
BoJ Deputy Governor Uchida said they will make a judgement on trend inflation by looking at various indicators, while he noted the BoJ would face an unrealised loss of JPY 50tln on its balance sheet if the 10yr bond yield rises to 2%, according to Reuters.
European bourses are firmer across the board, Euro Stoxx 50 +1.2%, as banking concerns continue to dissipate and focus turns to the sessions speakers. Sectors feature marked outperformance in Tech names after updates from Infineon and Micron; MU +2.5% pre-market. Stateside, futures are in the green, ES +0.9%, paring the downside from Tuesday which was a feature of underperformance in large-cap names; ahead, the US-specific docket is relatively light. Infineon raised Q2 revenue and segment margin guidance alongside lifting FY revenue guidance, primarily due to resilient business dynamics in its core automotive and industrial segments. Micron: Q2 adj. EPS -1.91 (exp. -0.86); it made inventory write-downs of USD 1.43bln in the quarter, which had an impact of USD 1.34/shr. Q2 revenue USD 3.69bln (exp. 3.702bln). Expects profitability to remain extremely challenged in the near-term and said profitability levels in the industry are currently not sustainable.
Top European News
EU's Dombrovskis said the situation in the EU banking sector is stable and banks are prepared to withstand shocks.
ECB's Lane says to ensure that inflation falls to 2%, further interest rate hikes are required under the scenario expected by the ECB, according to Die Zeit; rates must increase if banking tensions have no or a "fairly limited" impact, bank sector tensions are seen as settling down and there is no reason to expects major problems.
ECB's Kazimir agreed not to give guidance on the May ECB meeting, Kazimir thinks inflation is too high for too long; ECB should continue increasing rates, possibly at a slower pace; will take into account financial market situation.
BoE FPC Minutes: All UK banks are resilient to risks from rising interest rates, including from bond positions; maintains countercyclical capital buffer rate at 2%; UK firms are resilient from higher debt costs.
FX
The DXY is erring lower and has dipped below the 102.50 mark within 102.41-102.75 boundaries despite marked AUD & JPY pressure.
Pressure which stems from cooler-than-expected inflation and a myriad of factors sparking a pullback from recent peaks respectively; AUD/USD at 0.6662 low and USD/JPY above 132.00.
In contrast, the DXY remains softer given the resilience of the EUR and GBP with ECB's Lane and BoE data respectively perhaps assisting with EUR/USD above 1.0850 though Cable is yet to breach 1.2350 convincingly.
CAD fails to derive any lasting support from oil benchmarks and as such is struggling to retain the 1.36 handle while the SEK is impaired by softer retail data despite favourable sentiment indicators.
Swedish NIER expects the Riksbank to continue on its set path re. rate increases, with the cycle deemed to be over in July when the rate will be 3.75%.
PBoC set USD/CNY mid-point at 6.8771vs exp. 6.8780 (prev. 6.8749)
Fixed Income
Debt futures rebound relatively firmly to defy month end rebalancing flows tilted towards stocks over bonds.
Bunds reclaim more than half of Tuesday's losses within a 135.47-136.28 range, Gilts towards the top of 104.18-103.56 parameters and T-note nearer 114-28 than 114-14+ ahead of US housing data, House hearing on bank failures and USD 35bln 7-year auction.
Greece has commenced the sale of a new 5yr bond with price guidance at circa 95bps over mid-swaps, according to Reuters sources.
Commodities
WTI and Brent are firmer but reside in relatively narrow sub-USD 1/bbl parameters which specifics light aside from weekly inventory data yesterday and ahead alongside ongoing focus re. Iraqi flows through Turkey.
Specifically, WTI trades around USD 74/bbl (in a 73.51-74.00/bbl range) while its Brent counterpart trades on either side of USD 79/bbl (in a 78.73-79.32/bbl parameter).
Spot gold remains softer and in Tuesday's parameters while base metals are generally softer despite the tone but again in narrow ranges, with the exception of iron ore which is bolstered on steel consumption expectations.
US Private Energy Inventory (bbls): Crude -6.1mln (exp. +0.1mln), Cushing -2.4mln, Distillate +0.5mln (exp. -1.5mln), Gasoline -5.9mln (exp. -1.6mln).
US Energy Secretary Granholm said Strategic Petroleum Reserve buybacks could begin late this year and that work on two of four oil reserve sites are to go 'into the fall' which has delayed the buybacks, according to Reuters.
Russian Gazprom says "We are approaching the limit of gas supplies to China", via Sky News Arabia.
Cargill informed the Russian Agriculture Ministry that it will stop the export of Russian grain from the next exporting season (July), according to the Russian ministry which adds it will not affect the volume of domestic grain shipments abroad.
Geopolitics
Ukrainian military officials said Russian forces remain relentless in their attempts to take full control of Bakhmut and Avdiivka in eastern Ukraine but were not making progress, according to Reuters.
Ukrainian President Zelensky extended an invitation to Chinese President Xi to visit Ukraine, according to AP; Kremlin says it is not up to Russia to advise China's leader when to visit Ukraine, adds that Russia's wider war with hostile states will last for a long time
US President Biden responded that he hasn't seen that but is concerned when asked if he was concerned about Russia sending tactical nuclear weapons to Belarus, according to Reuters.
Russia has started drills with Yars Intercontinental Ballistic Missiles, according to its Defence Ministry
US Event Calendar
07:00: March MBA Mortgage Applications 2.9%, prior 3.0%
10:00: Feb. Pending Home Sales YoY, prior -22.4%
10:00: Feb. Pending Home Sales (MoM), est. -3.0%, prior 8.1%
Central Banks
08:05: NY Fed Head of Supervision Dianne Dobbeck Speaks to Bankers
10:00: Fed's Barr Appears Before the House Financial Services Panel
DB's Jim Reid concludes the overnight wrap
Two days of relative calm has helped encourage a quieter week and encourages me that I can go on holiday after tomorrow without too much disturbances. If anything spectacular happens for an hour this afternoon I'll be oblivious to it as I'm having another back injection under general anaesthetic as the sciatica is flaring up again. So my recent operation hasn't helped. I went for a nerve conduction test last Friday and I have 4 trapped nerves. 2 in my leg and 2 in my neck/arm. I can't ask for too much sympathy as its all golf and weight training related. If I accepted that I wasn't 25 anymore I suspect I'd be in decent shape. However I still have an ambition to get down to become a scratch golfer and without exciting goals and targets life is a duller affair. Anyway, I'll be doing the EMR tomorrow before heading off skiing, where I'll also be trying to protect my knees. So we'll save our emotional goodbyes for two weeks until tomorrow.
Anyway the relative calm continues to be most felt in bond market repricing, 2yr USTs rose +13.4bps yesterday (unchanged in Asia). They are around +50bps above where they were last Friday lunchtime but still down about -100bps from where they were on March 9th, around Powell's testimonies. Improving sentiment was also evident in the fed futures market which further trimmed expectations of rate cuts. Fed futures are pricing in -70bps of rate cuts to year-end, with the implied rate for the Fed's December meeting rising +11.2bps yesterday to 4.318%. This is up from 3.57% at the lows on Friday. So a big but steady and fairly quiet move over the last 48-72 business hours.
Longer-dated Treasury yields were more subdued yesterday, with 10yr yields just +3.9bps higher at 3.564%. This is the second smallest move in either direction since the SVB news broke. European sovereign debt yields also rose as the banking sector further stabilised and regional economic survey data improved (more on that below). 10yr bund yields were +6.3bps higher at 2.29%, while the more policy sensitive 2yr rate was +7.1bps higher to 2.59%. Other sovereign 10yr European yields rose more than German yields, with Gilts (+9.0bps), BTPs (+7.4bps), and OATs (+6.5bps) all higher.
In equities, the S&P 500 fell back -0.16%. On a sector-by-sector level there was a significant amount of dispersion, as energy (+1.45%) and other cyclicals such as transports (+0.78%) and capital goods (+0.55%) outperformed but media (-1.10 %) and healthcare equipment (-1.04%) fell back. The tech-heavy NASDAQ traded down -0.45%.
Briefly looking at the US regional banking sector, the FDIC's Gruenberg stated yesterday that regional bank liquidity has remained stable. Against this backdrop, the regional banks KBW index traded up +0.32% with most of the smaller regional banks gaining on the day, while a couple of heavier weighted banks (BofA -1.3% & Wells Fargo -0.8%) were a drag on the KBW index. The embattled First Republic also finished -2.32% lower.
European equity markets traded flat, with the STOXX 600 down -0.06%. We heard the ECB's Enria emphasise that bank oversight needs to be more efficient in Europe, and that changes to supervision should reduce the burden on banks. In particular, Enria stated that a closer look at the European CDS market is in order, calling for an improvement in the degree of information available on the market, as opposed to implementing prohibitions or new rules. He also spoke on the recent banking turmoil, stating that the "direct exposure to Credit Suisse is relevant but manageable", but that he was "concerned by nervousness among investors on banks".
This morning in Asia, equity markets are seeing decent gains. The Hang Seng (+1.80%) is outperforming amid a rally in Chinese technology shares on Alibaba's reorganisation news that will see the company split into six independent business groups seeking separate IPOs. Their shares are up around +13%. This rally bolstered other Asian equities with the Nikkei (+0.46%) and the CSI (+0.24%) edging higher while the Shanghai Composite (-0.04%) is just above flat. Elsewhere, the KOSPI (-0.16%) is losing ground after opening slightly higher in early trade. In overnight trading, US stock futures are indicating a positive start with contracts tied to the S&P 500 (+0.39%) and NASDAQ 100 (+0.30%) both higher.
Moving on, Australia's CPI slowed to an eight-month low of +6.8% y/y in February (v/s +7.2% expected), down from the prior month's +7.4% annual increase. This was down to a smaller rise in housing and fuel costs. This will further support the pause narrative at next month's RBA meeting.
In terms of yesterday's data, the US March Conference Board consumer confidence index results came in firmly above expectations at 104.2 (vs 101 expected and 103.4 last month) as confidence in future business and labour market conditions rose. Looking into the details, the expectations index, the short-term outlook for income, business and labour market conditions, rose to 73 from 69.7 in February, however, the present situation index, which reflects consumer assessment of current business and labour market conditions, fell from 152.8 to 151. The survey was for the 4 week period up to March 20, which puts just about half the response time after SVB first showed signs of stress and only really covered the first few days of the CS news flow.
In the same vein, the Richmond business conditions index came in at -17, down from -6 last month, its lowest level since October, as broader business conditions deteriorated over the month following the banking sector jitters. The manufacturing index did post above expectations at -5 (vs -10 expected), a firm rise from -16 in February. Putting the improvement in manufacturing aside momentarily, adding further to the picture of weakening business conditions was the March Dallas Fed services activity index that fell to -18 down from -9.3 in its largest drop since December. The Richmond survey period went from March 1 to March 25 and the Dallas survey went from March 14-22. Of the three US surveys to release data yesterday, only the Dallas survey was completed entirely after SVB and Signature failed and perhaps that is why it was the most negative, however they were all measuring slightly different metrics. This trend bears watching as we get the final University of Michigan data on Friday, which could show an interesting change from the preliminary results.
We additionally had two key national data releases in France and Italy. In France, the business confidence index came out in line with expectations at 103, whilst the manufacturing confidence slightly beat forecasts to hit 104 (vs 103 expected). The overall index came down one point to 103, but this remains above the long-term average of 100. This is a divergence from the French PMI data from last Friday, which had a strong beat, but this can be attributed to the more expectations-focused PMI. Off the back of this, the CAC jumped nearly +1.1 at the open before moderating down to +0.14% on the day. For Italy, the consumer confidence modestly beat expectations at 105.1 (vs 104 expected) and manufacturing confidence was up at 104.2 (vs 103 expected). Finally, Italian economic sentiment for February hit its highest level since July last year, up from 109.1 to 110.2.
In the UK, we heard from the BoE's Bailey, who spoke on the recent Silicon Valley Bank crisis, emphasising that the recent turmoil we saw was "very different" to the financial crisis of 2008. However, Bailey did highlight that the BoE was "in a period of very heightened and alertness", seeking to reassure investors that the "creditor hierarchy in UK is a cardinal principle."
In terms of other, more backward-looking, data releases, we had the January FHFA house price index that beat expectations at 0.2% (vs -0.3% expected), as well as the February wholesale and retail inventories which were up 0.2% (vs -0.1% expected) and 0.8% (vs 0.2% expected) month-on-month respectively. The advance goods trade for February fell below expectations at -$91.6 billion (vs -$90 billion expected).
Finally, in commodity markets, oil extended its rally as the clash between Iraq, the Kurdistan Regional government, and Turkey has developed into a deadlock, curtailing exports equal to 400,000 bbl/day. Last night, US National Security Council spokesman Kirby said that the Biden administration had urged both the Turkish and Iraqi governments to allow oil to flow through the pipeline between the two countries while conducting negotiations. It was also reported that Genel Energy, which is a producer in the region said that they had storage for "several days of production." WTI crude rose a more moderate +0.54% to $73.20/bbl yesterday after the huge moves the day before, while Brent crude gained +0.68% to $78.65/bbl. Oil is edging a little higher in Asia as well.
Now to the day ahead. In terms of data releases, we have the US February pending home sales, in the UK February net consumer credit, mortgage approvals and M4, in Germany the April GfK consumer confidence and lastly in France March consumer confidence data. Finally, we will hear from ECB's Kazimir as well the BoE's Mann.
Loading...