---
Futures Rebound On Stimulus Optimism Ahead Of "Do Or Die" Deadline
If futures are higher, it's due to stimulus optimism; if futures are lower, then stimulus fears dominate etc, you know the drill by now... so by that logic with Eminis trading 0.7% higher this morning, optimism is apparently on the rise again after yesterday's rout, even as we approach today's deal ultimatum, or "do-or-die" moment as Bloomberg called it, for Nancy Pelosi and Steven Mnuchin to clinch a pre-election virus relief deal. Late on Monday, the two were said to narrow their differences after a 53-minute telephone conversation on Monday where they "continued to narrow their differences" about the coronavirus aid package, and will talk again today but still remain at odds over the scope of aid. In any case, the good news is that after today the farce may finally be over at least until after the election. Treasury yields rose and the dollar slipped, while oil and gold fluctuated. The Aussie slid after an RBA official suggested short-term rates may fall below zero.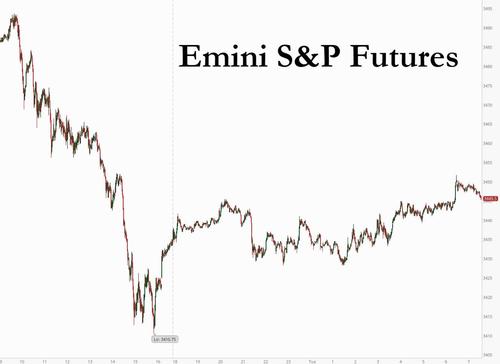 Sure enough, as Reuters puts it, "stock index futures rose on Tuesday on expectations that Washington lawmakers would be able to settle their differences for an economic stimulus bill to pass before the Nov. 3 presidential elections." And as Reuters also adds "Uncertainty over the fiscal stimulus weighed on Wall Street's main indexes on Monday, with analysts expecting market turbulence to increase with only two weeks left until Election Day." So simple, a 99 cent algo could write this market narrative.
Elsewhere, Goldman is in focus after a Bloomberg report it reached a long-awaited settlement with the DOJ to pay more than $2 billion for the bank's role in Malaysia's 1MDB scandal, to avoid criminal charges. Procter & Gamble shares rose in the pre-market on the best organic sales growth since 2005. Netflix Inc added 0.9% in premarket trading as investors awaited the the streaming giant's membership additions in the third quarter. International Business Machines Corp tumbled - again - after cloud growth slowed and total revenue hit a new 21st century low: its shares were down 2.9% last after the company stayed away from issuing a current-quarter forecast, citing economic uncertainty related to the COVID-19 pandemic.
European stocks recovered from early losses on Friday, following a bearish Asian session where investors adjusted their risk exposure before the U.S. elections two weeks away. Record COVID-19 cases in Europe also weighed on sentiment. MSCI's European Index was up 0.4% while the STOXX 600 was up 0.2, after initially falling as fears about the economic impact of lockdown restrictions outweighed some strong earnings. UBS gained the Swiss banking giant's credit, FX and rates traders performed better than almost all of their rivals in New York as they took advantage of a virus-fueled trading bonanza. Total revenue rose 41%, beating JPMorgan and Citi but falling short of Goldman. UBS also beat on profit and said it lined up $1.5 billion for share buybacks.
New, tougher restrictions to limit the spread of coronavirus in Europe weighed on sentiment. Ireland announced some of Europe's strictest constraints on Monday, telling people not to travel more than five kilometers from home. New restrictions were also approved in the Lombardy region of Italy. France reported a massive increase in the number of people hospitalised.
Earlier in the session, Asian stocks fell, led by the energy and finance sectors, after climbing in the last session. Markets in the region were mixed, with South Korea's Kospi and China's Shanghai Composite gaining, while Japan's Topix and Australia's S&P/ASX 200 slid. The Topix lost 0.7%, with SoftBank and Nintendo contributing the most to the move. The Shanghai Composite Index rose 0.5%, driven by Kweichow Moutai and Foshan Haitian.
With just two weeks until the U.S. presidential elections on Nov. 3, analysts said that investors were reining in their riskier bets. Meanwhile attention is on the outcome of today's stimulus negotiations.
"The likelihood of a deal taking place appears no more likely now than it was a week ago," said Michael Hewson, chief market analyst at CMC Markets. The lack of action is particularly concerning in light of rising COVID-19 cases in the United States, he said. "While equity markets appear to be struggling in the short term, the lack of a fiscal stimulus deal in the next two weeks is probably neither here nor there. Most investors expect to see some sort of fiscal stimulus in the next six months, whoever gets in, with the only unknown being around the size and scale, and the timing. The problem for stock markets is that they want to see it now."
In FX, the dollar was again lower with the Bloomberg Dollar Index sliding as the greenback fell against most of its Group-of-10 peers; the euro advanced, topping 1.18 per dollar as European equities reversed an early decline. Australia's dollar weakened after RBA Assistant Governor Kent said the Board is considering the case for further easing, there is some room to cut the Cash Rate further, one option is to purchase longer-dated bonds - bond purchases would be regular and aimed to bring down yield. Kent also said expansion of balance sheet is adding monetary stimulus, need policy support to be provided for some time given. Kent remarked that the Bank Bill Swap Rate (BBSW) could move into negative territory in the case of further RBA easing. He also reiterated that the central bank will not increase Cash Rate until actual inflation is sustainably in the target range. RBA has not done a formal policy framework review.
RBA Minutes noted the Board discussed the case for additional monetary easing to support jobs and the overall economy. As in previous meetings, members discussed the options of reducing the targets for the cash rate and the 3-year yield towards zero, without going negative, and buying government bonds further along the yield curve. While members noted that the Australian dollar exchange rate was broadly consistent with its fundamental determinants, a lower exchange rate would provide more stimulus to the Australian economy in the recovery phase.
New Zealand's currency also declined on speculation the central bank may act to lower borrowing costs. In minutes of its October meeeting, Australia's central bank said further policy easing is likely to "gain more traction" as restrictions are lifted across the economy and agreed the governor would flag the shift to targeting actual over forecast inflation. The pound swung between gains and losses after the U.K. rebuffed the European Union's effort to restart deadlocked trade negotiations and as investors waited for evidence that the two sides are reconciling their differences.
In rates, Treasuries were lower again with the curve steeper in early U.S. trading as front-end yields remain anchored while long-end yields were cheaper by ~2bp, 10-year by 1.5bp at 0.784% after breaching Monday's high. Risk appetite stirred during Asia session and European morning, lifting S&P 500 futures, as investors eyed potential for agreement in stimulus talks today.  Euro zone government bond yields rose, with the benchmark 10-year German yield holding near recent seven-month lows at -0.623%.
Gold edged down while oil prices were little changed after three days of declines on fears that a resurgence of COVID-19 infections would stifle the recovery in fuel demand. Brent crude futures were trading down 2 cents, or 0.4%, at $42.44 a barrel recovering ground after falling as low as $42.19 earlier in the session.
Looking at the day ahead, we have earnings from Procter & Gamble, Netflix, Texas Instruments, Philip Morris International and Lockheed Martin. Central bank speakers include Fed Vice Chair Quarles, the Fed's Bostic and Evans, the ECB's Hernandez de Cos and the BoE's Vlieghe. And data releases include US housing starts and building permits for September.
Market Snapshot
S&P 500 futures up 0.6% to 3,442.50
Brent futures down 0.6% to $42.38/bbl
Gold spot up 0.1% to $1,905.95
U.S. Dollar Index down 0.2% to 93.29
STOXX Europe 600 up 0.2% to 367.49
MXAP down 0.3% to 175.21
MXAPJ down 0.01% to 582.59
Nikkei down 0.4% to 23,567.04
Topix down 0.8% to 1,625.74
Hang Seng Index up 0.1% to 24,569.54
Shanghai Composite up 0.5% to 3,328.10
Sensex up 0.2% to 40,518.88
Australia S&P/ASX 200 down 0.7% to 6,184.58
Kospi up 0.5% to 2,358.41
German 10Y yield rose 0.4 bps to -0.624%
Euro up 0.07% to $1.1777
Italian 10Y yield rose 6.9 bps to 0.518%
Spanish 10Y yield rose 1.6 bps to 0.175%
Top Overnight News from Bloomberg
Ireland and Wales announced renewed lockdowns and Italy's financial center sought a curfew, as Europe steps up efforts to regain control of the coronavirus pandemic
The European Union's first offering of social bonds was said to receive orders of more than 233 billion euros ($275 billion), a record in the euro area
The ECB takes the crusade to revive faith in its inflation- fighting credentials to members of the public on Wednesday. They'll get to share their views with President Christine Lagarde, who vowed at the start of her term just under a year ago to make the central bank better understood, and chief economist Philip Lane
Goldman Sachs Group Inc. has reached a long-awaited pact with the U.S. Department of Justice to pay more than $2 billion for the bank's role in Malaysia's 1MDB scandal, and the deal may be announced within days, according to people familiar with the matter
China's hotels and restaurants, one of the hardest-hit sectors of the economy during the coronavirus pandemic, remained a significant drag on growth in the third quarter even as the recovery gained momentum
A quick look at global markets courtesy of NewsSquawk:
Major Asia-Pac indices traded with losses across the board after Wall Street suffered a broad decline following reports which suggested a State-side stimulus deal is not sounding imminent based on comments from the House Speaker and Committee Chairs. US equity futures opened electronic trade in modest positive territory, but have since came off highs and traded sideways throughout the night, with ES, NQ and YM still holding onto some gains heading into the European open. Back to APAC, ASX 200 (-0.7%) was pressured by its mining sector, albeit the index saw some fleeting upside in light of further the dovish RBA rhetoric, this time from Assistant Governor Kent. Nikkei 225 (-0.5%) failed to benefit from the JPY dynamics as the index felt the weight of losses across its industrial sector. KOSPI (+0.5) initially conformed to the losses in the region, with Hyundai and its affiliate Kia posting losses between 3-4% after the former warned that Q3 profits will be hit by charges related to engine problems. Meanwhile, SK Hynix traded in the red after the chipmaker confirmed that it is to purchase Intel's NAND memory business. Elsewhere, the humdrum tone reverberated into China, with Hang Seng (U/C) and Shanghai Comp. (+0.4%) modestly softer for much of the session despite another PBoC liquidity injection and a non-event LPR setting as anticipated; however, the bourse did pick up somewhat in the tail-end of APAC trade.
Top Asian News
Orr Says RBNZ Prepared to Use All Tools to Counter Deflation
Thai Central Bank Chief Signals Support Amid Uneven Recovery
RBA Sees Monetary Policy Having More Traction as Economy Reopens
H.K.- Singapore Bubble May Have 1 Return Flight per Day Initially
European equities (Eurostoxx 50 +0.1%) trade mixed to flat in what has been a relatively indecisive session thus far with little in the way of incremental macro newsflow since yesterday's close. Slightly outperformance has been observed in the CAC 40 (+0.3%) with Accor (+6.0%) top of the index after a broker upgrade from JP Morgan with the bank upbeat on the Co. "as it streamlines costs, simplifies its business, whilst its sound BS should support small/midscale M&A, allowing the company to emerge from the crisis stronger". Sectors are mixed with not much in the way of breadth across the broader categories; oil & gas is the main outlier to the downside amid modest losses in the crude complex. Travel & leisure names have been granted some reprieve amid plans to open up international travel to the UK with Heathrow implemented a rapid COVID-19 testing operation for some destinations. As such, IAG (+6.3%), whose British Airways will be one of the first to offer testing, sit at the top of the Stoxx 600, gains are slightly less pronounced for some of the budget airlines such as easyJet (+4.0%) and Ryanair (+2.5%). Elsewhere, support has also been observed in the banking sector post-earnings from UBS (+2.2%) with the Co. far exceeding Q3 net income expectations in what was its "best Q3 earnings in a decade". Additionally, the Co. announced it has set aside USD 1.5bln for potential share buybacks and currently has USD 1bln available to be paid out as a cash dividend in 2021. Reckitt Benckiser (+1.4%) are another gainer this morning after Q3 earnings were boosted by surging Dettol sales throughout the pandemic. To the downside, Tele2 (-1.5%) are the Stoxx 600 laggard post-earnings, albeit having pared back much of the initial downside, in a session that has featured several Scandi updates, including Stora Enso, Swedbank and Yara International.
Top European News
Lockdowns Return to Ireland and Wales in Europe's Virus Response
Italian State Lender CDP Bids With Funds for 88% of Autostrade
Boohoo Falls on Report Audit Firms Decline to Work With Retailer
ECB Carves Out Its Own Path in the Mission to Revive Inflation
In FX, the race to the bottom is back on down under, and even though a 15 bp RBA rate cut looms larger than the next batch of RBNZ stimulus, the tables have turned to the detriment of the Kiwi. Indeed, Nzd/Usd has relinquished 0.6600+ status and breached the 100 DMA at 0.6586, as the Aud/Nzd cross rebounds from sub-1.0700 and Aud/Usd pivots 0.7050. To recap, minutes from the October policy meeting coupled with comments from RBA Deputy Governor Kent all but sealed an ease early next month, with the latter also noting that Bank Bill Swap rates may also fall below 0% if benchmark rates are reduced further, while RBNZ Governor Orr remarked that there is ample room to deliver more QE and an update on tools will be forthcoming in November.
USD – Antipodean underperformance aside, the Buck is mixed vs G10 rivals as broad risk sentiment recovers and the DXY hovers just above Monday's base within a 93.204-512 range ahead of US housing data, a few Fed speakers and House Speaker Pelosi's deadline for a pre-election fiscal stimulus deal that looks unrealistic or optimistic at this stage.
EUR/CHF/GBP/CAD/JPY – The Euro is maintaining momentum above 1.1750 vs the Greenback and seems well flanked by decent option expiry interest at 1.1745 (1.4 bn) and between 1.1790-1.1800 (1.3 bn) to the upside that also incorporates yesterday's high and the 50 DMA (1.1795). Meanwhile, the Franc continues to straddle 0.9100 with little reaction to Swiss trade data showing a narrower surplus, but key watch exports declining at a similar pace to the previous month, and the Pound is holding around 1.2950 awaiting BoE commentary from Vlieghe and any further Brexit developments ahead of speeches by the European Commission President von der Leyen and her VP Sefcovic. However, Sterling looks a bit leggy against the single currency as Eur/Gbp probes 0.9100 amidst reports of RHS flows, though recent peaks circa 0.9120-25 may cap further upside irrespective of charts indicating a break of a descending channel. Elsewhere, the Loonie is hovering just above 1.3200 in advance of Canadian inflation on Wednesday and the Yen has slipped a fraction to trade either side of 105.50 following overnight source reports suggesting that the BoJ will downgrade GDP and CPI forecasts when it meets next week.
SCANDI/EM – Not a lot of movement or deviation in Eur/Sek around 10.2800 on the back of standard Riksbank rhetoric, but Usd/Cnh and Usd/Cny have fallen further to fresh 2+ year troughs near 6.6700 and 6.6800 respectively as the PBoC gradually lowers its daily midpoint setting for the onshore Yuan and maintained LPRs for the 6th consecutive month.
In commodities, a relatively slow session for the commodity space thus far in terms of fundamental updates as the dust settles following yesterday's JMMC meeting, which ended up making no recommendation to change policy prior to 2021; the next gathering is November 17th ahead of the full OPEC+ event at the month's end. Perhaps most notably from the meeting, reports highlight there was no indication of Russia putting forward a compensation plan for their 430k/bbl of overproduction; as such, attention will turn to whether the likes of Saudi put pressure on Russia to unveil a plan and whether some of the other over-complying members follow Russia's lead on this matter in the months ahead. Price action throughout the session has been choppy but relatively contained compared with the action seen yesterday; currently, benchmarks remain in proximity to the unchanged mark but closer to the top-end of the day's range. Crude explicitly, the sessions highlight will be the private inventory report which may well display another crude drawdown given a significant magnitude of production remained shut-in last week given the after-effects of Hurricane Delta. As a reminder, last week's report printed a draw of 5.4mln which was followed by the EIA reading of a 3.818mln draw. Moving to metals, spot gold has been uneventful and in proximity to flat levels for the majority of the session following similar price action in the later-half of APAC trade. However, most recently the precious metal has gleaned some strength from further downside in the DXY as sentiment stateside remains cautiously firm as the Democrats stimulus deadline approaches. Separately, BHP updated that their copper operations in South America are still being affected by COVID-19 related measures but nonetheless copper production came in at 413k/T vs. Exp. 394k/T for Q1.
US Event Calendar
8:30am: Housing Starts, est. 1.47m, prior 1.42m; MoM, est. 3.46%, prior -5.1%
8:30am: Building Permits, est. 1.52m, prior 1.47m; MoM, est. 2.98%, prior -0.9%
DB's Jim Reid concludes the overnight wrap
US equity markets lost significant ground yesterday amidst ongoing stimulus discussions as investors awaited a raft of earnings releases which heat up from today. Over the weekend speaker Pelosi set the end of today as the deadline to make progress ahead of the election. So today could be interesting.
In terms of the latest, Treasury Secretary Mnuchin and Speaker Pelosi spoke late in the session yesterday, but the Speaker told fellow Democratic lawmakers afterwards that significant areas of disagreement continue to get in the way of a deal. The two sides remain talking ahead of today's deadline. While the Republican-led Senate has been reluctant to pass a stimulus bill above the $500 billion level that Majority leader McConnell has supported, President Trump has indicated that he is willing to go up to the $2.2 trillion range that Democrats have demanded. Mr Trump said yesterday that if an agreement with Democrats is reached, he would "lean" on Republican Senators to "come along."
Regardless, the confirmation that the two sides remain significantly apart saw the S&P 500 fall over 1.1% in the last 90 minutes of trading, though the index had been dripping lower throughout the day as risk sentiment soured after a healthy start. By the end of the session, the S&P 500 had lost -1.63%, while the VIX index rose +1.8pts in its 6thconsecutive move higher.
Overnight, S&P 500 futures (+0.34%) are trading back up a little on headlines that the House Speaker Pelosi and Treasury Secretary Mnuchin have "continued to narrow their differences" on a coronavirus relief package. So expect the dance to continue today.
The large losses yesterday saw every industry in the S&P lower on the day, with the Tech (-1.87%) and Energy (-2.10%) sectors leading the declines. In spite of the heavy tech losses, especially among the recent mega cap winners, the NASDAQ (-1.65%) fell largely in line with the S&P. The Dow Jones (-1.44%) also moved lower, while in Europe, the STOXX 600 lost just -0.18% – having closed prior to the US stimulus headlines roiling markets.
Asian markets are trading lower tracking Wall Street's move from yesterday. The Nikkei (-0.55%), Hang Seng (-0.09%), Shanghai Comp (-0.13%), Kospi (-0.21%) and Asx (-0.63%) are all down.
On the coronavirus, there were further concerning developments from the US and Europe, as the number of confirmed global cases passed the 40m mark yesterday, and governments around the world moved to re-impose restrictions once again. Here in the UK, a further 18,830 cases were reported yesterday as Wales announced a 2-week 'firebreak' that would start on Friday evening. In practice, this means that people will be told to stay at home, apart from certain exceptions, with pubs, restaurants and non-essential shops all closing. Prime Minister Johnson has come under pressure to pursue a similar move in England, with opposition Labour leader Keir Starmer having already called for one to be imposed. Elsewhere in Europe, case numbers also remained at elevated levels as you'll see in the table below. Monday reporting is always a little challenging to interpret though due to the weekend impact.
In terms of further restrictions, Ireland is moving closer towards a full lockdown as of Wednesday night. The new restrictions will close all retail, restaurants and pubs, while schools will remain open. Elsewhere Austria changed the limit on gatherings to 6 people indoors and 12 people outdoors, while Slovenia announced that a 9pm-6am curfew would come into force from today. So far most countries seem relatively keen to keep schools open as much as possible which is a huge economic swing factor given that it governs what parents can do.
Over in the US, weekly cases are set to rise above 400k per week for the first time since early August, with the majority of the outbreaks in regions that either had yet to experience significant caseloads or had relatively moderate first waves. Overnight, the US CDC has issued a "strong recommendation" for mask-wearing by both passengers and operators on planes, trains, buses and taxis. On a related note, Our chart of the day yesterday (link here) actually looked at the average age of deaths across a number of countries from Covid-19, and the US stood out in having a much lower average age of death than the other developed countries at 75.8 (vs. 80-82) in most of the others. Separately, one note of optimism from the US was that the Transport Security Administration said that they had over 1 million passengers go through a security checkpoint on Sunday for the first time since March, while the weekly volume from Oct 12-18 was also the highest since the start of the pandemic.
On the vaccine front, Moderna said overnight that the US government could authorise emergency use of its Covid-19 vaccine in December if it gets positive interim results in November from a large clinical trial. A reminder that even the UK is working to mobilise for a possible vaccine rollout by December. So a month to watch.
Over in fixed income, sovereign bonds lost ground for the most part yesterday, with yields on 10yr Treasuries up +2.3bps, as the 2s10s curve also steeped +1.9bps. Meanwhile in southern Europe, yields on 10yr Italian BTPs came off their all-time closing low on Friday, as they moved up +7.5bps, whilst Spanish (+4.1bps) and Greek (+4.1bps) bonds similarly lost ground. Bunds and gilts were the exception to this pattern however with 10yr bund yields down another -0.6bps to a fresh 7-month low of -0.63%, while those on gilts fell -1.3bps.
Onto Brexit, and in spite of Prime Minister Johnson's Friday statement that the UK should get ready to leave the transition period without a trade agreement in place, the two sides' chief negotiators spoke once again yesterday. In a tweet afterwards, the EU's Michel Barnier said that "I confirmed that the EU remains available to intensify talks in London this week, on all subjects, and based on legal texts. We now wait for the UK's reaction." Sterling strengthened by +0.26% against the US dollar yesterday, though this seemed to be more of a dollar-negative story as the dollar index lost -0.27%. Overnight, Bloomberg has reported that the UK is rebuffing the EU's effort to restart their deadlocked trade negotiations, holding out for more concessions from the bloc before it is prepared to restart talks. The same report though quoted three unidentified EU officials as saying that they expect the negotiations to resume in London by the end of the week. A bit like the US fiscal stimulus, this is now a political dance. We hope no one stumbles!
Staying on politics, there weren't a great deal of updates on the US election yesterday as the polls continued to show a solid lead for Joe Biden. His chances of victory in FiveThirtyEight's model now stand at a campaign high of 88%, while the Democrats' odds of controlling the Senate are at 74%. This week's debate on Thursday will be the main highlight, but the unprecedented quantity of early voting in this election means that the ability to change the trajectory of the race is diminishing with each passing day. Overnight, the Commission on Presidential Debates has said that President Donald Trump and Democratic nominee Joe Biden will have their microphones turned off during parts of the final presidential debate while adding that each candidate will have an uninterrupted two minutes to speak at the beginning of each of the six 15-minute segments of the debate. Their mics will be turned on again for "a period of open discussion" in the segment's remaining time. The change comes after the chaotic first debate in which both the candidates talked over the moderator and each other. The list of topic in this Thursday's debate include Covid-19, American families, race in America, climate change, national security and leadership.
There also wasn't much in the way of data yesterday, though the NAHB's housing market index in the US for October rose to another record high of 85 (vs. 83 expected).