---
Futures Slide As Bank Selloff Returns With Pacwest Tumble
US equity futures pared an earlier advance and dropped to session lows driven by a fresh plunge in Pacwest shares after the bank warned the bank run was back (or rather, had never gone away as we warned last weekend) as a renewed sharp deposit outflow from the bank spooked investors, even as European stocks rose as more investors said the Fed is likely to pause interest-rate hikes on the back of cooling inflation data. Contracts on the S&P 500 dropped to session lows, down -0.1% after rising 0.2% earlier; the Nasdaq was flat.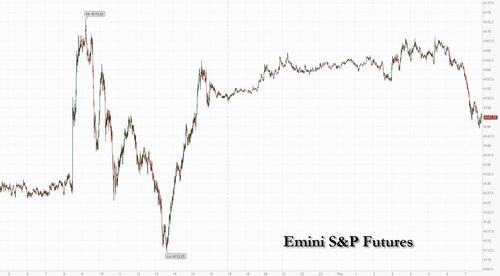 In US premarket trading,PacWest Bancorp plunged as much as 26% after it said deposits declined about 9.5% during the week ended May 5, with a majority of that decline occurring on May 4 and May 5 after the news reports on the afternoon of May 3. Walt Disney dropped after revealing a surprise drop in subscribers and predicting a wider loss for its streaming service this quarter. Robinhood rose following better-than-expected results from the trading platform. Beyond Meat fell after analysts said its earnings outlook is clouded by uncertainty around demand ahead of the key summer months and the company announced a $200MM ATM stock offering. Here are the other notable premarket movers:
Google unveiled its latest artificial intelligence tools and launched new hardware at its annual developer conference. Analysts were optimistic about the speed with which Google was incorporating AI into its products and services. Shares of parent Alphabet are set to extend gains, rising as much as 1.8% in premarket trading on Thursday.
Alcoa rises 1% in US premarket trading after Credit Suisse upgrades the stock to outperform from neutral, and makes it a top pick, citing expectations of recovering aluminum prices.
Sonos shares drop 24% in US premarket trading after the wireless speaker maker cut its revenue guidance. Analysts said macro weakness is weighing more broadly, though also question whether this is particularly acute for the audio segment.
Purple Innovation jumps 18% in US premarket trading after the mattress, bedding and cushioning firm reported net revenue for the first quarter that beat the average analyst estimate, amid anticipation over the launch of new products. .
Roblox shares rise 3% in US premarket trading after the video-game firm's comments on operating leverage helped buoy sentiment and offset an earnings miss in the first-quarter, analysts said. The stock was also upgraded by Roth MKM.
Twilio drops 1.9% in premarket trading, following a 13% slump in the stock on Wednesday. Goldman Sachs cuts its ratings on Twilio, Bentley Systems and RingCentral to neutral and TechTarget to sell to reflect updated views on the technology companies following first-quarter earnings.
Unity Software shares gain 8.9% in US premarket trading after the graphic-tools provider's quarterly sales topped expectations and analysts said its outlook, following completion of its combination with IronSource, remains robust.
Allegro MicroSystems rises 1.9% in US premarket trading after forecast net sales for the first quarter beat the average analyst estimate.
The pound trimmed its losses slightly after the Bank of England raised rates to the highest level since 2008 and said further increases may be needed if inflationary pressures persist. The BOE also made the biggest upgrade to UK growth projections since it gained independence in 1997.
After gaining in April, US stocks have traded range-bound so far this month as worries about the turmoil in regional banks and a potential recession outweigh corporate earnings that were better than investors feared. Sentiment has picked up in recent days after the Fed signaled that a pause in rate hikes might be on the cards, but market participants warned equity markets could see more volatility.
"While inflation is trending in the right direction, we still see potential for disappointment among equity investors on the pace of Fed easing in the remainder of this year," Mark Haefele, chief investment officer at UBS Global Wealth Management, wrote in a note.
Investor attention now turns to US initial jobless claims and producer prices data due later, which will provide the latest snapshot of the state of the economy. Figures out Wednesday showed signs of moderating US inflation after a year's worth of Fed rate hikes and recent credit stress. However, overall prices are still rising at a brisk pace and the job market remains robust.
"It's definitely optimistic to think about a rate cut, but not so optimistic to think about a rate pause," Sunaina Sinha Haldea, global head of private capital advisory at Raymond James, said on Bloomberg Television. "The print gives the Fed what it needs to contemplate a pause."
European stocks erase much of their earlier gains after the Bank of England hiked rates by a quarter point and after the latest negative Pacwest news hit. The Stoxx 600 gains 0.1% with consumer products, travel and healthcare the strongest performing sectors. Here are the notable European movers:
Genmab gains as much as 6.9%, with analysts saying the Danish biotech's latest quarterly earnings show it remains on track to meet its guidance, with good performance for its key products
ING rises as much as 4% after posting estimate-beating 1Q net income and announcing a share buyback of up to €1.5 billion, with RBC analysts calling it a "strong" set of results
Diploma climbs as much as 6.4% as Jefferies upgrades to buy, citing the UK equipment-parts supplier's capacity to deploy its recent equity raise on further M&A
Knorr-Bremse gains as much as 3.9% after 1Q results, with analysts noting record order numbers at the braking-systems manufacturer, driven by a strong performance in the trucks unit
Deutsche Telekom rises as much as 1.9%, the biggest one-day advance in a month, as the German carrier's 1Q revenue growth in European markets beat analyst estimates
Grainger advances as much as 3.5%, the most intraday since February, after the UK property developer's results beat expectations, with analysts noting the resilience of its underlying markets
Suse plunges as much as 23% after missing analyst expectations for the second quarter and lowering its full-year guidance, citing the impact of ongoing economic uncertainty on customers' decision making
Bayer falls as much as 7.9% as analysts say the German company's pharmaceuticals division weighed on the first quarter amid weakness in key drug Xarelto
Rolls-Royce drops as much as 4.4% after it reaffirmed its forecast for the full year as analysts cite ongoing supply-chain issues as a drag, with Bernstein seeing significant uncertainty ahead
Coloplast falls as much as 9% after the Danish ostomy and continence care firm reported its latest earnings and updated its FY23 forecasts, with Citi describing the results as "underwhelming"
Verbund dips as much as 2.3% after the Austrian utility narrowed its full-year guidance and analysts flagged the potential further impact from new windfall tax plans in the country
Earlier in the session, Asian stocks fell as traders weighed inflation numbers from the world's two largest economies as well as global corporate earnings. The MSCI Asia Pacific Index declined as much as 0.4%, as all but two sectors fell. TSMC and Tencent dragged on the gauge, while Li Auto was among the biggest boosts after robust results. The regional benchmark erased an early gain after China reportedslower-than-expected inflation amid weak consumer demand. That damped sentiment after the US consumer-price print overnight showed signs of cooling and boosted hopes for a pause in Federal Reserve rate hikes.
"Investors breathed a sigh of relief" on the US CPI data but the China data "points to an uneven economic recovery," said Eli Lee, head of investment strategy at Bank of Singapore. He added that the key issue going forward will be the ongoing debt-ceiling talks in the US. Hong Kong's Hang Seng Index and China's CSI 300 gauge ended the day lower after the inflation report. Stocks also fell in South Korea, Singapore, Taiwan and Australia
Japanese equities were mixed as investors examined a wave of domestic company results. The Topix fell 0.1% to close at 2,083.09, while the Nikkei was little changed at 29,126.72. Toyota Motor contributed the most to the Topix decline, decreasing 0.8%. Out of 2,159 stocks in the index, 884 rose and 1,170 fell, while 105 were unchanged. Panasonic and Fujifilm were among stocks that climbed after better-than-expected earnings and outlooks, while Sumitomo Metal and Kao fell after disappointing investors. "Yesterday and today are basically the peak of the earnings season," said Hitoshi Asaoka, a strategist at Asset Management One. "Japan is more focused on earnings right now rather than overseas macro or US CPI data." 
Austarlian stocks edged lower: the S&P/ASX 200 index fell 0.1% to close at 7,251.90, notching its third straight day of declines. Miners and health shares contributed the most to the benchmark's retreat. Lithium producers were among the top performers after Allkem agreed to merge with US rival Livent. In New Zealand, the S&P/NZX 50 index fell 0.8% to 11,887.76
In FX, the Bloomberg Dollar Spot Index has gained 0.3% with the greenback rising versus all its G-10 rivals. The Australian dollar is the weakest, falling 0.6%, while the pound is down 0.3% after the BOE having erased a modest gain.
In rates, treasuries were near session highs US trading gets under way Thursday amid weakness in US equity index futures, after a brief setback following Bank of England policy statement. Yields across curve are richer by 3bp-4bp, new 10-year around 3.40% vs Wednesday's 3.448% auction stop. Gilts pared gains following Bank of England rate decision to hike 25bp (in line with estimate) in a 7-2 vote, while statement was slightly hawkish. German two-year yields are up 1bps at 2.59% having pared an earlier drop after an ECB survey revealed a notable rise in consumer inflation expectations. The US treasury auction cycle concludes with $21b 30-year bond sale at 1pm; 10-year sale produced mixed demand metrics. WI 30- year at 3.765% is ~10bp cheaper than April's, which stopped on the screws. IG issuance slate includes BNG Bank 5Y SOFR and is expected to be modest; four names priced $3.1b Wednesday with at least one borrower electing to stand down.
In commodities, crude futures advance with WTI rising 0.9% to trade near $73.20. Spot gold falls 0.3% to around $2,024.
Bitcoin is softer and has moved marginally below the USD 27.5k mark in relatively narrow sub-500 parameters as we await the afternoon's key events with broader market action generally lacking catalysts at this point in time.
To the day ahead now, and the main highlight will be the Bank of England's latest policy decision. From central banks, we'll also hear from Fed Governor Waller, ECB Vice President de Guindos, as well as the ECB's Schnabel and de Cos. Otherwise, US data releases include the April PPI reading and the weekly initial jobless claims.
Market Snapshot
S&P 500 futures up 0.3% to 4,165.50
STOXX Europe 600 up 0.5% to 465.82
MXAP down 0.3% to 161.46
MXAPJ down 0.3% to 514.13
Nikkei little changed at 29,126.72
Topix down 0.1% to 2,083.09
Hang Seng Index little changed at 19,743.79
Shanghai Composite down 0.3% to 3,309.55
Sensex little changed at 61,979.09
Australia S&P/ASX 200 little changed at 7,251.92
Kospi down 0.2% to 2,491.00
German 10Y yield little changed at 2.29%
Euro down 0.5% to $1.0929
Brent Futures up 0.9% to $77.07/bbl
Gold spot down 0.4% to $2,022.94
U.S. Dollar Index up 0.40% to 101.88
Top Overnight News from Bloomberg
China's inflation sinks far below expectations, with the Apr CPI coming in +0.1% (vs. the Street +0.3% and down from +0.7% in March) and Apr PPI at -3.6% (vs. the Street -3.3% and down from -2.5% in March). WSJ
China's April M2 money supply growth falls short of the Street consensus at +12.4% (down from +12.7% in March and below the Street +12.5%) while new yuan loans were just CNY718B (about half the Street's CNY1.4T forecast). WSJ
China's soft inflation & bank lending data, coupled with reports of plans by banks to cut deposit rates, fuels expectations of easier monetary policy from the PBOC. RTRS
SoftBank has warned that the war in Ukraine and the US-China dispute continue to pose the biggest market risk after annual investment losses from its Vision Funds hit a record ¥5.3tn ($39bn). FT
ECB's consumer survey shows a sharp jump in inflation expectations (the median rate of perceived inflation over the previous 12 months increased to 9.9% in March 2023, from 8.7% in February), a finding that will keep pressure on Lagarde to proceed with further tightening. ECB
US Treasury secretary Janet Yellen has warned of a global downturn and "dreadful consequences" that would undermine its economic leadership if Congress does not raise the federal debt limit. FT
Donald Trump urged Republican lawmakers to let the US default on its debts unless Democrats capitulate to demands for "massive" spending cuts, a significant intervention by the former president as Washington contends with a looming fiscal crisis. FT
Blackstone reaffirmed it's in talks with regional lenders. Its president, Jon Gray, told the FT discussions center around the banks making loans that Blackstone would funnel to insurers, which would hold the debt to maturity. The insurers would pay Blackstone for directing the assets their way. FT / BBG
PacWest filed its 10Q this morning and provided details on deposit flows during the month of May. The company said the recent "exploring options" media report from back on May 3 created fears among its customer base about the safety of their deposits. "During the week ended May 5, 2023, our deposits declined approximately 9.5%, with a majority of that decline occurring on May 4th and May 5th after the news reports on the afternoon of May 3rd. These recent events, and the ongoing news coverage of these events, has increased certain risks and uncertainties related to our business and future prospects". RTRS
A more detailed look at global markets courtesy of Newsquawk
APAC stocks traded mixed after the indecisive performance stateside where stock markets whipsawed and treasuries rallied in the absence of any hawkish surprises from the US CPI report, while the regional bourses also reflected on softer-than-expected Chinese inflation data. ASX 200 was marginally lower as weakness in utilities and the commodity-related sectors overshadowed the  outperformance in tech and after consumer inflation expectations ticked higher. Nikkei 225 was indecisive with the biggest movers in the index largely influenced by earnings releases, while the BoJ's Summary of Opinions from the April meeting did little to shift the dial. Hang Seng and Shanghai Comp. were choppy after the latest Chinese inflation supported the idea of a slow economic rebound as consumer prices grew at the slowest pace of increase since February 2021 and with factory gate prices at a deeper deflation.
Top Asian News
China reportedly told the US that there is little chance of their defence chiefs meeting, according to FT.
Chinese Foreign Minister Qin is to meet with his French counterpart and said that China wants to mutually open up markets with France and create a more resilient supply chain, while he added that China's determination to promote high-quality development and a high level of opening up is unswerving.
BoJ Summary of Opinions from the April meeting stated that they must continue with the current easy policy given uncertainty over the global outlook and must support the wage hike momentum through monetary easing. It was also stated that the achievement of the price target appears to have come in sight but they must maintain easy policy for the time being given downside and upside risks. Furthermore, they must ensure that the tweak to interest rate forward guidance is not interpreted as a sign the BoJ would allow future rate hikes and should not target a specific monetary policy change when guiding the policy review to ensure it would be neutral and convincing.
China's Foreign Ministry, regarding the Australian Trade Ministers visit to Beijing, says both sides can solve each others trade concerns via constructive dialogue; developing healthy relations is in both sides interests.
European bourses are firmer, though off best Euro Stoxx 50 +0.4%, in a session devoid of specific fresh drivers from a macro perspective aside from Wall St. catch-up and looking ahead to the BoE/Fed speak. Sectors are predominantly in the green, with Consumer, Travel/Leisure and Retail experiencing some modest outperformance while Basic Resources lag in-fitting with underlying metals pricing. Stateside, futures retain a positive bias but have been largely horizontal in the European morning ahead of PPI, IJC and Fed speak, ES/NQ +0.3%; earlier remarks from Treasury Secretary Yellen focused on the debt ceiling but added little.
Top European News
NIESR sees UK GDP growth of 0.3% in 2023 and 0.6% in 2024 vs prev. forecast of 0.2% and 1.0%, respectively, while it sees UK CPI averaging 7.4% in 2023 and 3.9% in 2024 vs prev. forecast of 8.3% and 4.2%, respectively.
ECB Consumer Expectations Survey (Mar): Inflation Expectations 5.0% 12-months ahead (Feb 4.6%), 3yr ahead 2.9% (Feb 2.4%)
FX
Aussie undermined by a decline in iron ore and Yuan weakness in the wake of very benign Chinese CPI and deflationary PPI.
AUD/USD towards the low end of 0.6723-96 range, USD/CNY and USD/CNH nearer 6.9400 and 6.9500 respectively than 6.9300.
DXY recoups all and more US inflation data losses between 101.300-940 parameters.
Euro stalls just shy of 1.1000 vs Dollar before a sharp retreat to probe 1.7bln option expiry interest at 1.0925 amidst a raft of big strikes.
Pound down partly in sympathy as Cable loses 1.2600+ status ahead of BoE.
Fixed Income
Volatile trade in bonds ahead of main risk events, Bunds squeeze after big block purchase then fade within 136.35-135.78 range as 2.25% yield holds.
Gilts whippy between 101.06-100.70 parameters awaiting BoE and guidance beyond widely forecast 25 bp hike.
US Treasuries idle into US jobless claims, producer prices and long bond leg of refunding, with T-note confined to 115-31+/24 band.
EGBs saw a marked move higher in the early-European morning with Bunds leading the core rise at the time with a sizeable 9k block buy at 136.00 factoring; albeit, as above, we are off best.
Commodities
Crude benchmarks remain firmer after choppy trade on Wednesday which resulted in a lower settlement, with today's action tracking the positive skew to sentiment but with magnitudes relatively narrow as the USD firms and specifics are limited.
For reference, WTI June sees some resistance ahead of USD 73.50/bbl while Brent July reclaimed USD 77/bbl+ status.
Kuwait set June KEC crude OSP for Asia at Oman/Dubai + USD 1.70/bbl, according to Reuters.
Iraq and Iran signed a memorandum of understanding to invest in joint oil fields and to cooperate on extracting and refining crude oil, according to the Iraqi PM's office.
Spot gold resides in familiar territory and as such comfortably above the USD 2k/oz handle while base metals are dented by softer-than-expected Chinese inflation numbers.
Additionally, for copper, ING points out that "China has seen a sizeable increase in refined copper exports over the last couple of months, suggesting that domestic demand is not as strong as many were expecting."
Geopolitics
Russian Kremlin spokesman said the military operation against Ukraine is very difficult but certain goals have been achieved, while Russia is acting slowly in Ukraine because it is carrying out a special military operation, not a war, according to TASS.
Chinese Foreign Minister Qin said China is committed to promoting a political solution to the Ukraine crisis, while it maintains communication with all parties and will continue to play a constructive role in that regard, according to Reuters.
"Clashes between Armenian and Azerbaijani forces erupted this morning in the direction of Sotk. Artillery and mortars are being used. There are multiple wounded Armenian soldiers.", according to Faytuks News.
UK has supplied Ukraine with multiple "storm shadow" cruise missiles, via CNN citing officials; the missiles have a range in excess of 155miles.
US Event Calendar
08:30: May Initial Jobless Claims, est. 245,000, prior 242,000
08:30: April Continuing Claims, est. 1.82m, prior 1.81m
08:30: April PPI Final Demand YoY, est. 2.5%, prior 2.7%
08:30: April PPI Final Demand MoM, est. 0.3%, prior -0.5%
08:30: April PPI Ex Food and Energy YoY, est. 3.3%, prior 3.4%
08:30: April PPI Ex Food and Energy MoM, est. 0.2%, prior -0.1%
08:45: Fed's Kashkari Takes Part in a Moderated Discussion
10:15: Fed's Waller Discusses Financial Stability and Climate...
DB's Jim Reid concludes the overnight wrap
Markets rallied after the CPI release yesterday, with US equities and bonds advancing as investors grew in confidence that the Fed would finally pause their rate hikes. At first glance the reaction might have seemed surprising, given that core CPI was still firm. But from a market perspective, several details in the report pointed to a more durable slowdown in inflation, which was music to investors' ears after having repeatedly underestimated its persistence over the last couple of years. That led to a pretty decent reaction, with yields on 2yr Treasuries down by -11.2bps, whilst the NASDAQ (+1.04%) hit an 8-month high with YTD gains now standing at +17.58%. Alphabet (+4.10%) unveiling enhancements to their eagerly awaited AI offerings helped as well and in many ways that might have been the most profound event of the last 24 hours over the longer term.
In terms of the details of the US inflation release, headline CPI came in at a monthly +0.37% in April. In turn, that took the annual measure down to 4.9%, marking the first time in two years it had fallen beneath 5%. But beyond the headline numbers, there was plenty for both sides of the inflation argument to analyse. On the more negative side, core inflation remained stubbornly persistent at +0.41%, which is still too fast for comfort for the Fed. At an annualised rate, that translates to a +5.0% pace, and this isn't just a blip either, since the last 3 months as a whole show annualised core inflation at a +5.1% rate. The stickier categories were still running at a decent clip as well, and the Atlanta Fed's sticky CPI series was up by +0.38% on the month.
Yet even with core inflation remaining stubbornly resilient, several details looked more promising. For instance, a chunk of that core inflation was driven by a strong rebound in used cars and trucks prices, where the +4.4% monthly gain was the strongest since June 2021. There were also signs that shelter inflation was coming down, and at +0.42% it had its weakest monthly price growth since January 2022. Furthermore, if you strip out used cars and trucks along with shelter (which is a lagging indicator), then core inflation was running at just +0.16%, which is the weakest month since February 2021.
For markets, the focus was on the more positive interpretation from the release, and it helped cement the view that the Fed would indeed call a pause on their rate hikes at the next meeting. For instance, futures had been pricing in a 17% chance of a June hike on Tuesday, but after the CPI release that had dropped to just a 2% chance of a hike by yesterday's close. We're now pricing in a full 25bps cut by September which as you'll see from yesterday's CoTD here is exactly in-line with the median gap of 4 months through history between the last hike of the cycle (assuming May was the last) and the first cut of the next one. The rate moves were also evident across most of the yield curve too, with the 2yr Treasury yield down by -11.2bps to 3.91% (+2bps in Asia), and the 10yr yield down -7.6bps to 3.44% (flat in Asia).
Once again, the main exception to those Treasury moves came from the very front-end of the curve, where jitters remain prominent about a potential debt ceiling crisis. That meant the 3-month T-bill yield (+1.4bps) closed just shy of a post-2001 high at 5.197%, whilst the 1m yield hit 5.435%, which is its highest since they first issued such maturity bills in 2001. The next step to watch will be another meeting between President Biden and congressional leaders again tomorrow, but so far neither side has shown signs of budging from their original positions.
With markets growing in confidence about a pause from the Fed, the pattern for US equities was generally a positive one, and the S&P 500 advanced +0.45% despite a midday wobble. Just as risky assets were turning lower there was a WSJ headline that said the CPI report "reinforced the Fed's plans to pause" which seemed to rejuvenate bullish sentiment. Tech stocks were one of the biggest outperformers amidst the prospect of lower rates going forward, which meant there were strong gains for the NASDAQ (+1.04%) and the FANG+ Index (+1.92%). By contrast, the Dow Jones (-0.09%) lost ground for a third consecutive day. After the close, Disney announced in-line sales and EPS numbers, while losing less than expected from its streaming service. The shares still fell -4.7% after-market partly due to forecasts of subscriber losses.
Back in Europe, there were some interesting ECB headlines yesterday, as Bloomberg reported that officials were starting to accept that rate hikes could continue in September. According to the article, the thinking was that just two more hikes in June and July might be insufficient to get inflation under control. So assuming they kept moving in 25bp increments, a third hike in September would mean the deposit rate goes all the way up to 4%. Separately, we heard from ECB President Lagarde as well, who said in an interview with Japan's Nikkei newspaper that "we still have more ground to cover."
Despite the hawkish Bloomberg headline, European sovereign bonds were more focused on the US inflation print than the ECB. That meant there were similar moves to the US, with yields on 10yr bunds (-6.2bps), OATs (-7.2bps) and BTPs (-7.8bps) all moving lower on the day. Meanwhile for equities, the performance was much more subdued than in the US, and the STOXX 600 (-0.38%) lost ground for a second consecutive day.
Looking ahead, one of the main highlights today will be the Bank of England's latest decision. In terms of what to expect, it's widely anticipated that the BoE will deliver a further 25bp hike, which would take the Bank Rate up to a post-2008 high of 4.5%. That comes with UK inflation still above other developed countries, and the March CPI reading of +10.1% was above that seen in the Euro Area (+6.9%) and the US (+5.0%) for the same month. In his preview (link here) our UK economist doesn't expect any major changes to the forward guidance, with the committee likely to give itself as much flexibility as possible heading into June. His expectation is that there'll be one further hike in June, leaving rates at 4.75%, but the risks are now tilted to the upside of that.
Asian equity markets are mixed this morning despite the positive cues from Wall Street overnight. As I check my screens, the Nikkei (-0.21%) and the Hang Seng (-0.19%) are trading lower whilst the KOSPI (+0.41%) is edging higher. Elsewhere, stocks in mainland China are either side of flat with the CSI (+0.10%) slightly higher and the Shanghai Composite (-0.10%) slightly lower as inflation cooled more than expected, highlighting the bumpy economic recovery (more on this below). Outside of Asia, US stock futures are pointing to a positive start with those on the S&P 500 (+0.21%) and NASDAQ 100 (+0.18%) edging up.
Coming back to China, the consumer price index (CPI) rose +0.1% y/y in April (v/s +0.3% expected), its lowest rate since February 2021, down from the +0.7% annual gain in March. At the same time, the producer price index (PPI) declined -3.6% y/y (v/s -3.3% expected), falling at the fastest clip since May 2020 and following a -2.5% drop the previous month. The soft data coming out from the world's second biggest economy bolsters speculation that the People's Bank of China might need to bring forward its plans to stimulate the economy.
To the day ahead now, and the main highlight will be the Bank of England's latest policy decision. From central banks, we'll also hear from Fed Governor Waller, ECB Vice President de Guindos, as well as the ECB's Schnabel and de Cos. Otherwise, US data releases include the April PPI reading and the weekly initial jobless claims.
Loading...