---
Stocks Soar On Fauci-Touted Remdesivir Study Despite Marginal Survival Benefit, Snubs Lancet Findings
Update (13:15ET): The NIAD has released a statement on the Gilead remdesivir study. The statement repeated some of the numbers Dr. Fauci shared at the press conference - that patients who took remdesivir saw 31% faster time to recovery than the placebo group, while mortality rates "improved" to 8% from 11.6% an improvement of 3.6 percentage points, which Dr. Fauci acknowledged wasn't "statistically significant."
Full NIAID statement on remdesivir trial results: pic.twitter.com/bsnDQGVnPa

— Meg Tirrell (@megtirrell) April 29, 2020
However, while researchers found that the "target" data - time to recovery - saw significant improvement, the 3.6 percentage point move in mortality was not "statistically significant" as Dr. Fauci acknowledged.
Still, the FDA will be working with Gilead to try and get the drug approved and available as quickly as possible. A complete report on the study will be released at a later date.
None of these caveats seemed to matter to equity traders, who pushed stocks higher on the news.
*       *       *
Update (1230ET): The FT attempts to clear up some of the clear distraction-from-collapsing-GDP we are witnessing today:
Investors are struggling to decipher the significance of clashing scientific studies about the prospects of Gilead Sciences' potential coronavirus drug, which has been touted as one of the most promising Covid-19 treatments.
The company said on Wednesday that a US study run by leading coronavirus task force doctor Anthony Fauci's team at the National Institutes of Health showed positive results for the drug remdesivir, buoying Gilead's stock and the entire S&P 500.
But hours later, a paper in a prestigious medical journal confirmed that the drug had failed to help patients in its first randomised clinical trial. Results from a trial in Wuhan, China — first reported by the Financial Times last week, now peer-reviewed and published in The Lancet — showed treatment with remdesivir did not speed recovery or reduce deaths from Covid-19.
"Unfortunately, our trial found that while safe and adequately tolerated, remdesivir did not provide significant benefits over placebo," said Bin Cao, a professor from the China-Japan Friendship Hospital and Capital Medical University in China, who led the research.
Hopes that remdesivir could be a prospective treatment for the virus continued to move markets, despite contradictory and inconclusive evidence about whether it works. Gilead shares climbed to a new session high north of 7.5%...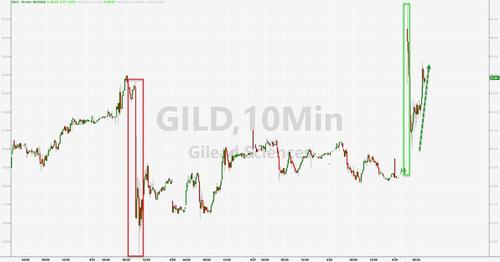 Despite the doubts about a different study mentioned above (see our initial report on leaked results of that study here), Dr. Fauci insisted the details of his own trial (which were not shared) were even more encouraging, with notable drops in mortality and the viral progression in patients who were given the drug vs. a placebo.
*  *  *
Update (1200ET): Dr. Fauci endorsed the remdesivir study results released by Gilead and the NIAD (which helped coordinate the US leg of the study) as "quite good news" for patients.
He added that the study suggests the drug can stop COVID-19 from progressing in vulnerable patients.
FAUCI SAYS GILEAD STUDY `QUITE GOOD NEWS'
FAUCI: GILEAD TRIAL DONE IN VARIOUS COUNTRIES, NOT JUST U.S.
FAUCI: GILEAD DATA SHOWS `A DRUG CAN BLOCK THIS VIRUS'
FAUCI: SIGNIFICANT POSITIVE EFFECT IN DIMINISHING RECOVERY TIME
His comments sent stocks to their highs of the session: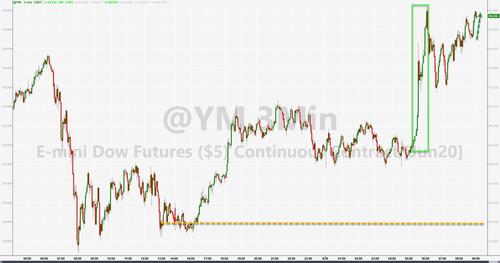 But as Dr. Fauci praises the study, others - including medical journal The Lancet - are more skeptical, citing another randomized placebo-controlled study that showed no benefit.
In @TheLancet:
Randomized placebo controlled study of Remdesivir in #COVID19 finds NO clinical benefit of adding the drug. Look at that viral load graph from upper & lower respiratory tract.
Getting Remdesivir whiplash this morning.https://t.co/LPckXA4OvG pic.twitter.com/GRFRO0jRnk

— Anirban Maitra (@Aiims1742) April 29, 2020
But Fauci was quick to play that down as "under-powered" and "not adequate."
*       *       *
Update (1020ET): Reports just hit the wires claiming the FDA is "in talks" with Gilead to accelerate approval of remdesivir and make it available to hundreds of thousands of patients "quickly."
FDA in Talks to Make Remdesivir Available as Appropriate, Agency Talking with Gilead to Get Drug to Patients Quickly$GILD

— *Walter Bloomberg (@DeItaOne) April 29, 2020
*       *       *
Gilead Shares are soaring along side the broad market on Wednesday morning as the drugmaker releases positive-sounding headlines about its potential coronavirus drug remdesivir, offering hope for what could be the first effective treatment for the illness that has swept the world.
An initial report noted that Gilead is aware of positive data emerging from the National Institute of Allergy and Infectious Diseases' (NIAID) study of the investigational antiviral remdesivir for the treatment of COVID-19.
We understand that the trial has met its primary endpoint and that NIAID will provide detailed information at an upcoming briefing. Remdesivir is not yet licensed or approved anywhere globally and has not yet been demonstrated to be safe or effective for the treatment of COVID-19. Gilead will share additional remdesivir data from the company's open-label Phase 3 SIMPLE trial in patients with severe COVID-19 disease shortly.

This study will provide information on whether a shorter, 5-day duration of therapy may have similar efficacy and safety as the 10-day treatment course evaluated in the NIAID trial and other ongoing trials.

Gilead expects data at the end of May from the second SIMPLE study evaluating the 5- and 10-day dosing durations of remdesivir in patients with moderate COVID-19 disease. Gilead will continue to discuss with regulatory authorities the growing data set regarding remdesivir as a potential treatment for COVID-19.
Futures soared on the Gilead report...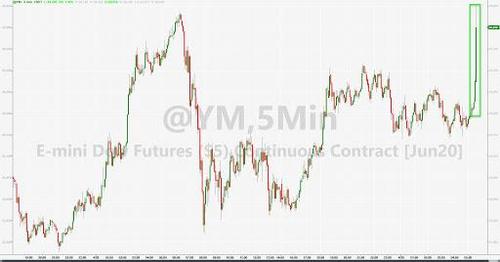 After they plunged last week on leaked China data from the WHO suggested the drug was a "flop"...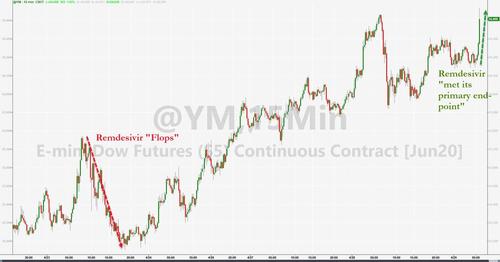 Additionally, as Bloomberg notes, Gilead issued a statement on its own 'SIMPLE' trials, noting positively no new safety signals were identified with remdesivir across either treatment group.
"Unlike traditional drug development, we are attempting to evaluate an investigational agent alongside an evolving global pandemic. Multiple concurrent studies are helping inform whether remdesivir is a safe and effective treatment for COVID-19 and how to best utilize the drug," said Merdad Parsey, MD, PhD, Chief Medical Officer, Gilead Sciences.

"These study results complement data from the placebo-controlled study of remdesivir conducted by the National Institute for Allergy and Infectious Diseases and help to determine the optimal duration of treatment with remdesivir. The study demonstrates the potential for some patients to be treated with a 5-day regimen, which could significantly expand the number of patients who could be treated with our current supply of remdesivir. This is particularly important in the setting of a pandemic, to help hospitals and healthcare workers treat more patients in urgent need of care."
The big headline from the report is that more than half of patients in both treatment groups were discharged from the hospital by Day 14, and remember this is a drug to help once you are very sick with COVID-19.
62 percent of patients treated early were able to be discharged from the hospital, compared with 49 percent of patients who were treated late.
"These data are encouraging as they indicate that patients who received a shorter, 5-day course of remdesivir experienced similar clinical improvement as patients who received a 10-day treatment course," said Aruna Subramanian, MD, Clinical Professor of Medicine, Chief, Immunocompromised Host Infectious Diseases, Stanford University School of Medicine, and one of the lead investigators of the study.

"While additional data are still needed, these results help to bring a clearer understanding of how treatment with remdesivir may be optimized, if proven safe and effective."
Gilead plans to submit the full data for publication in a peer-reviewed journal in the coming weeks, but there are reports that  Dr. Anthony Fauci will hold a press conference later today discussing the NIAD/Gilead results suggesting an accelerated approval process, according to former FDA head Dr. Scott Gottlieb.
For now these are the only "approved" therapies...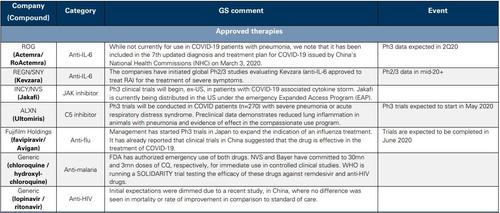 And, despite this positive news about Remdesivir as an anti-viral therapy, the race to an actual vaccine continues...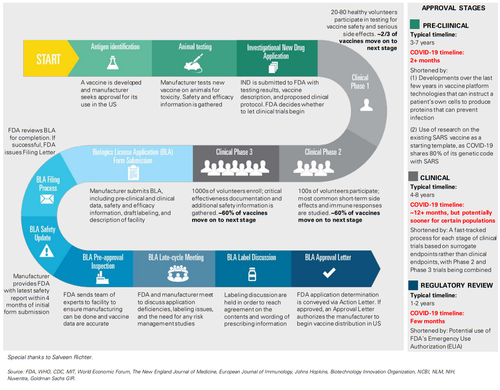 Remdesivir is not yet licensed or approved anywhere globally and has not yet been demonstrated to be safe or effective for the treatment of COVID-19, but this is an incremental step towards that, although Gottlieb warned this is "not a silver bullet."