---
Gamestop Halted Up 50% As Billionaires Battle For Control
Update (1255ET): GME shares are accelerating back above $100 once again after Cameron Winklevoss tweeted the following:
Thinking about going long GameStop $GME. Thoughts?

— Cameron Winklevoss (@cameron) January 26, 2021
The shares now halted up 49% on the day...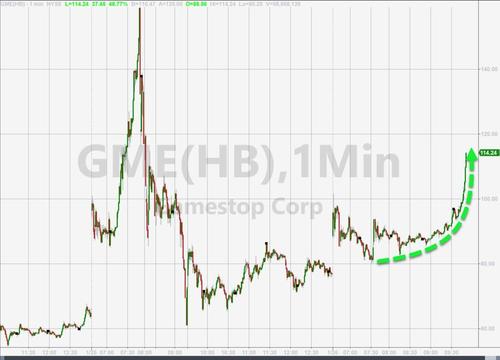 *  *  *
Just when you thought it was safe to pile into the shorts again after yesterday's utter farce in GME shares, this morning has seen the mockery continue.
A pre-market buying panic was sold into during the cash session and was about to erase all the gains when suddenly, none other than billionaire VC Chamath Palihapitiya tweeted the following...
Lots of $GME talk soooooo....

We bought Feb $115 calls on $GME this morning.

Let's gooooooo!!!!!!!! https://t.co/XhOKL1fgKN pic.twitter.com/rbcB3Igl15

— Chamath Palihapitiya (@chamath) January 26, 2021
And GME shares immediately spiked higher and were halted...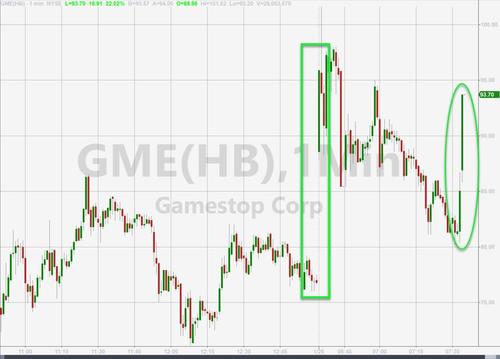 So while yesterday was a Robinhood vs Citadel cage-match, today is billionaire (Ken Griffiin) vs billionaire as Chamath sides with the WallStreetBets crowd...
It's not reddit vs Ken Griffin...

It's Chamath vs Ken

We have a billionaire vs billionaire rumble in the jungle

— zerohedge (@zerohedge) January 26, 2021
Where today will end is anyone's guess... two billionaires enter, only one will leave with a profit.