---
Gary Cohn Stiffs Goldman For $10MM Over 1MDB Clawbacks
In the aftermath of the Vampire Squid's recent settlements with the DoJ and Malaysian government over Goldman's role in raising funds for 1MDB, a sovereign wealth fund designed to finance public works projects that instead became a slush fund for former PM Najib Razak, his wife and a circle of associates that included fugitive Jho Low, Goldman Sachs is trying to touch up its image for ruthlessly pursuing profitable details despite 'red flags' raised by compliance.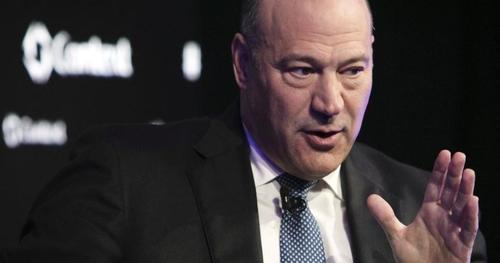 And part of that effort has focused on clawing back bonuses paid out to some of the bank's top executives at the time - including current CEO David Solomon, who was jointly responsible for overseeing the 1MDB deals (lead by example, right?) - and former CEO and Chairman Lloyd Blankfein, who abruptly resigned in 2018 as the DoJ was ramping up its investigation into Goldman and 1MDB.
Goldman declared earlier this year that it was intent on clawing back $67MM in compensation from five of the bank's former executives. More recently, the bank revealed that it had already pocketed the money from all but one of the executives - Gary Cohn, the former Goldman president who used an infamous loophole long utilized by his predecessors (including former Treasury Secretary Hank Paulson).
Back in 2017, as Cohn was leaving the bank to join the Trump Administration, Goldman "accelerated" the payout of over $100MM in stock and cash awards, which Cohn was able to cash out, tax-free.  Counting an equity stake and shares in certain investment vehicles, Cohn's golden parachute totaled nearly $300MM.
When he joined President Donald Trump's White House in 2017 as director of the National Economic Council, the 60-year-old was able to immediately collect about $65 million in cash and stock tied to future Goldman performance, another $220 million of Goldman equity and stakes in company-run investment funds.
Now, per Bloomberg reports, Cohn is refusing to pony up more than $10MM that Goldman is desperately trying to claw back.
GOLDMAN SACHS: We are clawing back $67 million in executive pay and are sorry for our role in 1MDB.

GARY COHN: I'm not convinced I need to part with my $10 million.

what a scoop from @sridinats https://t.co/5wqD8VV6Rv

— Brian Chappatta (@BChappatta) December 2, 2020
For all its financial might, Goldman might have little recourse if Cohn offers up a discounted sum, or simply refuses to pay, which could "sully" Goldman's effort to atone for what the board has described as an "institutional problem".
Cohn declined to comment on whether he intends to repay, telling Bloomberg only that he is "having very constructive conversations with Goldman Sachs on that." Reps for Goldman declined to comment.
Ironically, Cohn argued earlier this week that Bitcoin suffered from an "integrity" problem and complained that the lack of transparency and an "audit trail" make crypto an undesirable asset class. He predicted that the latest crypto rally likely wouldn't hold up.
It's really too bad that Cohn feels that way, since we've heard crypto is an increasingly convenient option for stashing wealth in a difficult-to-reach place.