---
General Mills Becomes Latest Company To Warn About Faltering Consumers
Shares of Cheerios maker General Mills plunged the most in a year after new annual guidance indicated price hikes on ready-to-eat cereals and meal kits would no longer offset slowing sales as consumers pull back on spending. 
General Mills expects fiscal year adjusted profit growth at the mid-single-digits percentage for the fiscal year 2023, which ended on May 28 and totaled $4.30 per share, up about 10% in constant currency. 
Even though price hikes fueled top-line growth, volumes have sunk in recent quarters, a clear indication soaring prices have hit a wall of resistance among inflation-weary customers. 
"We'll see some (more hikes in) pricing this year because we still see inflation in the marketplace," General Mills CEO Jeffrey Harmening said.
Volumes have dropped 6%, with the most significant decline in its international and North American retail markets. General Mills said inventory reductions by North American retailers were also a headwind in the fiscal fourth quarter.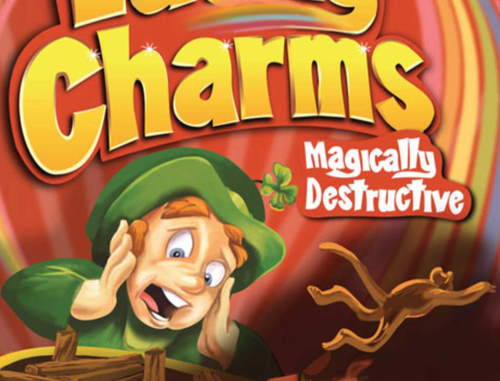 Harmening noted that mounting financial pressure affects consumer spending habits and warned it could hit sales in the year ahead. 
"This caution could have an impact on their at-home versus away-from-home choices, the channels they shop, and the brands they choose, making it even more important for us to continue to invest in remarkable products, innovation and marketing that keep our brands relevant for consumers," the CEO said in prepared remarks.
Bloomberg said sales missed its average estimates while adjusted profit exceeded expectations. As a result, shares of the food producer slid nearly 5.5% around 1100 ET, the largest decline since May 18, 2022. For the month, shares have tumbled 9%, the most since early 2018.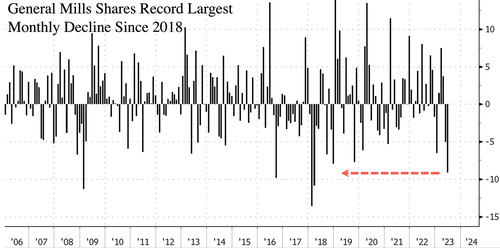 Add General Mills to the growing list of retailers who have voiced concerns about a weakening consumer.
On Tuesday, Walgreens Boots Alliance Inc. shares plunged to the lowest in a decade after it reported "a more cautious and value-driven consumer."
Goldman's Rich Privorosky told clients, "Something is not quite adding up on the consumer" and asked, "Have we just run out of excess savings and are we returning to replenishing savings?"
In a note to clients earlier this month, Privorosky pointed to three excerpts from recent corporate transcripts (from Target, Walmart, and Costco) revealing consumers buckling under financial stress. So add General Mills and Walgreens to the ever-expanding list. 
On Wednesday, Goldman told clients that General Mills is a "bellwether in food staples."
We have seen MF [mutual fund] supply in consumer staples on our trading desk over the last week. On the heels of this GIS [General Mills] development (stock down 6% pre-mkt), we are watching for investors to also potentially trim in KHC, SJM, MKC and MDLZ today.
"This was GIS's largest quarterly sales miss in 8 years and will add fuel to the consumer staples bear case about disinflation having a negative impact on the business," Goldman noted.
4Q EPS of $1.12 vs Consensus $1.07, but the story will be the big sales miss, with organic sales at +5% vs Consensus +7.7%. Gross margins did beat by 60 bps and operating margins by 80 bps. Guiding 2024 EPS essentially in-line (constant currency guide implies $4.51 vs Consensus $4.48)
GS Prime Book data shows long exposure in consumer staple stocks has been trending higher in 2023 while shorts have trimmed their bearish bets.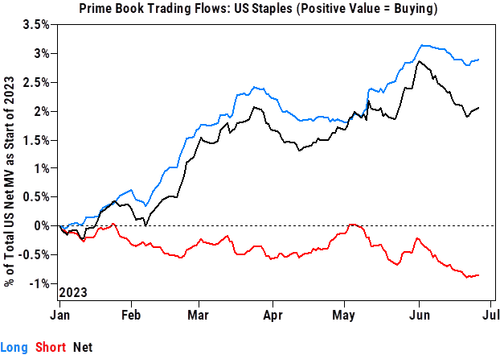 The consumer's health is cracking after more than two years of negative real wage growth, soaring credit card debt, depleted personal savings, and the highest interest rates in a generation. 
Loading...