---
Giant Chinese Crypto Exchange OkEX Suspends Withdrawals After Police Investigation
The founder of major global cryptocurrency exchange OKEx has been reportedly questioned by authorities previous to OKEx suspending cryptocurrency withdrawals, CoinTelegraph reported this morning.
OKEx founder Mingxing Xu, also known as Star Xu, has reportedly been questioned by the police, Chinese news agency Caixin reported today. According to the report, the executive was investigated "at least a week ago" and has also been absent from work for some time.
When approached for comment on Xu's participation in a police inquiry, the giant Chinese cryptocurrency exchange, and one of the world's largest bitcoin trading platforms, OKEx told Cointelegraph that the exchange is no longer affiliated with OK Group, where Xu is a senior executive, and therefore was not in a position to comment on his activities. 
The news comes shortly after OKEx, which held 201,981 bitcoin in its wallets according to Glassnode data, suspended withdrawals of crypto assets on its platform today. According to the exchange, OKEx's private key holders are cooperating with a public security bureau in an ongoing investigation. The exchange told Cointelegraph:
"We are unable to disclose the nature of an ongoing investigation but would like to assure all OKEx users that their funds are safe and that all other functions on OKEx are unaffected."
OKEx CEO Jay Hao said that the decision to temporarily suspend withdrawals was taken "with user security in mind," stating: 
"As a world-leading exchange, user security is not something that OKEx can or will ever compromise on. We will do everything in our power to reinstate this service promptly and will provide updates on the matter as soon as possible."
The crypto sector dropped around 3% in minutes following the news...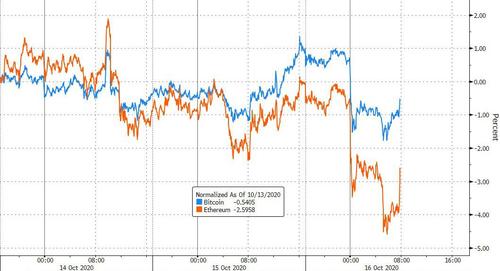 ... however, analysts said they expect further selling to be muted: "I don't think BTC will necessarily dive from here; the fund flow may look for venues that are based in countries with clearer regulatory stance and policy outlook," Denis Vinokourov, head of research at London-based prime brokerage Bequant, told CoinDesk.
Vishal Shah, an options trader and founder of Polychain Capital-backed derivatives exchange Alpha5, suggested the news may place the OKEx trading venue in a bad light, but have little affect on bitcoin's reputation.
"In my opinion, prices will recover because the latest OKEx issue is not related to hacking or shutting down the exchange," Ki Young Ju, CEO of South Korean analytics firm CryptoQuant, told CoinDesk in a Telegram message.