---
Global Gold-Miner Consolidation Accelerates: Newmont Bids For Newcrest
The recent trend of consolidation among global gold miners accelerated significantly over the weekend when Newmont Corp announced a conditional and non-binding proposal to acquire 100% of the issued shares of Newcrest Mining Limited.\
Already one of the world's biggest gold miners with a market value of nearly $40 billion, Newmont made an earlier lower bid for Newcrest that its board rejected.
The US miner is effectively offering to buy back its old spin-off, as Newcrest was originally set up as its Australian subsidiary in the 1960s.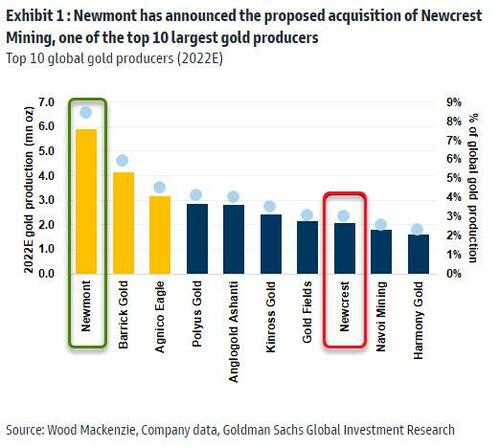 This follows the large-cap combination of the merger-of-equals between Agnico Eagle Mines and Kirkland Lake Gold in 2022.
If closed, Goldman Sachs believes the consolidation of NCM.AX would provide NEM:
(1) a path to immediate and substantial volume uplift (particularly in context of the company's flattish production outlook for the next 2 years on a standalone basis),

(2) increasing exposure to copper, and

(3) expansion of its footprint in locations (such as Australia and Canada in particular) that NEM is comfortable with.
Under the terms of the proposal, NEM proposes to offer NCM.AX shareholders 0.380 NEM shares per every NCM.AX shares. This will result in the combined company being 30% owned by NCM.AX shareholders and 70% by NEM.
Bloomberg reports that the approach comes in the middle of Newcrest's search for a new chief executive officer following the resignation of Sandeep Biswas in December. Sherry Duhe, former chief financial officer of oil and gas producer Woodside Energy Group Ltd., is acting CEO until a permanent replacement is found.
"The strong Australian dollar, gold prices and declining global reserves suggest more acquisitions are likely, particularly for businesses like Newcrest, which has significant copper exposure," Bloomberg Intelligence industry analyst Mohsen Crofts said in a note on Monday.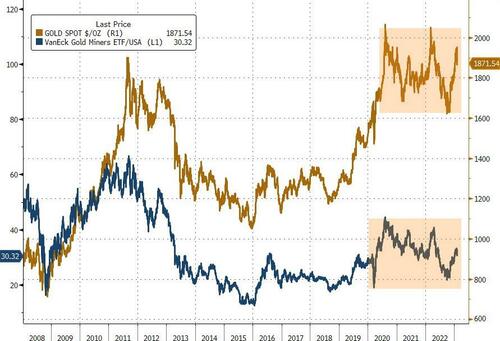 Newmont confirmed it made the offer in a statement late on Sunday in Denver, where it's headquartered, saying the deal "presents a powerful value proposition" to both businesses.
Newmont shares are down hard in the last few days...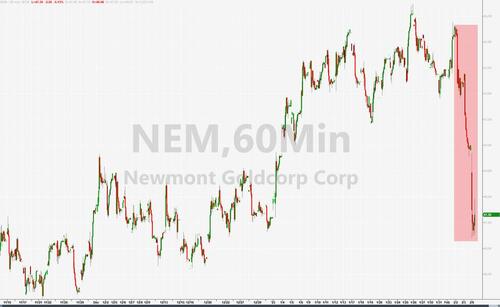 The bid for Newcrest could trigger rival producers like Barrick Gold Corp. to consider the merits of a counter move amid consolidation in the precious metal sector.
Loading...