---
Global iPhone Shipments Could Plunge 30% If WeChat Removed From App Store 
President Trump's executive order banning Chinese messenger app WeChat next month could have a severe impact on Apple worldwide sales. 
TF International Securities' Ming-Chi Kuo published a research note (viewed by MacRumors) describing his optimistic and pessimistic scenarios of Apple worldwide sales concerning the potential ban of WeChat from the App Store. 
Kuo's optimistic scenario outlines if WeChat is removed from the US App Store it would impact annual iPhone sales by around 3–6% with other Apple products down 3%. 
Kuo's pessimistic scenario would be devastating for Apple, estimates annual global iPhone shipments could plunge 25–30% if the messenger app is completely removed. 
"Because WeChat has become a daily necessity in China, integrating functions such as messaging, payment, e-commerce, social networking, news reading, and productivity, if this is the case, we believe that Apple's hardware product shipments in the Chinese market will decline significantly. We estimate that the annual ‌iPhone‌ shipments will be revised down by 25–30%, and the annual shipments of other Apple hardware devices, including AirPods, iPad, Apple Watch, and Mac, will be revised down by 15–25%," Kuo said in the note. 
Apple has a significant Chinese customer base. Many of the users utilize the multi-purpose messaging, social media, and mobile payment app on a daily basis. 
In total, China accounts for 15% of Apple's total revenue during 2Q20. Kuo describes several emerging risks throughout Apple's supply chain if a WeChat ban is seen: 
"Kuo recommends that investors reduce their stock holdings of companies in Apple's supply chain such as LG Innotek and Genius Electronic Optical due to the risks of a WeChat ban. It does, however, remain to be seen what will happen as the prohibitions laid out in the executive order do not take effect until September 20. As a result, there is still time for the order to be clarified, modified, or rescinded," MacRumors said. 
Apple shares are still melting up after reporting record revenue...
Though this morning's opening bid is fading fast...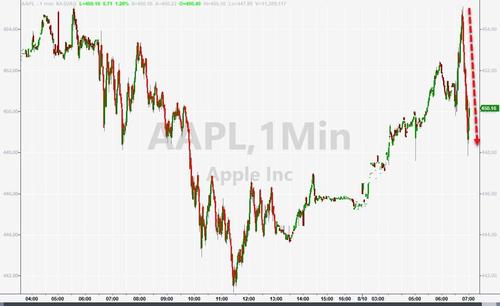 If the Trump administration goes ahead with the ban on September 20, a lot of Chinese iPhones will no longer be able to access WeChat could trigger a move to Huawei smartphones and lead to a massive decline in global iPhone sales for Apple.