---
Global Markets Slide On Mounting Ukraine Tensions
US index futures and global stocks extended their Friday losses on Monday, as worries about growing geopolitical conflict in Ukraine sparked concerns about global economic growth and adding to concerns about inflation and the prospect of aggressive Fed rate hikes to tame it. Nasdaq futures were down 1.2% by 715 a.m. ET after earlier sliding as much as 1.5%. S&P 500 futures slipped 0.8%, setting up the benchmark U.S. index to fall further from a two-week low reached on Friday. Treasury yields dropped further from a multi-year high hit on Friday and gold rose, while bitcoin extended its sharp decline from Friday. Focal points Monday include comments by St. Louis Fed President James Bullard at 8:30am ET.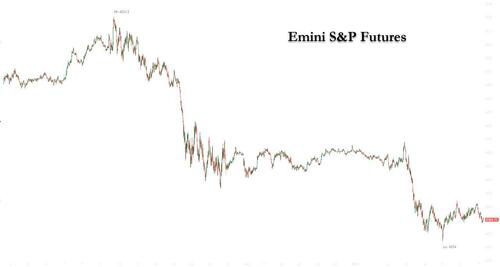 Airline stocks slid in premarket trading, following European peers lower, as growing concerns about geopolitical risks over Ukraine ripple through global markets. Lockheed Martin Corp. scrapped its bid to buy Aerojet Rocketdyne Holdings Inc. after the Federal Trade Commission sued to block the deal. Here are some other notable premarket movers:
Expensive growth stocks, which stand to suffer the most from higher interest rates, also tumbled with Apple, Nvidia, Tesla and Microsoft Corp leading the drop: Apple (AAPL US) -1.4% in premarket; Nvidia (NVDA US), -2.6%, Tesla (TSLA US) -2.3%.
Shares in software company Splunk (SPLK US) rose 3% to $118 in U.S. premarket trading after reports that Cisco Systems held discussions about acquiring the firm, although the talks subsequently fell apart.
U.S.-listed Chinese stocks slumped in premarket trading Monday, putting them on track to slump for a third consecutive session as geopolitical tensions over Ukraine weigh on risk-assets globally. Large-cap technology stocks are leading the decline this morning with Alibaba -1.8%, JD.com -1.5%, Pinduoduo -2.6%, NetEase -1.1% and Baidu -2.3%. Chinese EV makers are also lower with Nio -3.7%, XPeng -2.8% and Li Auto -2.8%.
Global equity markets have been roiled this year by worries over potential aggressive interest rate hikes by the Federal Reserve as well as escalating tensions in Ukraine. The U.S. has warned an invasion may be imminent, although Russian officials have repeatedly denied there are plans to do so and a diplomatic push to try to resolve the situation is continuing, with German Chancellor Olaf Scholz traveling to Kyiv, a day before heading to Moscow.
"Markets are continuing their move lower as investors grapple with a growing number of unknowns in the short term," said Marcus Morris-Eyton, a portfolio manager at Allianz Global Investors. "While the news flow surrounding Russia and Ukraine appears increasingly worrying, in reality any outcome and the impact are close to impossible to forecast."
As reported previously, late on Friday Goldman strategists cut their forecast for the S&P 500 by year-end to 4,900, down from 5,100, on the prospect of aggressive Fed rate hikes.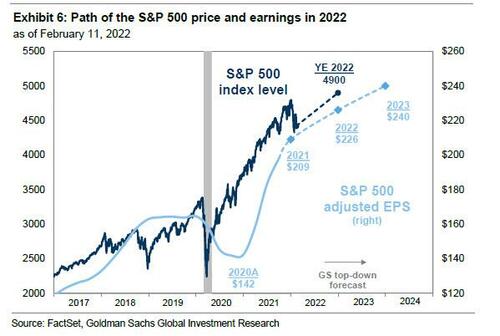 That still implies 11% growth above current levels to a fresh record. If inflation remains high and prompts more hikes than expected, the index would decline by 12% to 3,900, or even 3,600.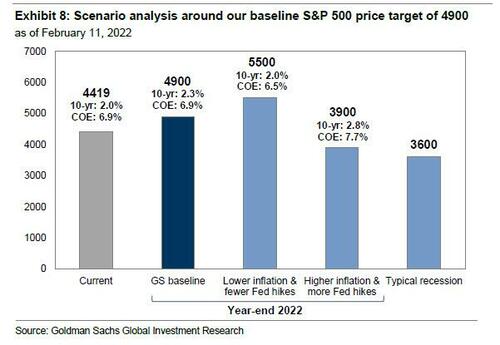 European stocks slumped after gapping lower following Friday's late U.S.-stock selloff sparked by perceived Russian threat to Ukraine's sovereignty. European natural gas prices jumped and oil fluctuated, while government bonds surged and haven currencies outperformed.
Europe's Stoxx 600 falls 2.5%, FTSE 100 -2%, FTSE MIB lags, dropping more than 3% with travel leisure, and autos stocks leading the declines although all European sectors were in the red. Banks were also among the biggest declines in Europe, surrendering their place as the region's best-performing sector of 2022 to energy. Among individual movers, Clariant AG tumbled 17% as it delayed publishing full-year results amid an investigation into its accounting. Here are some of the other big European movers today:
Audioboom shares jumped as much as 22%, the most intraday since April 2020, amid reports that Amazon.com and Spotify Technology are exploring bids and may decide on formal offers for the podcasting group as soon as this month.
Barco gains as much as 3.2% as analysts at ING and KBC Securities upgrade ratings on the Belgian imaging technology company, citing strong order momentum.
Snam shares rise as much as 1.8% after an upgrade. Citi upgrades Terna to buy, Snam and Italgas to neutral, saying "unjustified" YTD weakness offers chance to invest in these "unique rates protected assets."
Banking shares are among the worst performers in Europe, as markets retreat broadly on Ukraine tensions, with Raiffeisen Bank down 9.2%, most since May 2020
Banco BPM declined as much as 7% after CEO Giuseppe Castagna said over the weekend he hasn't received any communication from UniCredit in response to reports that the lender is considering a bid for Banco BPM.
Commerzbank shares fall as much as 7.7% in Frankfurt after the German government said it will take the interests of taxpayers as well as the importance of Commerzbank for the country's so-called Mittelstand when deciding about its stakeholding in the bank, Handelsblatt cites Finance Minister Christian Lindner as saying in an interview.
European carriers took further steps to avoid Ukraine, while airline shares sank after tension mounted over the weekend over Russia's troop buildup on the border. Shares of Hungary's Wizz Air Holdings Plc slid as much as 11%, the biggest drop since November, to lead a decline in European airline stocks.
European natural gas prices jumped with storage facilities running low and concern over any disruption to supply from Russia, the continent's top source. Oil fluctuated after an earlier rally put $100 a barrel in sight. Russia is a major producer of metals such as aluminum and nickel; it accounts for about 40% of palladium, used in catalytic converters. Russia and Ukraine also account for nearly a third of wheat and barley exports, and wheat continued to advance Monday.
"The impact on inflation will go beyond oil and gas," said Wai Ho Leong, strategist at Modular Asset Management in Singapore. "For the rest of the world, it is potentially a massive food shock."
Earlier in the session, Asian stocks headed for their steepest slump in two weeks amid inflation concerns and escalating tensions surrounding Ukraine.  The MSCI Asia Pacific Index lost as much as 1.5%, with information-technology and consumer-discretionary shares contributing most to the drop. Chip giant TSMC, China's Alibaba Group and automaker Toyota weighed most on the gauge. Energy shares bucked the trend after crude oil rose past $95 a barrel, as the standoff between the U.S. and Russia over Ukraine headed into a tense week. Higher fuel costs added to concerns that the Federal Reserve will aggressively raise interest rates to cool U.S. inflation that's at a four-decade high.  "To see a turnaround in equities, we first need to see signs of easing concern over Ukraine," said Shogo Maekawa, a strategist at JP Morgan Asset Management in Tokyo. "We're in a situation where it's hard to buy technology shares, and at the same time, it's kind of hard to buy up cyclical shares." India and Japan were among Monday's worst performers, while shares in the Philippines and Australia rose. Asia's stock benchmark is down by more than 2% this year, after dropping 3.4% in 2021.
Japanese equities tumbled following a three-day weekend, as the market moved to catch up with Friday's selloff in global stocks amid concerns about U.S. inflation and Russia-Ukraine tensions. Electronics and auto makers were the biggest drags on the Topix, which fell 1.6%, the most since Jan. 27. Fast Retailing and SoftBank Group were the largest contributors to a 2.2% loss in the Nikkei 225. The yen was little changed after gaining 0.5% against the dollar Friday. "If Russia invades Ukraine, it won't be just risk premiums rising in the stock market, but it'll boost risks of seeing higher grain and energy prices," said Shoji Hirakawa, chief global strategist at Tokai Tokyo Research Institute. "And if energy prices rise, worry over U.S. inflation, which the market had been thinking will ease after February, will be reignited again."
Indian stocks were the worst performers among Asian peers on Monday, as higher crude oil prices and escalating geopolitical tensions weighed on the risk appetite in the region. The S&P BSE Sensex plunged 3%, its biggest drop since April 2021, to 56,405.84 in Mumbai. The gauge is down 8.7% from its record high touched in October. The NSE Nifty 50 Index dropped 3.1%, while a measure of swings in local stocks climbed to its highest level in nine months.  Lenders were among the biggest drags on the key indexes, led by ICICI Bank, which fell 4.7%. All but one of 30 Sensex stocks slipped in the red. Each of the 19 sectoral sub-indexes compiled by BSE Ltd. declined, led by a measure of realty companies.  "Geo-political tension and the rising crude prices are weighing on investors' sentiments leading to a sharp rise in volatility," said Naveen Kulkarni, chief investment officer at Mumbai-based Axis Securities.  "We believe that the expected increase in volatility should be used by investors to build positions in quality large-cap and midcap stocks as the earning expectations for Indian corporates remain strong." An index of small-cap stocks fell 4.2% to its lowest level in nearly five months.  The price of Brent crude, a major import for India, has climbed more than 20% since the end of 2021. Tensions over Russia's military buildup near Ukraine remains a dampener.  In earnings, of the 47 Nifty 50 companies that have reported quarterly numbers so far, 27 either met or exceeded analysts' estimates, 18 missed and two can't be compared.
Australian stocks bucked the global downward momentum and advanced as banks, energy shares climb: the S&P/ASX 200 index rose 0.4% to close at 7,243.90, supported by banks and energy stocks. Beach Energy was the biggest gainer after reiterating its full-year output forecast. Novonix was the worst performer, declining for a third day. In New Zealand, the S&P/NZX 50 index fell 1.8% to 11,950.14.
In rates, after sliding sharply last week and hitting a multi-year high of 2.07%, Treasuries advanced from the belly out to long-end of the curve, although futures sit just off best levels reached over European session. Treasury yields richer by up to 2bp across belly of the curve, flattening both 2s10s, 2s5s spreads by over 2bp with front-end underperforming as 2-year yields rise 1bp; bunds outperform by 6bp in the sector, catching up to Friday's price action during final few hours of U.S. session. In Europe, bund curve bull flattens with 2s10s narrowing 1.7bps as geopolitical tensions boost haven bids and belly outperforming. Gilts curves also bull flatten, short-end Treasury yields climb. Peripheral spreads widen to the core.
In FX, Bloomberg dollar spot index rises ~0.2%. JPY and CHF are the strongest performers in G-10 FX, SEK and NOK underperform.
Crude futures are steady after struggling to hold on to gains. WTI drifts 0.1% higher to trade near $93.21 a barrel. Most base metals trade in the green; LME nickel rises 1.9%, outperforming peers. LME copper lags. Spot gold little changed at $1,857/oz. European energy prices jump more than 10% on mounting tensions over Ukraine.
There is nothing on today's economic calendar. Today we also get the Fed's Closed Board Meeting, Fed's Bullard speaks again on CNBC, ECB's Lagarde aldo speaks and we have a German-Ukrainian meeting.
Market Snapshot
S&P 500 futures down 0.8% to 4,373.50
STOXX Europe 600 down 2.5% to 458.05
MXAP down 1.4% to 187.80
MXAPJ down 1.5% to 615.43
Nikkei down 2.2% to 27,079.59
Topix down 1.6% to 1,930.65
Hang Seng Index down 1.4% to 24,556.57
Shanghai Composite down 1.0% to 3,428.88
Sensex down 2.8% to 56,512.67
Australia S&P/ASX 200 up 0.4% to 7,243.91
Kospi down 1.6% to 2,704.48
German 10Y yield little changed at 0.21%
Euro down 0.3% to $1.1320
Brent Futures up 0.2% to $94.61/bbl
Brent Futures up 0.2% to $94.62/bbl
Gold spot down 0.2% to $1,855.14
U.S. Dollar Index up 0.14% to 96.22
Top Overnight News from Bloomberg
German Chancellor Olaf Scholz travels to Kyiv on Monday, a day before heading to Moscow to meet with Russian President Vladimir Putin in a diplomatic push to resolve tensions over Ukraine
European natural gas and electricity prices jumped more than 10% after the U.S. said Russia could soon invade Ukraine or try to spark conflict inside its borders
Senator Joe Manchin said the Federal Reserve needs to "stop pussyfooting around" and "tackle inflation head-on," renewing his call for the central bank to act against the fastest pace of price increases since the early 1980s
When the market turns risk averse, the yen showcases its haven status and the pound's higher beta doesn't translate into costlier hedging costs by comparison. The term structures in the major currencies are inverted due to geopolitical risks and elevated rates volatility at the back of central banks' tightening bias
A more detailed look at global markets courtesy of Newsquawk
European bourses are pressured across the board as geopolitics exacerbates a subdued APAC handover and soft end to the US week. Sectors are all in the red; Travel & Leisure and Banking names lag on Ukraine and yields respectively while Oil & Gas is somewhat cushioned via initial crude benchmark pricing. Fed Closed Board Meeting, Fed's Bullard, ECB's Lagarde, German-Ukrainian meeting; earnings from Michelin.
Top Asian News
Hong Kong Finds 4,500 Preliminary Positive Covid Cases
Ambani's Jio Plans Satellite Broadband Rivaling SpaceX, OneWeb
Sumitomo Mitsui Is Said to Weigh Increasing Stake in Rizal Bank
India Takes Aim at China's Trade Actions Against Australia
Asian stocks traded mostly lower with the region cautious following the sell-off on Wall Street. Nikkei 225 slumped at the open as it played catch-up following its long weekend. ASX 200 bucked the trend as the index was supported by its commodity names. Hang Seng was pressured as daily COVID cases in Hong Kong continue picking up in pace. Shanghai Comp. saw its losses somewhat cushioned amid continued speculation that the PBoC could further ease its monetary policy soon.
Top European News
Scholz Travels to Kyiv Ahead of Putin Visit: Ukraine Update
Rolls-Royce to Help Power Electric Planes as Soon as 2025
Clariant Slumps After Delaying Results Amid Whistleblower Probe
Russian Stocks Sink on Ukrainian Tensions; Ruble Steadies
In FX, dollar in demand alongside fellow safe haven currencies as investors fret about a Russian attack on Ukraine. Yen on the brink of breaching 115.00 in advance of Japanese GDP data and Franc firm following a pickup in Swiss produce and import prices. Euro and Pound vulnerable after losing a string of technical support levels. Rouble volatile and Hryvnia heavy amidst heightened geopolitical tensions and Lira hit by ratings cut by Fitch Turkish Finance Minister announced new economic policies which covers new loans, inflation and gold savings. Turkey reduced VAT on staple foods to 1% from 8%, according to President Erdogan. Fitch cuts Turkey's rating to B+ from BB-; outlook negative.
In commodities, crude benchmarks are essentially unchanged as initial geopolitical premia was offset by a deterioration in broader risk sentiment, as the Russia/Ukraine situation remains tense. Technically, Brent held touted support at the USD 93.60/bbl mark (current low 93.69) while any renewed upside faces Fibonacci resistance at USD 97.26/bbl (current high 96.16). Saudi crown prince Mohammed Bin Salman said around 4% of Aramco (valued at around USD 80bln) will be transferred to the Public Investment Fund, according to an official statement. IEA's Birol hopes that OPEC+ can close the space between actions and words, via Reuters citing state TV Spot gold and silver benefit from haven demand that has spurred the yellow-metal above the USD 1850/oz mark, with technicians noting that we have now eclipsed a weekly downtrend line Chinese Vice Premier said China is to effectively expand the production of soybean, via state media. US government has suspended all imports of Mexican avocados after a US plant safety inspector in Mexico received a threat, according to Yahoo.
US Event Calendar
DB's Jim Reid concludes the overnight wrap
Happy Valentine's Day to all my readers. The card to all of you should be in the post. It's half term here in the UK and in other places so liquidity will be under some pressure which given the market now has to ramp up its attention on the situation in Ukraine, as well as thinking about rising interest rates, means that we won't be able to relax after last week's high octane events. All I know is however bad this week gets in markets my life in front of screens will be far less stressful than for my wife looking after 3 energetic kids on half term. Revenge will be coming my way in the Easter holidays.
As discussed at the top, our survey that closed before the late Friday news that the US warned of a Russia attack on Ukraine as early as this week, showed that only 7% thought that this situation would be a major influence on markets in 2 months' time. So it's clear that few were/are positioned with this risk front of mind. The weekend news hasn't moved the story on much with a Biden/Putin call seemingly not creating any major headlines one way or another. The stand-off continues.
We'll review last week at the end but as you'll see 10yr USTs rallied 12bps immediately on the news to 1.91% before closing at 1.937%, having traded at 2.06% when Europe closed for the weekend. We're at 1.956% in Asia, up by +1.9 bps as I type with Brent crude futures +1.25% to $95.62/bbl and WTI futures +1.45% to $94.45/bbl. Equity futures in the US are looking a bit more positive with contracts on the S&P 500 (+0.30%) and Nasdaq (+0.27%) both in the green as nothing has escalated further over the weekend. Meanwhile Asian markets are catching down with the late Friday sell-off with the Nikkei (-2.15%), Kospi (-1.62%), Shanghai Comp (-0.63%) and the Hang Seng (-1.25%) moving lower.
The problem for the bond market is similar to that seen with the Omicron escalation around Thanksgiving. Back then the market was saying how on earth can the Fed think about hiking with a new variant around. This led to a bad set up in fixed income markets as Treasuries rallied to 1.35% against all the inflationary evidence. The obvious trade for many now is also a flight to quality but will a Ukraine conflict solve the inflation problem (e.g. oil and gas problems) and will it prevent central banks from hiking? In addition what if it never escalates any further? So it's fair to say that trading this is not going to be easy. No-one has special insight so a bit of luck on timing and views will be needed. I wouldn't change my structural view of stickier than expected inflation and the urgent need for central bank hikes, especially in the US.
So we wait to see what happens.
It's actually a quieter week in terms of scheduled releases with the FOMC minutes on Wednesday a clear highlight. However remember it will pre-date a 7.5% CPI print. Having said that the minutes published in the first week of January brought QT bang into the spotlight and started the rates sell-off so there is always room for surprises and remember that at the January FOMC press conference, Powell did suggest that the committee had held detailed discussion on the balance sheet so we may learn more.
Fed speak might be the most market moving event outside of Ukraine. St Louis Fed President Bullard's comments on Thursday where he got markets excited about a inter meeting hike certainly put the cat amongst the pigeons before other governors walked down the risks. Bullard will speak again in the US morning on CNBC so it'll be interesting if he also walks back his comments. There's plenty of other Fed speakers through the week. In addition, ECB President Lagarde speaks today.
On the data front, there'll be further US releases for January coming out, including producer price inflation, as well as retail sales, industrial production (all Wednesday), housing starts and building permits (Thursday). PPI and retail sales undoubtedly the pick.
Elsewhere, the UK CPI release on Wednesday will be in focus as well, and we'll get earnings from a further 62 companies in the S&P 500 and 68 in the Stoxx 600 as earnings season winds down. Among the highlights over the coming week include Airbnb tomorrow. Then on Wednesday we'll hear from Nvidia, Cisco Systems, Applied Materials and AIG. Then on Thursday, there's releases from Walmart, Nestle and Airbus. Finally on Friday, releases include Hermès International, Deere & Company, Allianz and NatWest Group.
Otherwise this week, G20 finance ministers and central bank governors will be meeting on Thursday and Friday.
Turning to review another tumultuous week now.
Up until the last few hours of trading Friday, the main event was the US CPI data. Consumer prices beat expectations by rising 7.5% YoY in January, a four-decade high, with notable beats in persistent inflation categories such as rents and medical services.
As a result, markets aggressively repriced their expectations for Fed tightening this year, with a +50bp liftoff (in line with our US econ team's new call), ending the week at a 53% probability, and 6.3 hikes priced through 2022, up from a 40% chance and 5.4 hikes the week before. We peaked out at 6.88 hikes earlier in the day on Friday before the Ukraine headlines.
There was a lot of fuel added to the fire in the week. St. Louis Fed President Bullard, a voter this year, openly considered whether the Fed should hike rates before the March meeting, which temporarily had markets pricing in some chance of an intermeeting February rate hike and 100% probability of a +50bp rate hike in March, though pricing returned from those highs after other regional Presidents questioned the wisdom of such a move and Friday's geopolitical headlines.
All told, 2yr Treasury yields increased an historic +21.4bps on Thursday following the CPI data, and +19.0bps on the week (-7.9bps Friday). 10yr Treasury yields broke the 2.0% threshold for the first time since summer 2019, hitting a peak of 2.06% before the late Friday (-9.2bps on the day) rally that saw it close at 1.937% and "only" +2.9bps on the week.
Given the predictive power of the 2s10s curve it was worrying that it ended the week at 42.5bps (declining -16.8bps this week, -1.9bps Friday), the lowest since August 2020.
Oil spiked a couple of dollars on the late Ukraine news (+3.6% Friday) but was up a more measured +1.72% on the week. European natural gas prices took a leg higher following the news, increasing +4.39% on Friday, but were down -6.09% on the week.
The headlines concerning Russia came after Europe closed so 10yr bund yields advanced +9.1bps on the week (+1.3bps Friday), and managed to maintain a run that has seen them climb on 13 of the last 14 days. Today might be a tough day to maintain that momentum.
President Lagarde also offered resolute support for the periphery in a speech last week, emphasising the ECB had the means and intentions to ensure policy was transmitted to all members. Nevertheless, 10yr BTP and Greek sovereign debt widened +11.3bps (+4.8bps Friday) and +27.0bps (+6.0bps Friday) versus 10yr bunds, respectively.
The suite of drivers did not create an appetising cocktail for risk assets, and the S&P 500 finished the week -1.82% lower (-1.90% Friday), with all but two sectors in the red. The NASDAQ and FANG stocks underperformed, falling -2.18% (-2.78% Friday) and -3.17% (-3.39% Friday), respectively. European stocks held up much better, but managed to miss the worst geopolitical headlines, with the STOXX 600 +1.61% higher on the week (-0.59% Friday) with European banks performing particularly well, up +4.08% (-1.20% Friday).
Credit spreads widened on the week but this was relatively contained even with a few wobbles, especially around the CPI. Itraxx Main was +1.9bps wider (+2.3bps Friday), while Xover was +11.0bps wider (+12.2bps Friday). In the US, IG CDX was +4.2bps wider (+2.3bps Friday) while HY widened +13.5bp (+9.2bp Friday). Cash index spreads were similar with $IG spreads +1bps wider over the course of the last week (+2bps Friday), while €IG spreads were +6bps wider (+2bps Friday), and £IG spreads were -2bps tighter despite spreads widening +2bps Friday. High yield spreads diverged similarly with $HY spreads +10bps wider on the week (+22bps wider Friday), while €HY spreads were +12bps wider (+7bps Friday). Obviously US markets were still open when the Russia/Ukraine story broke.