---
Gold Futures Surge Above $2,050; Silver Nears $27
The buying pressure on precious metals has continued overnight with gold and silver futures extending yesterday's impressive gains.
Gold futures topped $2050...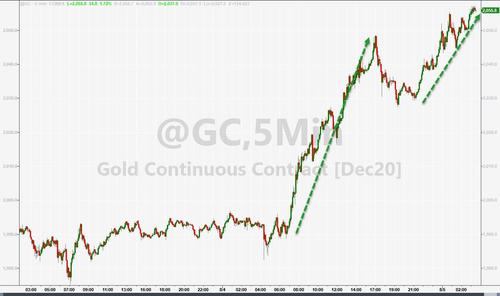 And Silver futures neared $27...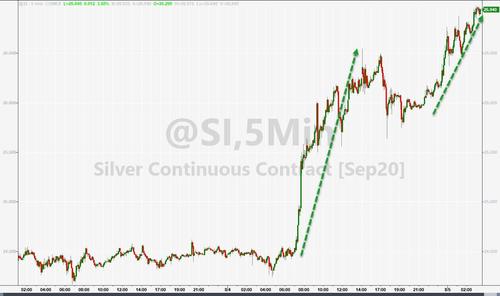 And, according to Peter Schiff, there's more to come... In a tweet, he said,
"You know the gold bull has a long way to run when the first reaction traders have to gold finally breaking above $2,000 is to sell."
Gold is up more than 30% on the year after a better than 18% gain in 2019.
The mainstream spin was that the prospect of more fiscal stimulus was driving gold higher. The Democrats and Republicans appear closer to an agreement on a new spending bill. That's certainly part of the equation. But fundamentally, this is about currency debasement.  In another tweet, Peter noted:
For now, the significance of the dollar's record low is lost on the vast majority of investors. But as thousand-dollar milestones fall like dominoes the gravity of the problem will be more widely apparent."
Even some people in the mainstream are starting to hone in on the fundamentals driving gold higher.  Lee Ferridge, head of North America macro strategy for State Street Global Markets, told Reuters it's all about the Fed.
"Gold is outperforming. … It's all about the debasement of the dollar."
While gold's historic milestone might be a reason to celebrate for those who have invested in the yellow metal, Peter offered a sobering reminder.
While personally vindicating and financially rewarding, gold's rise above $2K is not a cause for celebration. As gold continues to set and break new records, rewarding all with the foresight to own it, remember that the move portends extreme economic hardship for most Americans."
We believe gold has still has a long way to run up over the long term. There is no end in sight to the Federal Reserve money printing. The dynamics driving gold higher won't change any time soon. Peter noted that even as gold builds support just above $2,000 most gold stocks have yet to make new highs for the year.
Even the staunchest gold bugs will be surprised by how high the price of gold rises, and how quickly it gets there. A Wile E. Coyote moment for the dollar is fast approaching."
During a recent interview, Peter and Jim Rickards made a pretty good case that we could see gold as high as $15,000 in the next five years.
That remains to be seen, but there is no question that August 4, 2020, is a historic day for gold.