---
Gold Soars To $2,063, Just One Cent Away From New All Time High
With digital gold acting more like digital lead in recent weeks, as bitcoin and the broader crypto sector trade as high-beta tech stocks perhaps helping tech funds satisfy margin calls, the real gold has no such qualms and after flatlining for much of the past 18 months, has broken out solidly to the upside, and just today spike more than 3%, rising to session high of $2,063.53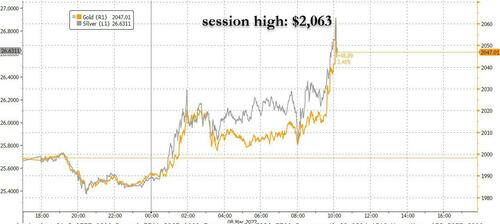 Why $2,063.53? Because $2,063.54 was the closing high on August 6, 2020 when gold hit an all time high in the aftermath of the Fed's money debasement frenzy when the Fed's balance sheet exploded by hundreds of billions weekly.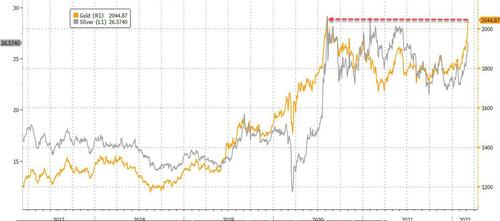 But while technical selling may have emerged at this key resistance level, we expect it to be taken out shortly, with even Goldman raising its gold forecast overnight, writing that in light of the Russia-Ukraine war, the bank is raising its gold price target over different time horizons. Targets raised for:
3-month horizon to USD2,300 vs. $1950 previous.
6-month horizon to USD2,500, from $2050 previous.
12-month horizon to USD2,500 vs. $2150 previous."
Why? Because "An increase in demand from consumers, investors, central banks due to the rising geopolitical uncertainty."